MSNBC's Steve Kornacki Reveals if He Got Any Sleep During the Election
MSNBC's map master, journalist Steve Kornacki admits he hardly slept during the marathon-long 2020 presidential election.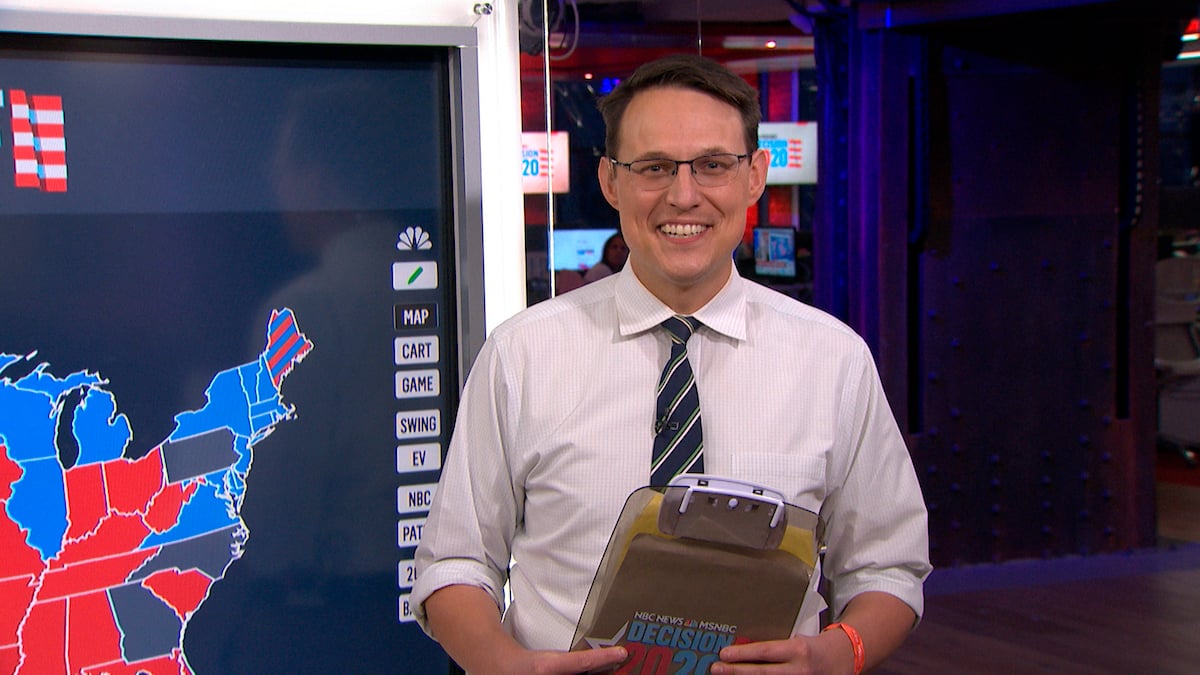 He told NBC's Savannah Sellers adrenaline and Diet Coke kept him going as returns came in throughout the process. "When you're in the middle of it, it's just kind of adrenaline and you know the numbers come in from everywhere," he shared in a clip posted to Twitter.
Kornacki slept "maybe" a half hour here or there at his desk but finally crashed and slept about 15 hours after Joe Biden was named as the president elect.
Fans are obsessed with his fashion
Kornacki cultivated a very specific look, rocking a white business shirt with sleeves rolled up. Also, he never went on air without a tie, plus his now-signature khaki pants. Are his pants from The Gap? "That's true," he said. "I got a bunch of them. I just kept the clothes on because I stayed on the air."
Someone on the Internet pointed out Kornacki's tie looked suspiciously similar to one worn by Charlie Day in It's Always Sunny in Philadelphia. "Oh they are very similar," Kornacki admitted when he saw the comparison.
He also revealed he ultimately had to keep his tie together using staples. "Against all odds, the staples held through the election, but now I think the time has come to finally retire my tie," Kornacki tweeted.
"We did two complete overnights," he added. "I have a very confused timeline if I tried to reconstruct it."
"I think I had Diet Pepsi too," Kornacki said in addition to Diet Coke. Then he shared what he did when he finally made it home. "I got home on Saturday and I slept for 15 and a half hours," he said.
Steve Kornacki admits he wasn't a math person in school
Throughout the election, Kornacki was computing totals and generating percentages in real-time on air. So was he always good at math? "I can do computational math," he said. "I just add numbers and subtract numbers." Adding, "I was terrible, terrible. One of the worst students in my high school Calculus class."
"I would still have those anxiety dreams years after," he added. Kornacki also said Georgia and Texas especially stressed him out. "We got Georgia in the Georgia Senate run-off January 5," he said.
He also humbly didn't realize what an overnight rock star he became during the election. "This was news to me that there were things like that happening," he said. Sellers points out that Kornacki was "Twitter's boyfriend" to which he replied, "I don't even know what that means, but okay," he laughed.
Chrissy Teigen became a huge fan of Kornacki's too. "I didn't make this but would love to credit who did if you can drop in the comments below! Here it is to spread the joy!" she shared a montage of Koracki's face on Twitter.