MTV: There's a Petition to Bring This Nicole 'Snooki' Polizzi Series Back
The love fans have for Nicole "Snooki" Polizzi and Jenni "JWoww" Farley is fierce. Now that Polizzi is done with Jersey Shore: Family Vacation, she's missed more than ever. So much so that some Jersey Shore fans are petitioning to get new episodes of Polizzi's spinoff series on MTV.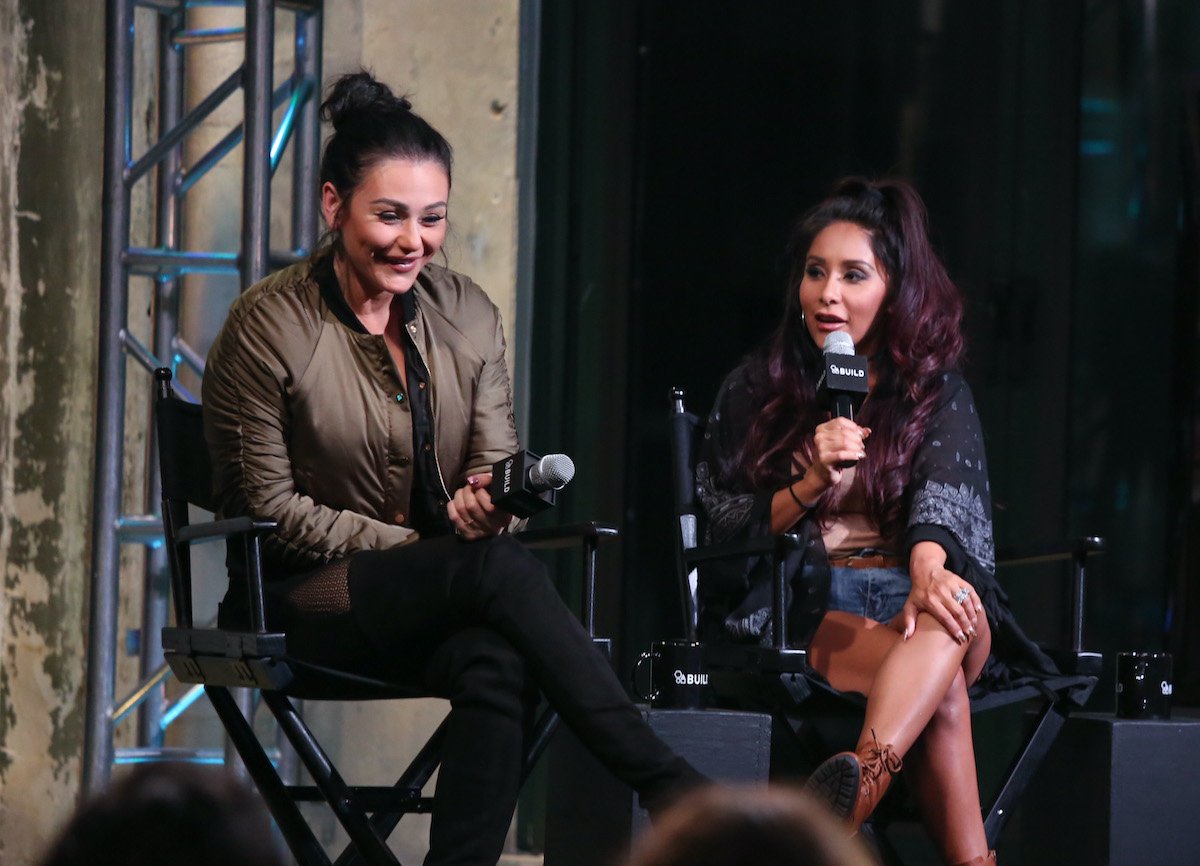 'Snooki & JWoww' was the most successful 'Jersey Shore' spinoff series 
Thanks to Jersey Shore's success and the bond Polizzi and Farley formed filming it, MTV found more success when they aired the spinoff series Snooki & JWoww. From 2012 until 2015, cameras followed them in a Laverne & Shirley-type fashion as they planned Polizzi's wedding and prepared for Farley's first-born child. Jersey Shore producer SallyAnn Salsano and her company 495 Productions were behind the project. 
Many loyal Jersey Shore fans loved watching Polizzi and Farley's adventures. According to The Hollywood Reporter, the Snooki & JWoww premiere had 2.4 million viewers and a 1.1 rating among adults 18-49. Those numbers weren't anywhere near the viewership Jersey Shore was getting at the time, but it didn't matter. Farley and Polizzi had a blast making the show and most fans loved watching them. 
Many 'Jersey Shore' love 'Snooki' and 'JWoww's friendship
Polizzi and Farley had themselves a girl's weekend at the end of January 2021. After a night of laughs and Polizzi's favorite Coppola wine, Farley's home security system caught her carrying Polizzi to bed.
"I'm so old I passed out & she had to carry me upstairs like an infant," Polizzi shared on Twitter. 
After the weekend the dynamic duo had, some fans took the initiative to get the attention of MTV focused on bringing back the spinoff series Snooki & JWoww.
There's a petition for MTV to bring 'Snooki & JWoww' back with new episodes 
The love for Snooki & JWoww runs deep. While fans can still watch reruns of the MTV spinoff series, some fans are doing the most to get the show to come back.
Recently, Salsano replied to a tweet that read: "How many signatures would you want in order to look into bringing back Snooki & Jwoww? I'm up to challenge…" 
"I'm with you," Salsano replied. The fan's tweet contained a link to the petition to bring back Snooki & JWoww. 
"Who doesn't want to see more of Snooki & JWoww?!" the site reads. "Hopefully us supporters of Nicole & Jenni could help bring attention to this and make MTV want to bring this show back!?" 
"Put them on TV again," one signature wrote. "We need our other meatball back," said another. 
At the time of publication, the petition had 503 signatures. It's unclear how many will be required for MTV even to consider bringing Snooki & JWoww back. Still, fans remain dedicated to the cause. 
Nicole Polizzi would love to work with Jenni Farley again 
Since her exit from Jersey Shore: Family Vacation, Polizzi has pursued her passions. That includes a new series coming to HGTV called Beach Cabana Royale. While many fans are glad to see Polizzi doing more in television, others want more from her and Farley together. Ironically, so does Polizzi. 
"I would love to do something with Jenni again," Polizzi told HelloGiggles in April 2020 while discussing her exit from Jersey Shore. "Just because filming Snooki & Jwoww, our spinoff from Jersey Shore a while ago, was the fun-est show ever." 
Only time will tell if Farley and Polizzi get the green light to work on more Snooki & JWoww for fans.