MTV's Dave Holmes Uncovers the Shocking Mystery of Sudden Impact's Disappearance (Exclusive)
Imagine being in a band in the early 1990s, on the cusp of stardom riding on the heels of a hot act like Boyz II Men only to be erased as your images blip onto the screen. That's what happened to boy band Sudden Impact, a group that appeared in the Boyz II Men "Motownphilly," music video with the promise of the next fresh hot thing.
The band appeared underneath a white neon sign, "Sudden Impact" in the video, nodding along to the beats. They pointed to the camera and then … their rise to stardom began and ended there.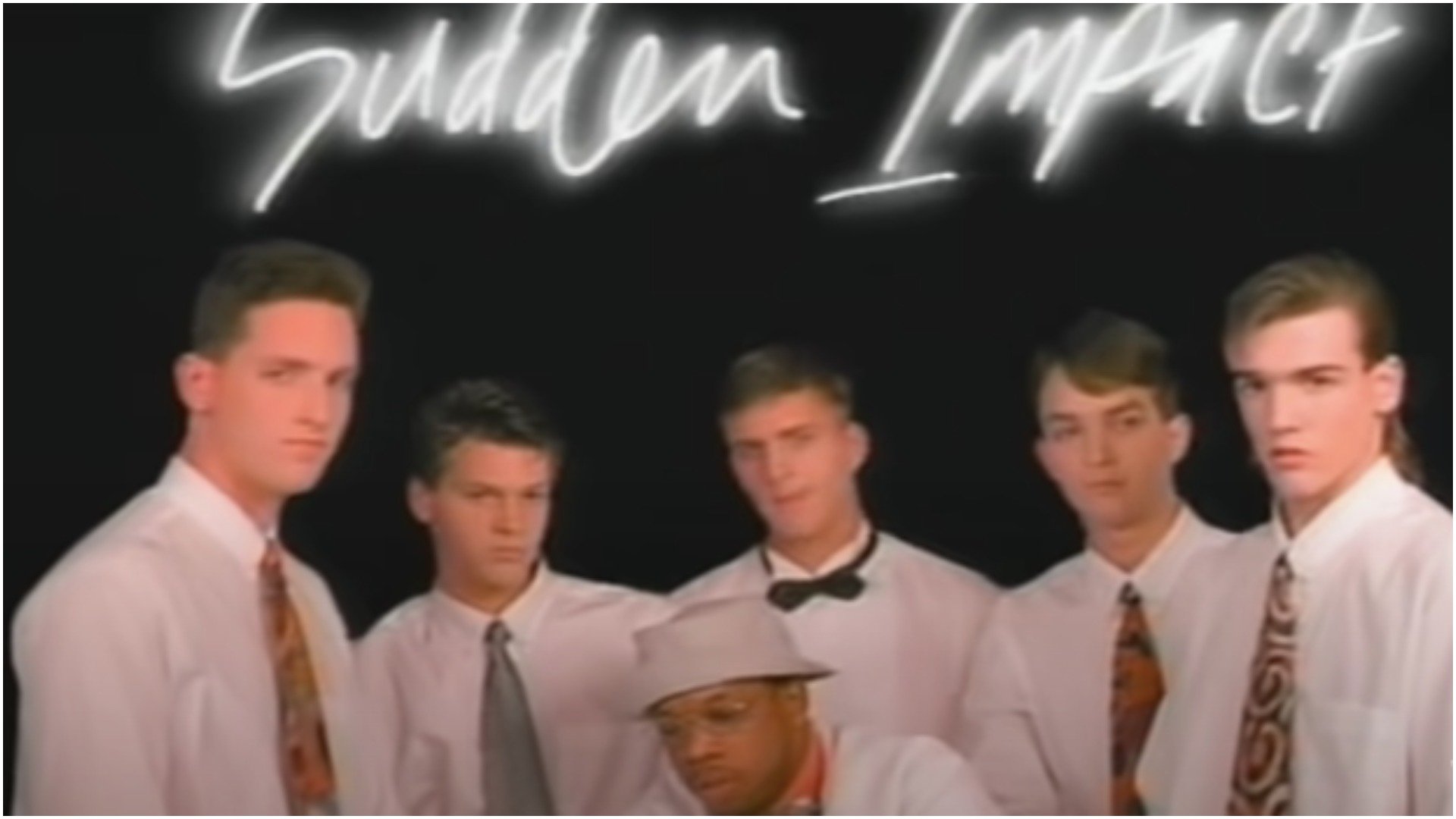 Former MTV VJ Dave Holmes never forgot about that moment and the promise of Sudden Impact. The notion of the band's new beats lived rent-free in Holmes' mind for 30 years until he finally decided to take on a Sherlock Holmes role and actually find out: What happened to Sudden Impact? Holmes dedicated a new podcast to finding the band and learning their story, of what ended up happening to a group who was promised fame, but never got past minute 2:38 in a video.
Dave Holmes from MTV never forgot about Sudden Impact
Before there was a show like The Voice, Instagram, and influencers who could push fame to the masses, there was MTV and high-powered tastemakers who became emerging musician kingmakers. Holmes was a part of the early 1990s music landscape when acts rose to fame through a music video and a nudge from someone like Holmes. But acts needed to get through a slew of other gatekeepers before they made it to MTV.
The band Sudden Impact made a "sudden impact" on Holmes before even he made it to MTV. "It's one of those weird little moments that I remember so clearly from 1991, which was a time when I was in college," Holmes told Showbiz Cheat Sheet. "I myself was kind of adrift as a person. And didn't quite know what I was going to do with my life and whatever. So I spent a lot of time numbing out in front of MTV. And that Boyz II Men video was ubiquitous. I remember that three seconds of that boy band pointing at the camera like, 'Here we come.' And then they kind of never came. And I just always wondered what was up with that."
Dave Holmes compared the 90s to today for musicians
Holmes admitted that he could never shake the "what if" with the band. "And I always wanted to investigate what the story was because obviously there's a story there," he said. After pondering a slew of options, Holmes decided to move forward with a multi-episode podcast, Waiting for Impact: A Dave Holmes Passion Project on Exactly Right Media.
He added that his investigation allowed him to reflect on the trajectory of how music is shared. "What is surprising is kind of what we already know, which is that it's just that their story is such a perfect example of why the 90s were different," he remarked. "Now you can kind of just release stuff when you feel like it. You can make music in your bedroom and put it out into the world the second you think it's ready. But back then, you really did need like a whole team of people to bring this thing out for the world. And if the stars didn't align that you were kind of just out of luck. And, well these guys were frequently out of luck."
'Waiting for Impact' has former MTV guests like Joey McIntyre on the podcast
Holmes said, especially with his background of being entrenched in the music industry in the 90s, that the investigation made him think of the slew of bands and musicians who ended up in a similar position as Sudden Impact.
"Beyond those guys, the idea of meditating as this story made me do about the nature of success and failure, especially in the arts, is something that I wanted to explore with lots of them. But with a lot of people who either did or did not have success in the 90s and, you know, either did or did not continue to pursue it," he said.
"I talked to Joey McIntyre from New Kids on the Block who did have massive pop success," Holmes shared. "And that was starting to wane in 1991 when he was, you know, not yet old enough to be in a bar. And then there are a few more people I end up talking to who are just always honest about some of these bands from the early 90s." Holmes teased a slew of surprise guests, along with serious twists and turns, promising a wild (and fun) ride to find Sudden Impact.
RELATED: Grammy Winner T-Pain Reveals How Twitch Became the 'Schitt's Creek' of Streaming (Exclusive)