Former Mumford & Sons Guitarist Reveals 'Why it Was so Hard to Leave' the Band Following 1 Controversial Tweet
One controversial tweet led to Winston Marshall leaving Mumford & Sons, and being robbed of his vision for the band was the hardest part of leaving.
Winston Marshall's music career drastically changed in March 2021. The Mumford & Sons guitarist and banjo player sent a tweet congratulating conservative journalist Andy Ngo for a fine effort with his book. But Ngo is a controversial figure, and Marshall's seeming praise didn't sit well with many people. 
Marshall's tweet brought a wave of negative feedback, and he left Mumford & Sons in June 2021. He revealed the hardest part of leaving Ted Lasso theme song performer Marcus Mumford and his longtime bandmates nearly a year after his departure.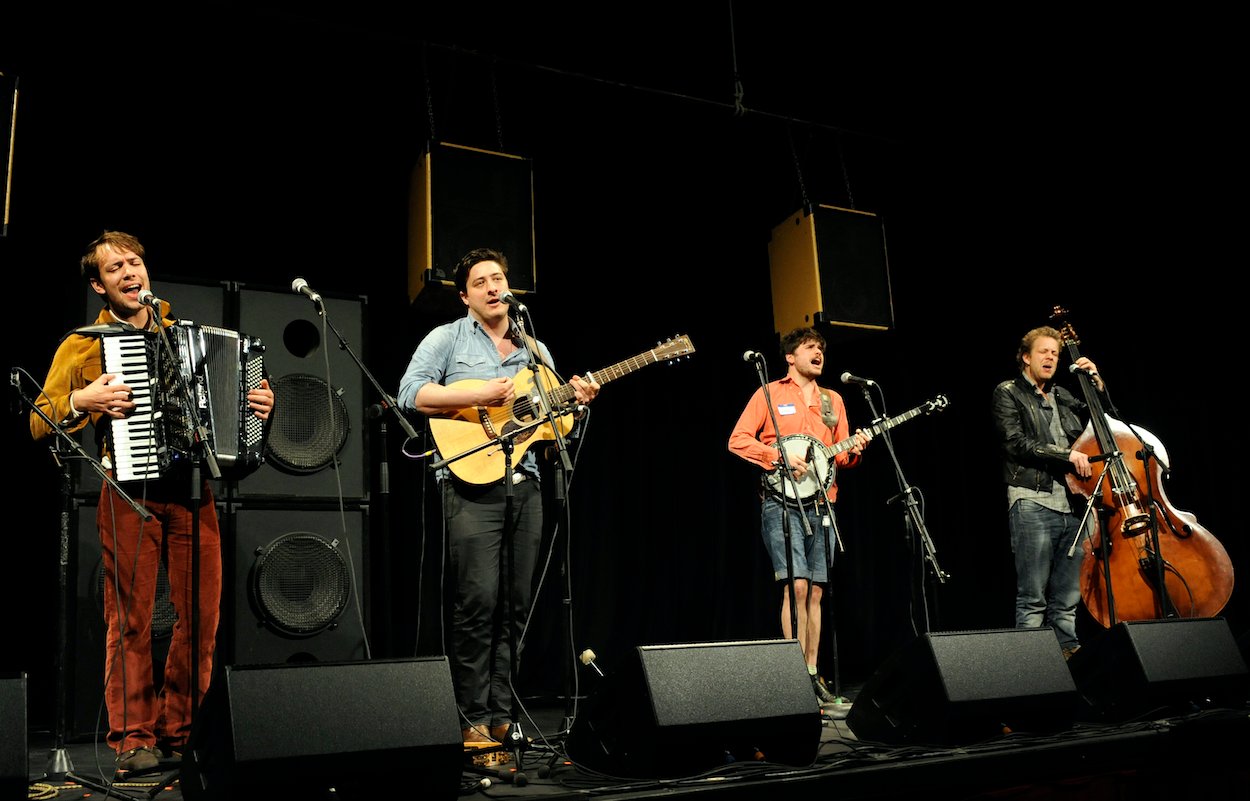 Marshall's controversial tweet causes blowback for Mumford & Sons
Marshall's congratulatory tweet to Ngo almost immediately drew scorn from people who view Ngo as a firebrand and provocateur. Marshall sent the tweet, but the entire band took the heat.
Marshall apologized for his initial post, but it did little to quiet the storm. 
"They were getting dragged under the bus with me; that was a horrible experience for them," Marshall said (per Yahoo).
Marshall and his bandmates, who formed in 2007, parted ways after more than a decade together. His departure came under difficult circumstances, but the controversy wasn't the hardest part of leaving.
Winston Marshall reveals 'why it was so hard to leave' the band
Marshall and Mumford & Sons achieved international acclaim. There was a noteworthy Grammys upset loss in 2011, then a win, and then a snub at the Grammys in 2016. 
There were the awards, massive shows on lengthy tours, and rubbing shoulders with celebrities on a regular basis. Marshall married a celebrity, tying the knot with Glee star Dianna Agron before separating a few years later. 
So what was the hardest part of leaving Mumford & Sons for Marshall? Losing notoriety? Not being recognized for his artistic achievements? No. For Marshall, the hardest part of the split was not being able to live the dream he had when the band formed.
"I imagined being in my 60s and still playing with the band. That's one reason it was so hard to leave. I thought we'd always be together."

Winston Marshall
Marshall envisioned playing with his Mumford & Sons bandmates for decades, and having that vision erased was a difficult part of his exit. He told Yahoo he has found peace in his life since then, but losing his dream remains the worst aspect of his departure.
What Marshall is up to now
Marshall admitted the controversy over his tweet and leaving Mumford & Sons helped reveal who his real friends are, as Yahoo writes.
Music has taken a back seat for Marshall since leaving the band in June 2021. Perhaps because of his experience with the Twitter controversy, he is devoted to learning more about censorship and free speech.
Marshall hosts the Marshall Matters podcast (available on Spotify), and he recently penned an essay titled When Artists Become the Censors for former New York Times writer Bari Weiss' Common Sense substack. 
Marshall's controversial tweet took away his vision for Mumford & Sons' career, and he admits that was the hardest part of leaving the band. But he's found new creative outlets with his writing and podcasting.