MUNA Self-Titled Album Review: 'MUNA' Might be the Defining Album of Summer 2022
MUNA is unstoppable. The band recently released their self-titled album, earning praise from critics and fans alike — some even considered this their most cohesive project to date. Here's Showbiz Cheat Sheet's review of MUNA.
Happy Pride Month — MUNA's self-titled album premiered on June 24, 2022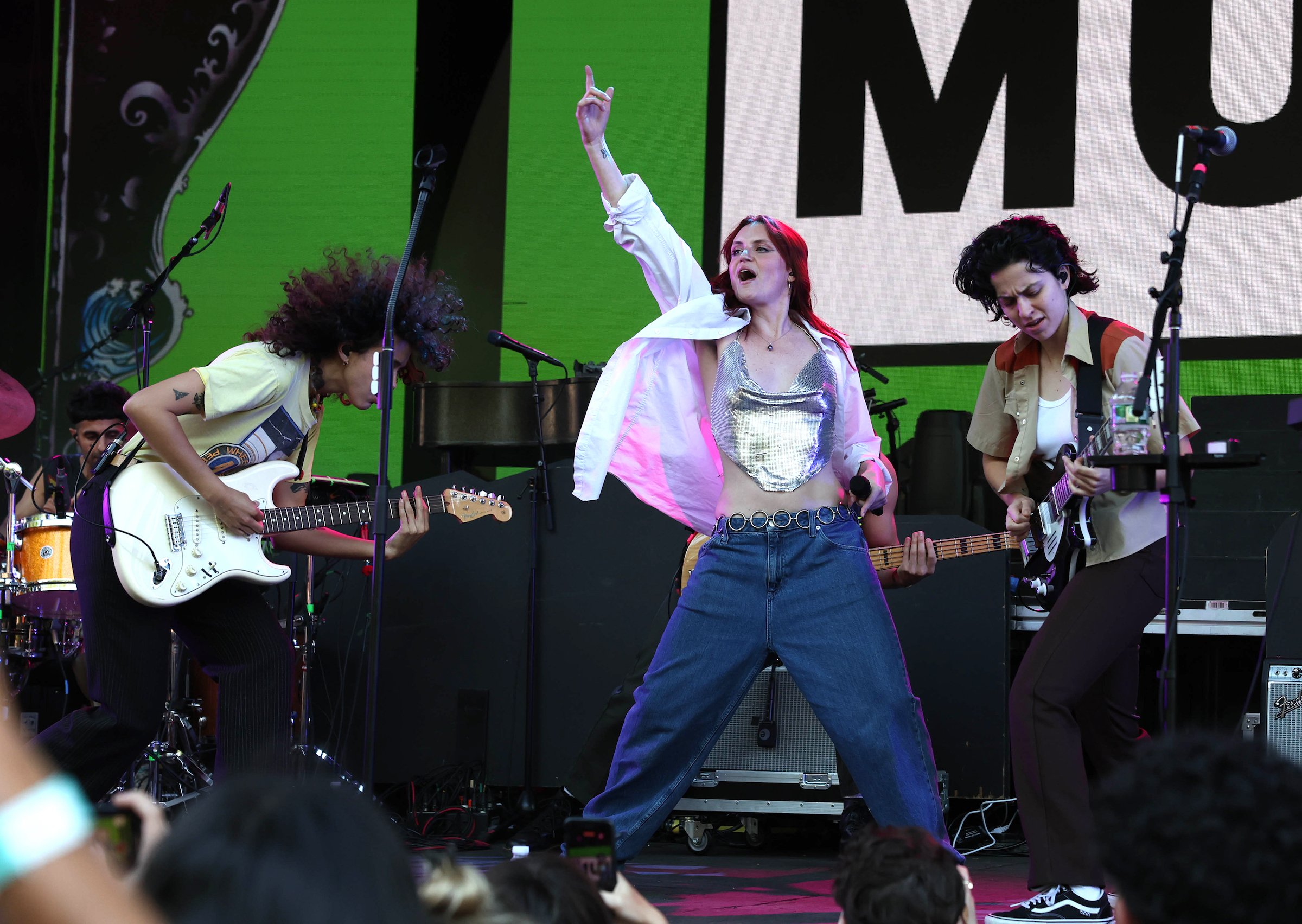 MUNA's come a long way since "I Know a Place." Between opening for Kacey Musgraves, playing solo shows, remixing MARINA's "Man's World," and rerecording "Sometimes" for Fire Island MUNA wrote their next studio album.
"Anything But Me" introduced the group's newest era, complete with a new music video inspired by the idea that they've been their "own captors in relationships." 
"Anything But Me" came with an announcement regarding their recently released album and its tracklist. Fans learned that MUNA's first song would be the already released track "Silk Chiffon," featuring Phoebe Bridgers, a song appropriately chosen due to MUNA's work relationship with the "Motion Sickness" artist.
MUNA also collaborated with Mitski, exploring different genres for their complete production. Now, all 11 songs are available for streaming, with Katie Gavin, Josette "Jo" Maskin, and Naomi McPherson earning praise from fans and critics alike.
MUNA's self-titled album includes songs 'What I Want,' 'Kind of Girl,' and 'No Idea'
MUNA included songs like "No Idea," which lean heavily on the resurgence Y2K style and music in pop culture. That's, of course, with an added MUNA twist, thanks to Gavin's lyrics, Maskin's masterful guitar playing, and McPherson's intricate, unexpected production elements.
A personal favorite, "What I Want" came with its own music video starring the trio, as well as a story that some listeners compare to "Dancing on My Own" by Robyn. "Solid" turns to classic 1980s musical themes and added drum machine effects. (Hey, if it ain't broke…)
Meanwhile, "Kind of Girl" zeroes in on the mid-20s emotions, somehow directing lyrics both at queer people and just anyone at the crossroads of self-discovery, self-loathing, and self-assurance. Somehow, each brings a fresh, exhilarating feeling — the perfect ingredients for a summer album.
MUNA embarks on their North American tour in 2022
Effortlessly stirring up pop, country, and indie rock, MUNA is making music for people who get music. What makes the group even more special is they're making it almost entirely by themselves. 
After releasing their singles, the band shared credits on their Instagram stories. For "What I Want," all three band members appeared as additional engineers and backing vocalists. McPherson was behind the song's production and drum programming, Maskin recorded electric guitar, synthesized guitar, EBowed guitar, and Gavin wrote lyrics with Leland.
The music and production are amazing, obviously. Gavin's lyrics, though, are a notable benefit to each original track. So specific, yet somehow so universal? To be fair, she was a talented songwriter long before MUNA (i.e. "Taken," "Stayaway," "Pink Light.")
If you weren't a fan before MUNA, you will be now. This band is unflappable — and they're just getting started.

RELATED: MUNA Debuts 'Anything but Me,' Announces 2022 Album Release Date