'My Big Fat Greek Wedding' Star, Nia Vardalos, Hung up on Tom Hanks
Nia Vardalos became a household name when her film, My Big Fat Greek Wedding, became a surprise success. The film, which followed Toula Portokalos as she dealt with her new relationship and her overbearing family, became the most successful romantic comedy of all time. Tom Hanks is often credited with helping the movie get made, but Vardalos actually hung up on him the first time he called.
My Big Fat Greek Wedding started as Nia Vardalos's one-woman show
Vardalos always had aspirations of being an actor. During the 1990s, she had a few bit parts here and there. Vardalos voiced Domino in Team Knight Rider and had a part as a waitress in Boy Meets World. She took on a small role in Two Guys, a Girl, and a Pizza Place, too. Those small roles weren't enough to keep her agent interested, though. Vardalos penned the screenplay for My Big Fat Greek Wedding after being dropped by her agent. She decided to perform the material in a one-woman show when no one would read the manuscript.
When the one-woman show began, Vardalos didn't think a studio would make it into a movie. Sure, she wrote a screenplay, but her goals were a lot less grandiose. Vardalos was hoping that, if anything, she'd be able to sign with another agent, thanks to the material. She got far more than she bargained for, though. Her industrious decision launched her entire career.
Rita Wilson saw Nia Vardalos's one-woman show and then took Tom Hanks to see it
Both Hanks and his wife, Rita Wilson, were passionate about the project, but Wilson was the one who got the ball rolling. During an interview for 20/20, Vardalos recalled that Wilson saw the show at Second City and instantly connected with the material. Wilson, who is also Greek, headed backstage to meet Vardalos. Reportedly, she commented that the show could easily be a movie.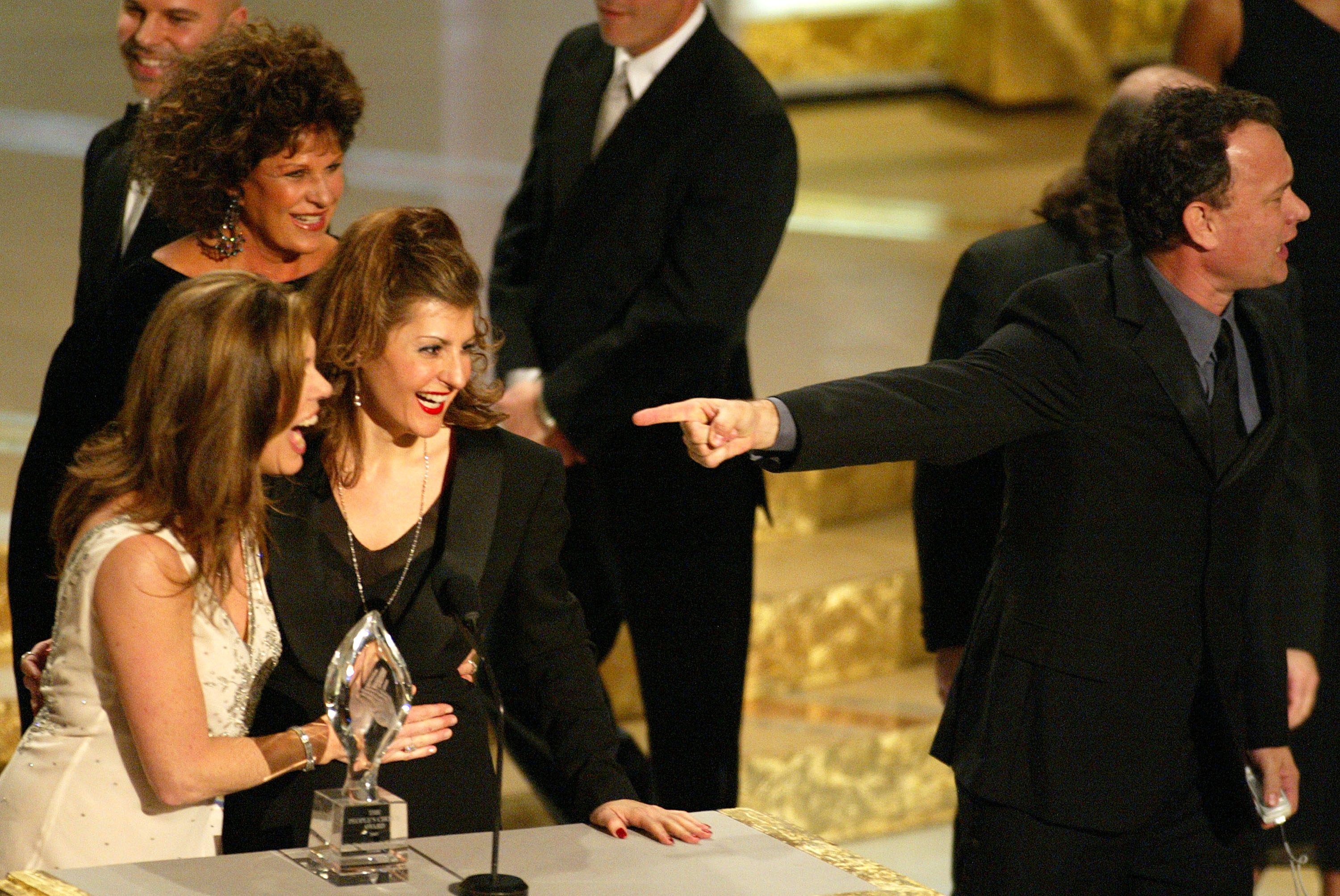 Later, Wilson insisted that Hanks and his business partner, Gary Goetzman, see the show. They did just that. The two enjoyed it, because they immediately knew they could turn it into a movie. Getting Vardalos to believe they were interested was a bit more complicated.
Nia hung up on Tom Hanks when he called her about My Big Fat Greek Wedding
Hanks might have been desperate to connect with Vardalos about turning her show into My Big Fat Greek Wedding, but Vardalos's friends thwarted his first attempt to make it happen. The actor recalled that when she told her friends that Hanks had seen her show, they all got a good chuckle. One jokester took to calling Vardalos pretending to be Hanks.
According to IMDb, Vardalos was skeptical when the real Hanks eventually did call. Assuming it was her friend pranking her again, she reportedly hung up. Hanks and Vardalos finally connected and made the film happen. In fact, the actors are still good friends today.