'My Name': New Still Cuts Reveal Han So-Hee's Kickass Character in Netflix K-Drama
Netflix will debut a new crime-thriller Korean drama starring Nevertheless actor Han So-Hee. Fans were already excited for My Name when the first official teaser poster was released. Han will play the lead role of Yoon Ji-Woo and is seen with bloody fists surrounded by knocked-out henchmen in an alley. The new character deviates from the romance-driven roles Han has previously played. The new K-drama stills showcase Han in a kickass role full of grit, darkness, and doing whatever it takes for revenge. The stills also reveal a bit more of what the K-drama storyline has in store for fans.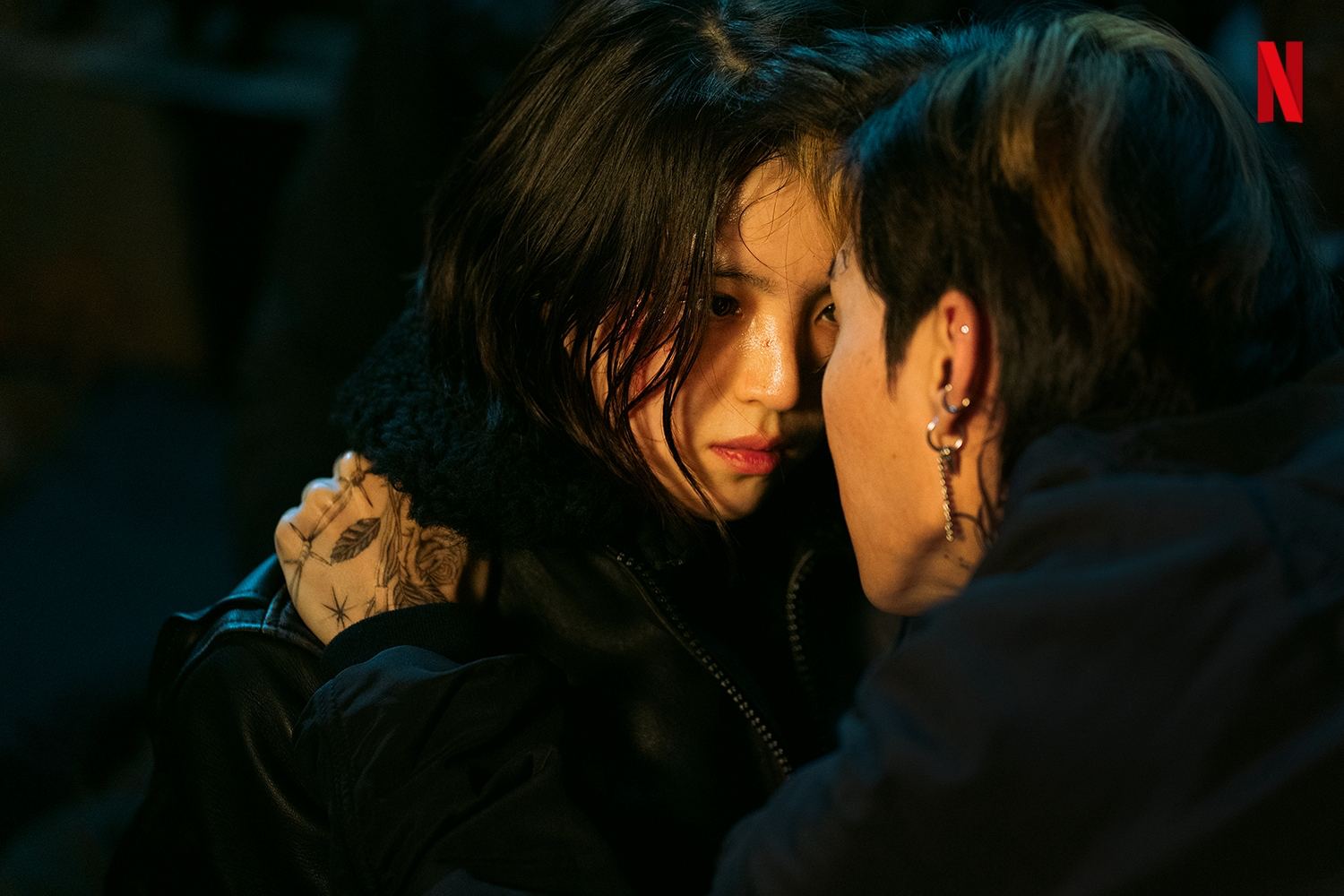 Yoon Ji-Woo joins a ruthless crime ring to enact revenge
The original synopsis for My Name tells the story of a young woman named Ji-Woo. When her father is killed, Ji-Woo takes matters into her own hands in finding the culprit. She goes to extreme lengths and joins one of South Korea's most notorious crime rings. Her life drastically changes as she is fueled with revenge and learns to become a ruthless fighter.
Her plan to uncover who was behind her father's murder leads her to join the police force. She goes undercover at the source and is partnered with detective Jeon Pil-Do (Ahn Bo-Hyun), a stickler for the rules. Intertwined in her journey is the crime ring's boss and the officer determined to take him down. Ji-Woo ventures down a dark path seeking justice. The new stills revealed by the My Name team give fans a glimpse at how far Ji-Woo is willing to go.
Han So-Hee sports bloody wounds and a cold stare in 'My Name'
The new My Name K-drama stills give fans more insight into Han So-Hee's character and her change from a normal teen to an undercover gang member. According to Soompi, one image still depicts the moment Ji-Woo witnesses her father's murder. She is seen with a blank stare and tearful red-rimmed eyes. Based on a still image of Ji-Woo wearing a school uniform, the character is only 17-years-old in the K-drama.
That is not all, as fans also get a small glimpse of her interaction with a crime boss, Choi Moo-Jin played by Park Hee-Soon. In the octagon, Ji-Woo is covered in sweat and bruises as she stands in a fighting position against Moo-Jin. Moo-Jin was a longtime friend of Ji-Woo's father who agrees to help her infiltrate the police force. The new stills show Ji-Woo's evolution as she hones in her skills to survive in the dark and gritty world of crime.
From a teenager in high school to a member of a crime gang, Ji-Woo goes through a drastic change. She forgoes her school uniform and gets rid of her long hair. In all the images, Ji-Woo has a deadly and cold stare. Fans can tell Ji-Woo has developed a level of authority as one side character bows at her arrival. Ji-Woo abandons her old life and takes on the name Oh Hye-Jin and must survive in the crime world while keeping up her ruse in the police force.
Han So-Hee went to action school to perfect her character
As an actor, Han has an incredible acting range that has garnered her a fan base. Han has gone from playing serious drama characters in The Penthouse 3 to riveting romantic roles in Netflix's Nevertheless. My Name is a drastic change from what fans are used to seeing from the Han. Fans are excited to see the actor in a new genre. As Han's character learns to become a skilled fighter in the Netflix K-drama, the actor had some preparation to do and attended action school.
"I realized for the first time that I have two left feet. I gradually transformed by going to action school on all of the days—Mondays, Tuesdays, Wednesdays, Thursdays, and Fridays—and I had fun filming because of the euphoria that comes after perfectly completing an action scene," said the actor. Fans can look forward to Han performing her own action sequences and eagerly await its official trailer.
My Name will be available to stream on Netflix on Oct. 15