Myka Stauffer Apologizes After 'Rehoming' Her Son, But Critics Are Still Disgusted
It wasn't too long ago that Myka Stauffer made headlines for giving away her adopted son, Huxley. Up until this point, Stauffer and her husband, James Stauffer, had created a successful YouTube channel about their family life. A big portion of said channel centered around the adoption of Huxley. Stauffer took fans throughout her entire adoption journey and gained thousands of followers and dollars along the way.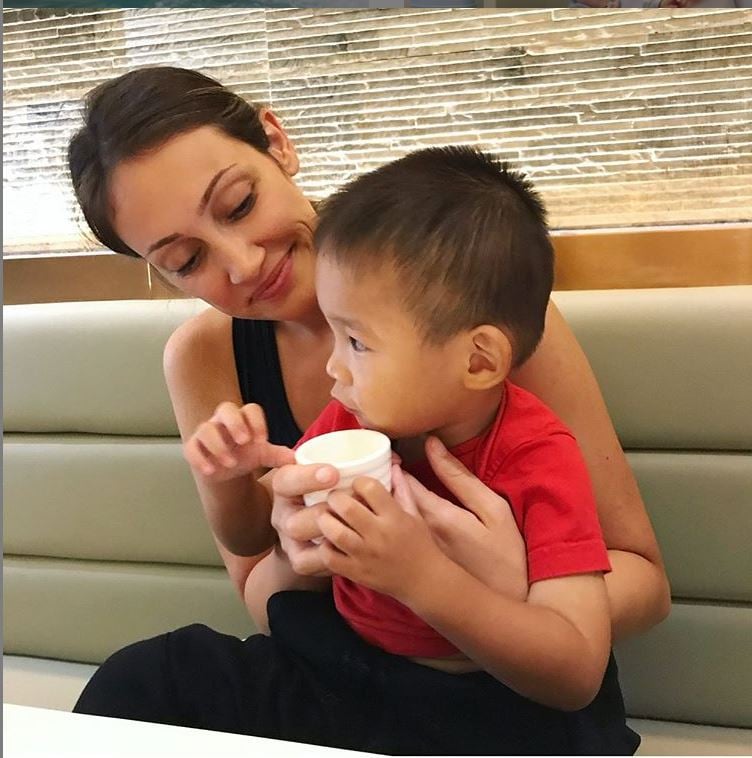 Of course, the adoption process was a long and arduous one. But, Stauffer kept a detailed record of it on her YouTube channel. There, fans learned that the Stauffers has specifically requested a special needs child. In fact, when a doctor warned Stauffer and her husband that Huxley's needs were more severe than they'd been expecting, Stauffer declared that she didn't care. She stated that Huxley was her son and she was not going to just give him away and then continued on with the adoption.
A brief recap of Myka Stauffer and her adopted son, Huxley
Following the adoption's completion, Stauffer welcomed Huxley into her home. She made countless videos about him, detailing some of the issues that he was experiencing, like issues with attachment. She showcased his difficulties and his progress via her YouTube channels, profiting off of it all. She also informed her viewers that Huxley had developed a special bond with her husband, James.
But, despite the progress, fans began to question what was going on with the family when Stauffer got pregnant with her fourth biological child. Viewers questioned how the family was going to adequately deal with Huxley's needs whilst also dealing with a newborn. Things escalated when fans began to notice that photos and videos of Huxley slowed down significantly. Some videos on their channel had even been marked private.
The influencer announces she has "re-homed" her son on YouTube
On May 26, 2020, Stauffer and James made a since-deleted YouTube video sharing that they'd made the decision to "re-home" Huxley. They declared that he had more special needs than they previously thought and they'd placed him in a new home. Naturally, this caused plenty of uproar and outrage on the Internet. Many critics declared that there was documented evidence that proved Stauffer was informed of Huxley's special needs prior to adoption.
RELATED: Jaclyn Hill Reflects on the Lipstick Drama 'I Really, Really Have PTSD'
Others cited that Stauffer only used Huxley for economic gain and social media fame and insisted that she would never give away one of her biological children. But, the majority of people just felt devastated that after spending years with the Stauffers, Huxley would have to go through more trauma of being "re-homed."
Stauffer releases an apology on Instagram
Following the backlash, Stauffer began deleting negative messages from her social media channels. When she couldn't keep up with that, she chose to limit/block people from leaving messages on her channels altogether. Furthermore, she and her husband have chosen to delete any and all evidence of Huxley from their social media channels. Stauffer has since been silent about her decision to give away her son. But, on June 24, 2020, she took to her Instagram page to break her silence.
In the Instagram post, Stauffer extended her apologies to the women who "looked up to her as a mother." She also stated that she was not prepared, equipped, or selective enough to have adopted Huxley. She acknowledged that her decisions caused Huxley to experience trauma and stated that the rumors about adopting him for monetary gain were false. She also stated that she hoped to share more from her side of the story soon and talked about moms needing a safe space to ask for help. Finally, she concluded by stating that "re-homing" Huxley was the best choice for him.
Critics on Twitter, Reddit, and YouTube are still outraged
Though Stauffer still has her comments limited to prevent criticism, people are still finding a way to make their opinions heard. On Twitter, YouTube, Instagram, Reddit, and blogs, people are still expressing disgust for Stauffer's decision and her newly issued apology. Critics feel that Huxley, not Stauffer's followers, is the one who deserves the apology. Furthermore, people are also criticizing Stauffer for the nature of her apology.
'I'm sorry I fu*ked up and exposed myself for being an awful human being. But, I still want you to contribute to my ad revenue and fund my influencer lifestyle so please don't hate me! I will turn this into a 'moms should support moms' issue and hope this will help me 'connect' to you and your bank accounts thru my 'mom helping' products and services. Stay tuned for my new era and merch!" one person wrote facetiously on the Oh No They Didn't blog.
Many people do not find the apology genuine
"I cant. I find that shes even apologizing and framing it like she released some shi*ty influencer makeup incredibly disgusting. Like I feel like I'm reading a Jaclyn Hill apology, not someone who fu*king returned a child," another person chimed after reading Stauffer's apology. Clearly, the outrage against the Stauffers isn't stopping anytime soon. We just hope the Huxley is safe, loved, and cared for.