'Nancy Drew' Star Riley Smith Threw His Back Out While Channeling His Younger Self in Season 3 Episode 7
Fans of Disney Channel Original Movies in the early 2000s may know actor Riley Smith as Dean Talon, the teen heartthrob in Motocrossed. These days, the actor plays a slightly different role: Nancy Drew's biological father, Ryan Hudson. Smith may not be a teenager anymore, but he got to channel his younger self in The CW's Nancy Drew Season 3 Episode 7 on Nov. 19. He spoke about the experience in a recent interview, revealing that the episode's youthful stunts weren't so kind to his body.
[Spoiler alert: The following story contains spoilers for Nancy Drew Season 3 Episode 7, "The Gambit of the Tangled Souls."]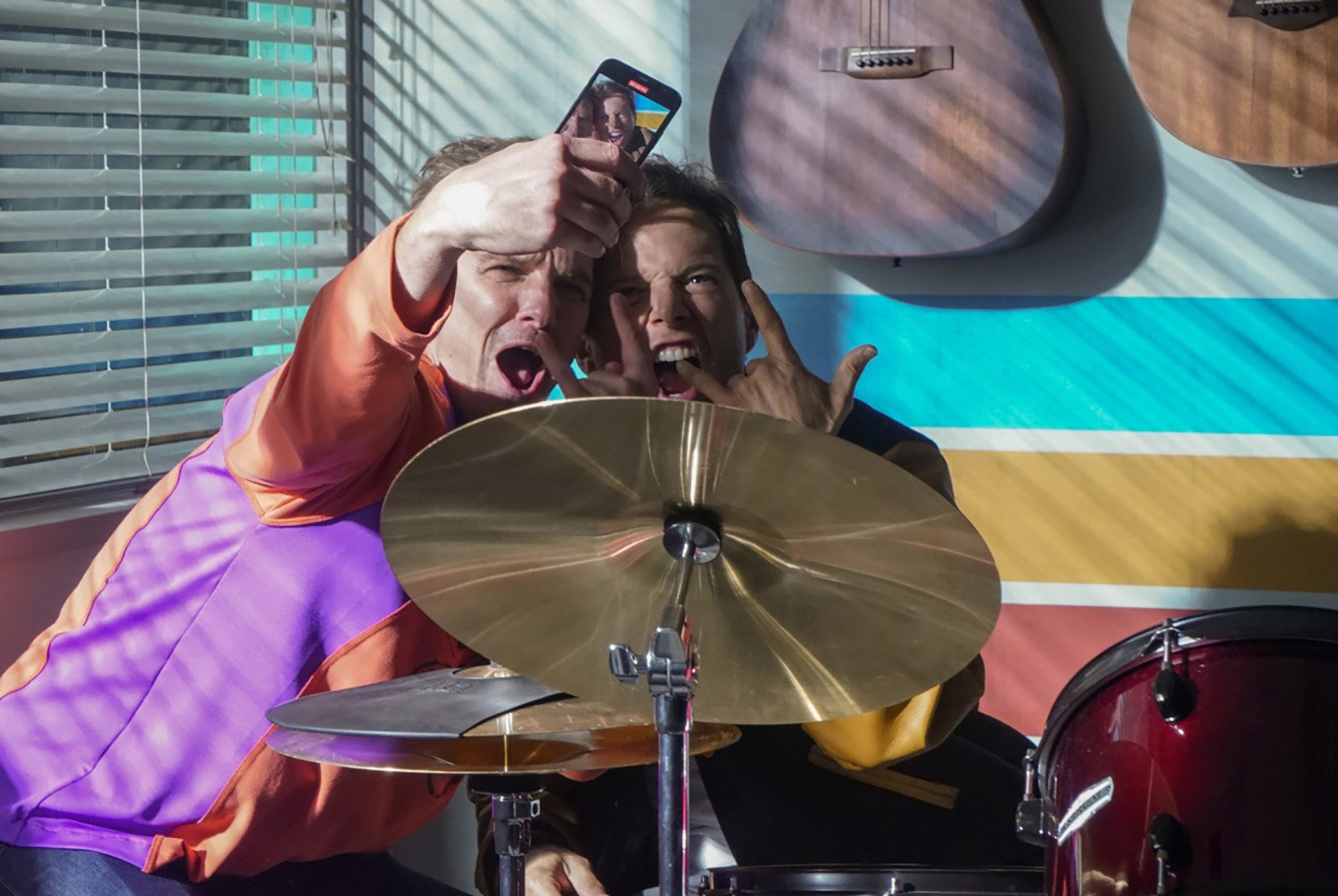 What happened in 'Nancy Drew' Season 3 Episode 7?
Nancy Drew Season 3 Episode 7 saw Nancy (Kennedy McMann) and Bess (Maddison Jaizani) attempt to pull Odette's soul from George's (Leah Lewis) body for good. But first, they needed to find a device called the Soul Splitter. Enter Ryan and Carson (Scott Wolf).
Nancy sent Ryan and Carson to a storage unit to look for the Soul Splitter. Being his clumsy self, Ryan knocked over a potent bottle of youthful elixir. The substance immediately lowered Ryan's and Carson's inhibitions to make them act like their teenage selves.
Hilarity ensued over the next few hours. The two put on letterman jackets and motocross jerseys, raced around in fast cars and motorcycles, and formed a two-person band. They even spoke like teens, treating Nancy like a mother figure. Of course, the elixir affected Carson on a day he needed to go to court. That led to an interesting conversation with his fellow law officials.
Eventually, the elixir wore off on its own. Ryan and Carson returned to their adult minds, leaving them to clean up the messes they made.
'Nancy Drew' star Riley Smith threw his back out while channeling his 'Motocrossed' days
Smith had a ton of fun filming the episode, but it came with a cost. He revealed in an interview with TVLine that he threw his back out while doing a jump kick with a guitar for a promo image.
"For the first three days of shooting, I was hobbling around like an old geezer pretending to be a teenager," he explained. "If there was any way to remind myself that I'm not a teenager anymore, that was it."
Why did Nancy Drew decide to give Carson and Ryan this experience? Smith said the showrunners wanted to pay homage to their teen acting roles. While Smith appeared in 2001's Motocrossed, Wolf starred in 1994's Party of Five.
"[Showrunner Melinda Hsu Taylor] came to me and said, 'We have these two dads that were teenage heartthrobs, and we've never really touched on that at all,'" Smith revealed.
The actor immediately jumped on board with the idea. When it came to filming, he went full Motocrossed mode.
"I was getting dressed on Day 1 in my trailer, and I was like, 'I'm going to put on the Motocrossed theme song … If you know the movie, you know the song," Smith said. "So I cranked it in my trailer as I'm getting the jersey on, I'm spiking my hair up, and I'm ready to go."
The actor added that it felt "amazing" to "relive our glory days one more time."
Riley Smith said his journey as Ryan Hudson has been 'the most fun' he's had on a project
In general, Smith has had a wonderful experience with Nancy Drew. He explained to TVLine that he loved following Ryan's character development.
"Ryan's journey has been the most fun turnaround I've ever played. It's been a lot of work for me and the writers, it's been a group effort," he said. "He was not very likable in the beginning, but over time we've gotten to see why he was like that. It's so fun to play a guy who's just trying to figure it out."
New episodes of Nancy Drew Season 3 premiere on Friday nights at 9 p.m. ET on the CW.
RELATED: 'Nancy Drew' Star Kennedy McMann Wasn't Surprised By Adult Content