'Nancy Drew': Is [Spoiler] Really Dead? Showrunners Tease Possible Return of Season 3 Villain
'Nancy Drew' showrunners Melinda Hsu Taylor and Noga Landau teased that, if the show returns for season 4, fans may see a season 3 baddie once again.
The supernatural saga of Nancy Drew Season 3 has finally come to a close, culminating in a battle with the season's big villain, Temperance Hudson. But is this really the end of the chapter? Nancy Drew showrunners Melinda Hsu Taylor and Noga Landau teased what's to come next season if the CW renews the series, including the possible return of a familiar antagonist.
[Spoiler alert: The following story contains spoilers for Nancy Drew Season 3 Episode 13, "The Ransom of the Forsaken Soul."]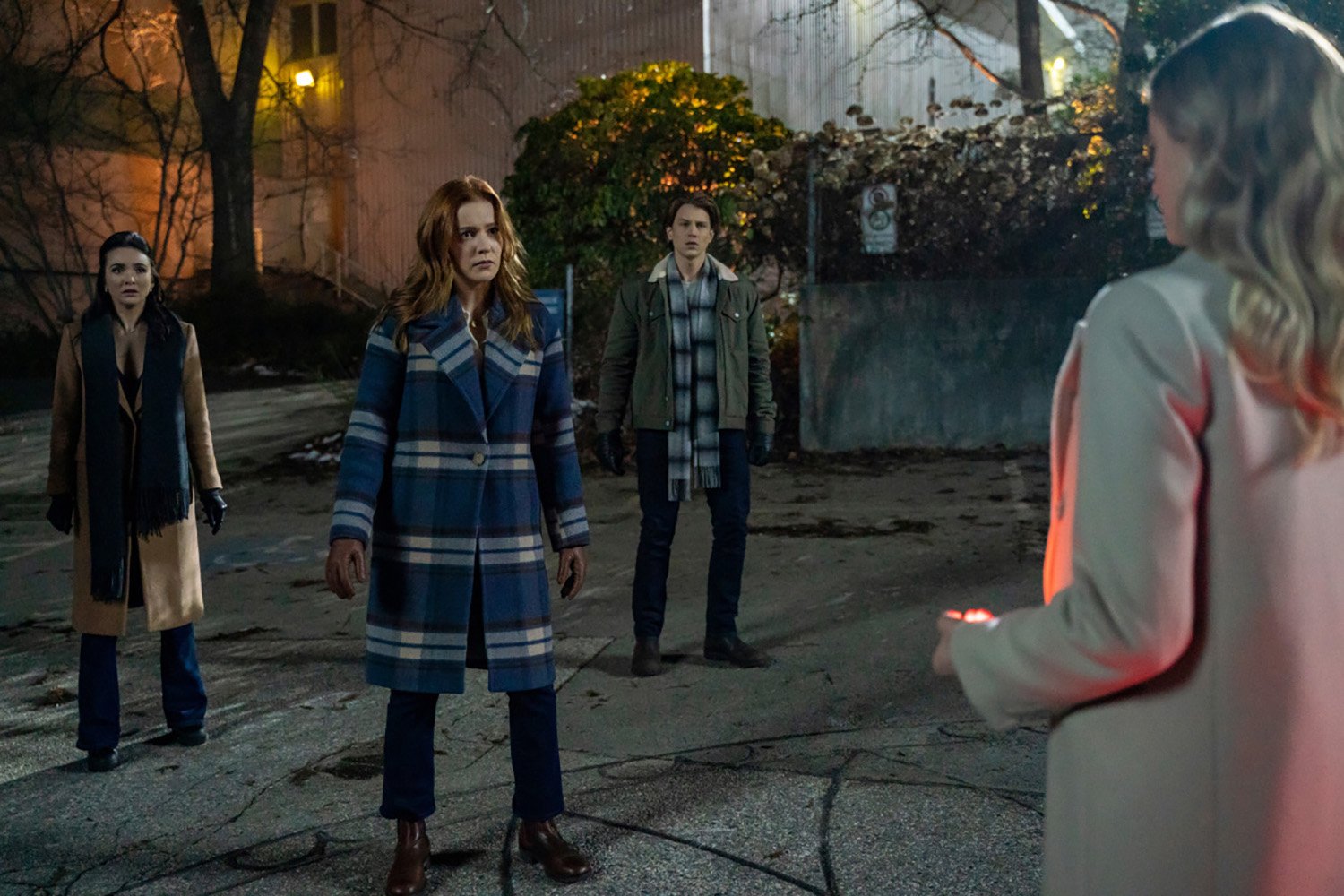 'Nancy Drew' Season 3 finale saw Nancy take down Temperance for good
Nancy Drew Season 3 closely followed Temperance Hudson (Olivia Taylor Dudley), a villainous witch and one of Nancy's ancestors. Determined to bring back her daughter, Charity, Temperance set out to launch the New Genesis — a supernatural apocalypse that would wipe out the residents of Horseshoe Bay.
In the season 3 finale, Nancy (Kennedy McMann) and the Drew Crew managed to reach Temperance just before she performed her final ritual. Using a cursed hatchet, Nancy killed Temperance, but a shard from the hatchet hit Ryan Hudson (Riley Smith) and killed him, too. One month later, Nancy lost Ace (Alex Saxon) in a car accident.
In a surprising twist, Temperance returned to tell Nancy that the past month had been a hallucination. In reality, the young detective was moments away from striking Temperance with the hatchet; Temperance wanted to show Nancy what would happen in the future if she did kill her. The witch cursed Nancy, revealing that Ace would die if Nancy ever admitted her feelings to him.
Back in reality, Nancy opted to spare Temperance. However, she later returned and killed her ancestor when Temperance least expected it. In Temperance's final moments, a moth flew from her mouth — what could that mean? Is she really gone for good?
The 'Nancy Drew' showrunners teased season 3 villain Temperance could return
Temperance has faked out the Drew Crew plenty of times, so it's hard for many fans to believe she'd go down that easily. In a recent interview, Hsu Taylor and Landau spoke about the potential for the villain to return after Nancy Drew Season 3. According to the showrunners, there's always a chance Temperance isn't really dead.
"There is something about this threat of Temperance, and you just never know. But that's kind of the whole point of how she left things with us. If you've been told someday you're going to fall off a sidewalk and break your ankle, you look at every sidewalk differently," Hsu Taylor told Entertainment Weekly. "Maybe this is just somebody talking to you, but maybe it's not; maybe today's the day."
The fear of knowing Temperance could pop up at any moment might just be scarier than her actual return. And, as Landau pointed out, Temperance has already proven that she could be anyone in Horseshoe Bay. In other words: trust no one.
"What's fun about Temperance is that she's the villain of many faces. She's been played by three different actresses so far, who are all amazing, and so we've already set up that you never know who Temperance could be," Landau said. "So, yes, again, we'll leave it at that."
Season 4's mystery will somehow connect to season 3
At the end of the season finale, Nancy opened up her own detective's office and took on her first case: missing bodies in the cemetery. It seems like a new mystery, but Hsu Taylor teased that it will connect to moments in season 3.
"We actually planted seeds of it already … this is a spoiler. In later interviews — if there are later interviews — I can tell you where the seed actually starts in season 3, even before the finale," she told EW.
Nancy Drew Season 3 is available for streaming on the CW website and app. Stay tuned to Showbiz Cheat Sheet for more updates on season 4's renewal status.