Nancy Meyers Reveals How She Really Feels About Goldie Hawn's Iconic 'Private Benjamin' Poster
Movies director Nancy Meyers recently shared the one element of Goldie Hawn's poster for her film, Private Benjamin, that she wishes didn't exist.
The director and producer's first feature film celebrated its 40th anniversary on October 10, 2020. The film starred Hawn and solidified the actress' career, as she starred and worked as a producer on Private Benjamin. Hawn starred as Judy Benjamin, a woman who joins the Army after her husband unexpectedly dies while they're in bed together. The movie then leads to multiple comedic situations by Hawn throughout. Eileen Brennan and Hal Williams also starred in the 1980 classic.
While Meyers has discussed her first movie on multiple occasions, she said on social media that she regrets not being more adamant about a certain addition to the poster used to promote Private Benjamin.
Nancy Meyers said the marketing department for 'Private Benjamin' didn't know how to promote it as a comedy
On October 10, 2020, Meyers posted an Instagram photo of the Private Benjamin promotional poster, which was first released in 1980. The poster displayed Hawn at the center as she made a puzzled face away from the camera. Hawn's eyes were covered in mascara, which was shown running down her face. The actress also had a bandage on her cheek while she wore a black helmet.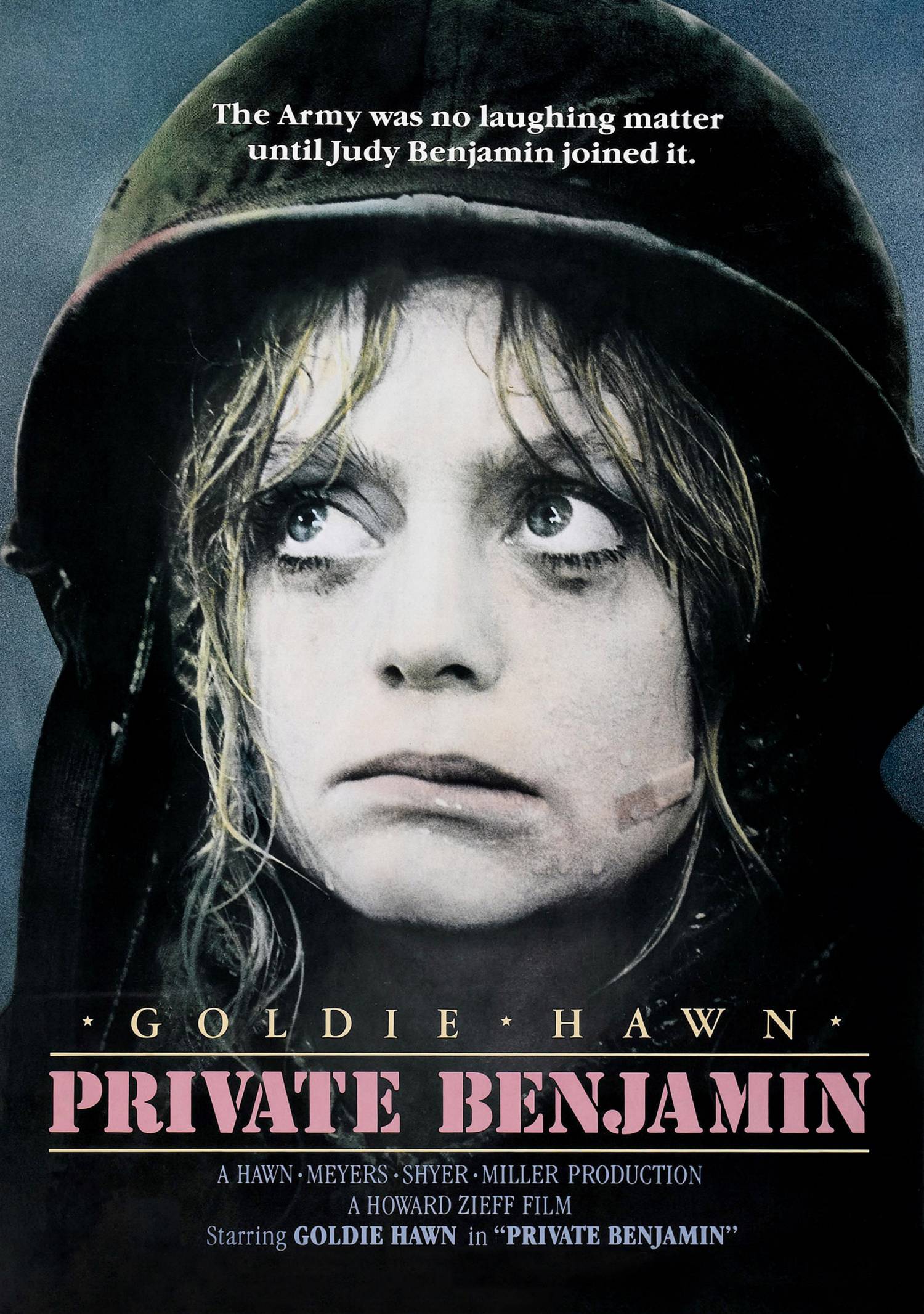 Related: Scarlett Johansson Lost Out On Roles In These 3 Popular Movies
Underneath the photo, Meyers shared an anecdote about how the poster came to be. Initially, Meyers wanted to use the photo as a standalone image, with the title and Hawn's name displayed below. However, she said the movie's marketing department wasn't sure if the audience would view the movie as a comedy based off of the photo alone. This was something Meyers said she disagreed with at the time and still cringes about today. 
"40 years ago today #PrivateBenjamin came out," Meyers wrote. "I remember when we showed this photo to the marketing dept at the studio. We thought it would be a great poster, and they said, 'She's not smiling. How will they know it's a comedy?' We said it's Goldie in the army with a bandaid on her cheek and mascara running. Seems obvious. They let us use this photo but insisted on putting those words on her helmet. 'The army was no laughing matter until Judy Benjamin joined it.' To this day, I'm still shaking my head."
Goldie Hawn was pregnant with Kate Hudson when she was approached to star in 'Private Benjamin'
After Private Benjamin premiered in 1980, Hawn was credited for shaping how female actresses were portrayed in comedy films. She led most of the movie with her comedic timing and earned a Best Actress nomination for her role.
Related: How Old Is Kate Hudson And How Many Kids Does She Have?
In her 2005 memoir,  A Lotus Grows in the Mud, Hawn reflected on Meyer's approach to work on Private Benjamin. According to E!, she was pregnant with Kate Hudson and was hoping to repair her marriage with her ex-husband, Bill Hudson. When she read the script, Hawn said she was amazed by the writing and the opportunity to show a different side of herself through the film. 
"The concept is so fresh, so brave and original," Hawn said of Private Benjamin. "The female lead carries the whole movie, almost by herself. She embarks on a personal journey and becomes empowered and independent and strong. It couldn't be more different from my last movie. I can feel a flutter of excitement in my belly that has nothing to do with my baby."
Nancy Meyers wrote 'Private Benjamin' with her ex-husband, Charles Shyer
In addition to Private Benjamin being Meyers' first of many feature films, the movie also has sentimental value to the director. According to Page Six, she wrote the film with her ex-husband, Charles Shyer. At the time, the two were only dating, and Meyers said she didn't get the respect she deserved as a co-producer on the movie. She said because she was dating Shyer and was 29-years-old, she was often overlooked on set.
Related: Why Jack Nicholson Gave Diane Keaton Money After They Starred In 'Something's Gotta Give'
"Only in my contract did it say I was not permitted to be on the set by myself," Meyers said at the Tribeca Film Festival in 2018. "One of the other producers had to be there … because it was a different time and, you know, now people at 29 are directing Star Wars or Jurassic Park or whatever, but then I guess I seemed young, I was female and they probably thought I was just Charles' girlfriend. You can be somebody's girlfriend and also be a producer."