Naomi Campbell Has a Group Chat With Cindy Crawford, Christy Turlington, and Linda Evangelista as They Produce Forthcoming Docuseries 'The Supermodels'
World-famous models Naomi Campbell, Cindy Crawford, Christy Turlington, and Linda Evangelista have a friendship spanning decades, resulting in a longtime group chat and a forthcoming docuseries.
When it comes to celebrity models, a few big names come to mind. Most agree that the titans of the modeling industry include Naomi Campbell, Christy Turlington, Linda Evangelista, and Cindy Crawford. These beauties also have the brains to match, with incredibly successful careers well beyond the runway. 
In a recent interview, these world-famous models discussed their careers and friendships spanning decades. In a particular group chat, the four friends also talk about their new upcoming Apple TV+ docuseries, The Supermodels. Fans are eager to learn more.
Naomi Campbell, Cindy Crawford, Christy Turlington, and Linda Evangelista became '90s icons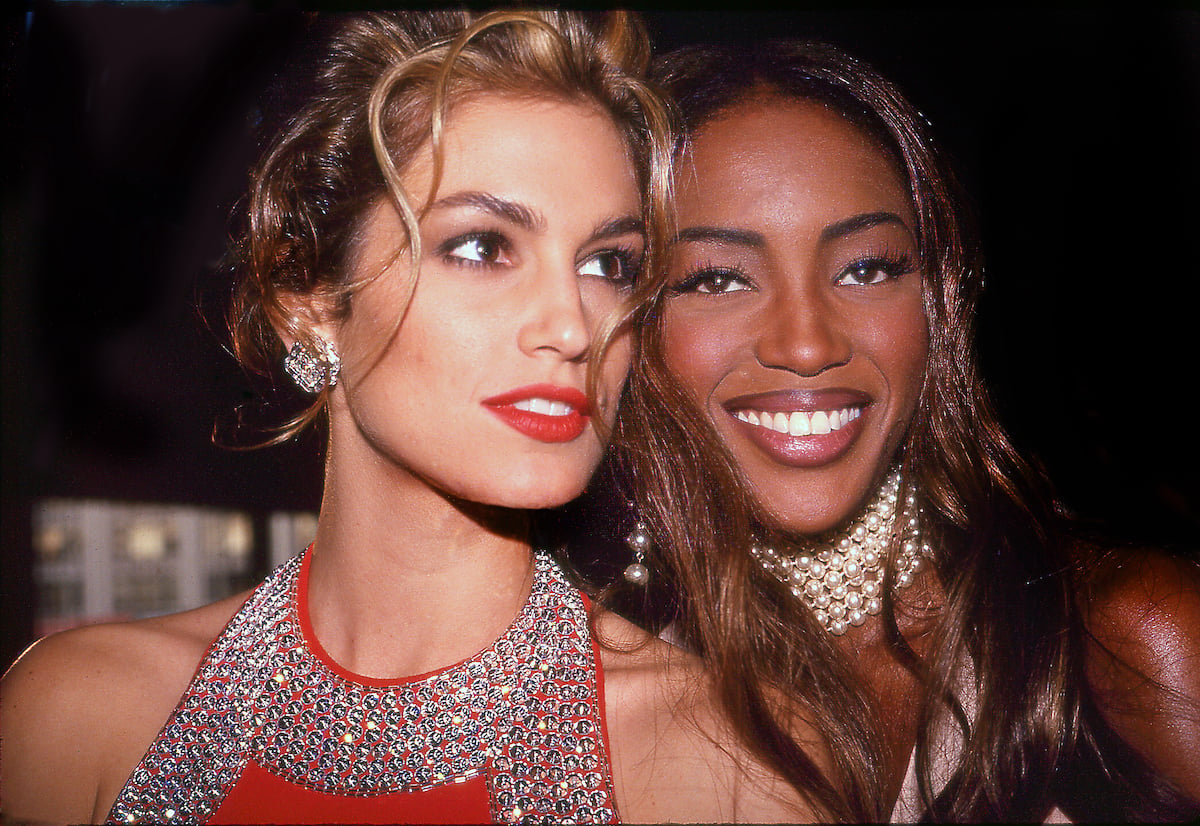 They may have risen to status and fame in the '90s. But Cindy Crawford, Naomi Campbell, Christy Turlington, and Linda Evangelista prove their staying power. From modeling to acting to skincare lines, this quad of beauties continues to dominate. As Campbell told Vogue, they've journeyed together as friends all these years, using a group chat regularly since cellphones became the norm.
Campbell reminisces about modeling work back in the day. The 51-year-old respects today's talented models but sometimes feels like those early days were "more joyful." She explained, "We smiled and showed off our personalities." As she details, her group of supermodel friends used to do eight shows a day and rub elbows with designers in the evenings. And they all supported each other in keeping their energy up. "We worked hard," Campbell said. "We never said we were tired." 
The London native also wonders if today's models would've been able to keep up with them back in the '90s. But the truth is, it's doubtful anyone can keep up with them now either. Exciting things are in the works for all four of these hard-working women. This includes a new docuseries they're thrilled to produce.
A new Apple TV+ docuseries is in the works
The Supermodels is an exciting new project from the celebrity models, as they'll tell their stories in a way only they can. Barbara Kopple will direct the Apple TV+ installment. She already has an Oscar under her belt alongside Ron Howard. Naomi Campbell, Cindy Crawford, Christy Turlington, and Linda Evangelista are all producers for the docuseries. 
The Supermodels will look back at the models' runway reigns. It's about "our life and times together," Campbell says, spanning friendship, careers, womanhood, and motherhood. This partnership is exciting for all four women, who are eager to share their stories through their own lenses. In a way, this docuseries is their combined memoir. 
The Supermodels will join Apple's expanding offering of award-winning documentaries and docuseries. An official release date has yet to be announced.
Have Crawford, Turlington, and Evangelista met Campbell's daughter?
Campbell announced that she became a mom back in May 2021, without releasing any details about her daughter's arrival. The supermodel told Vogue that she is saving all of the details for her forthcoming memoir, which she hasn't started yet. Campbell did share that Crawford was the first to meet Campbell's daughter. Turlington visited next, within two weeks of the little girl's birth. 
Evangelista hasn't met Campbell's daughter yet but likely will when things are less hectic. She recently announced her lawsuit against Zeltiq's CoolSculpting method. Evangelista went public with her struggle as the procedure "brutally disfigured" her. Campbell told Vogue that she supports her "very brave" friend, commending Evangelista for having the courage to "speak her truth."
Fans can stay tuned for The Supermodels. It will give fans backstage passes to see how these runway icons became beauty giants and super-tight besties.