Naomi Campbell 'Thinks About Having Children All the Time' Despite Her 'Chosen Family'
Naomi Campbell has spent years in the spotlight, and — as many women in Hollywood will tell you — that invariably comes with pregnancy rumors
Naomi Campbell has spent years in the spotlight, and — as many women in Hollywood will tell you — that invariably comes with pregnancy rumors and questions about when the celebrity will become a mother.
Campbell has had an incredibly successful career that has been groundbreaking in many ways, but the state of her family status is still a source of speculation and discussion. The famous model has opened up about her own desire to have children and reflected on what family means to her. 
Fans are still wondering if motherhood is in the star's future even as Campbell herself says she feels no pressure on the timeline. 
Naomi Campbell is a famous model and entertainer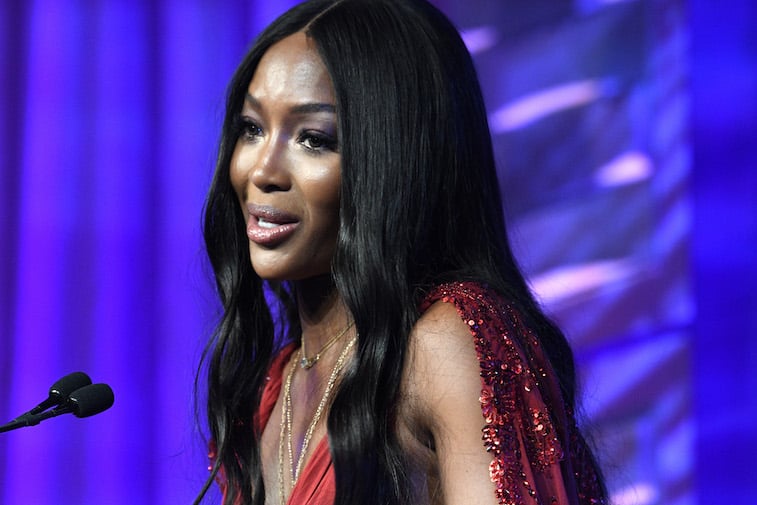 Born in 1970, Naomi Campbell is known all over the world for her modeling career. She was discovered when she was just 15 years old and skyrocketed to fame while shattering barriers and expectations. She became the first black model on the cover of Vogue and spent more than a decade in a close relationship with Versace before parting ways — controversially — in 1999. 
While she is best known for her high-fashion modeling efforts, Campbell has tried her hand at other elements of entertainment. She put out an album called Babywoman.
While the musical endeavor never really took off, she did have a hit single that gained a lot of attention in Japan. She also penned — with the help of a ghostwriter — a fictional novel titled Swan. Perhaps her most well-known work outside of modeling is her time as a television personality.
The star has had some small credits in several television shows and films. Campbell also tackled entrepreneurship with the launch of her own fragrance line. 
Along the way, Campbell managed to make headlines for some nefarious behavior. After an assistant publicly accused Campbell of violent outbursts, Campbell came forward to admit she had an anger issue.
Campbell also made waves by feuding with fellow supermodel Tyra Banks. Later, Campbell got into a very public legal dispute with a British tabloid for publishing pictures of her attending a Narcotics Anonymous meeting. These high-profile moments have sometimes overshadowed Campbell's past successes when she's made her way back into the headlines. 
Naomi Campbell has faced pregnancy rumors
Throughout her long time in the spotlight, Campbell has faced multiple pregnancy rumors. Most notably, a 2018 story in Now100 suggested that she was expecting a baby with boyfriend Skepta after her beau posted a sonogram photo on Instagram that got the world talking. In the past, Campbell had been vocal about wanting to have a baby, according to the Mirror. "I think about having children all the time," she admitted. 
Often, women feel pressured by age and biology to have children before a certain time in their lives. Campbell, however, has expressed no such pressure. "But now with the way science is I think I can do it when I want," Campbell explained.
She also did not rule out the possibility of adopting children. She has been open about not having a great father figure in her own life and wanting to make sure that she is in a stable relationship with someone she feels will fulfill that role for her children. 
Campbell, who has been very open about her spirituality and the practice of her beliefs, has handed over the stress of worrying about what will happen to the universe. According to Metro: "I'll see what the universe brings me. For now, what the universe has delivered is very much in the spirit of a 'chosen family,'" Campbell reflected. 
A 'chosen family' for Naomi Campbell
While the star may not have any biological children of her own, that does not mean that she does not fulfill the role of a mother. The "chosen family" Campbell referred to includes her "daughter" Ryan Destiny.
Destiny is an actor who performed in the Fox series Star and a talented singer. It appears as if she and Campbell have a close relationship in which Campbell provides mentorship and support for the younger star. 
Another member of Naomi's chosen family includes fashion model Adut Akech, who affectionately refers to Campbell as her "mama" in the fashion world. The 20-year-old has been stunning crowds and winning modeling awards, so having someone like Campbell to help guide her is surely welcome. 
It's clear that Campbell has found a way to play a nurturing role in the lives of young women following in her footsteps. This chosen family seems to be incredibly important to her. As far as other ways to grow her family, Campbell isn't ruling anything out.