Naomi Judd: Wynonna and Ashley Judd Paid Heartbreaking Tribute to Their Mom
Following the death of country legend Naomi Judd, her husband and daughters, Wynonna and Ashley Judd, paid tribute to her with stars and fans at her public memorial service. What did each have to say about the famous mother? And what did Wynonna reveal she's doing to honor her singing partner?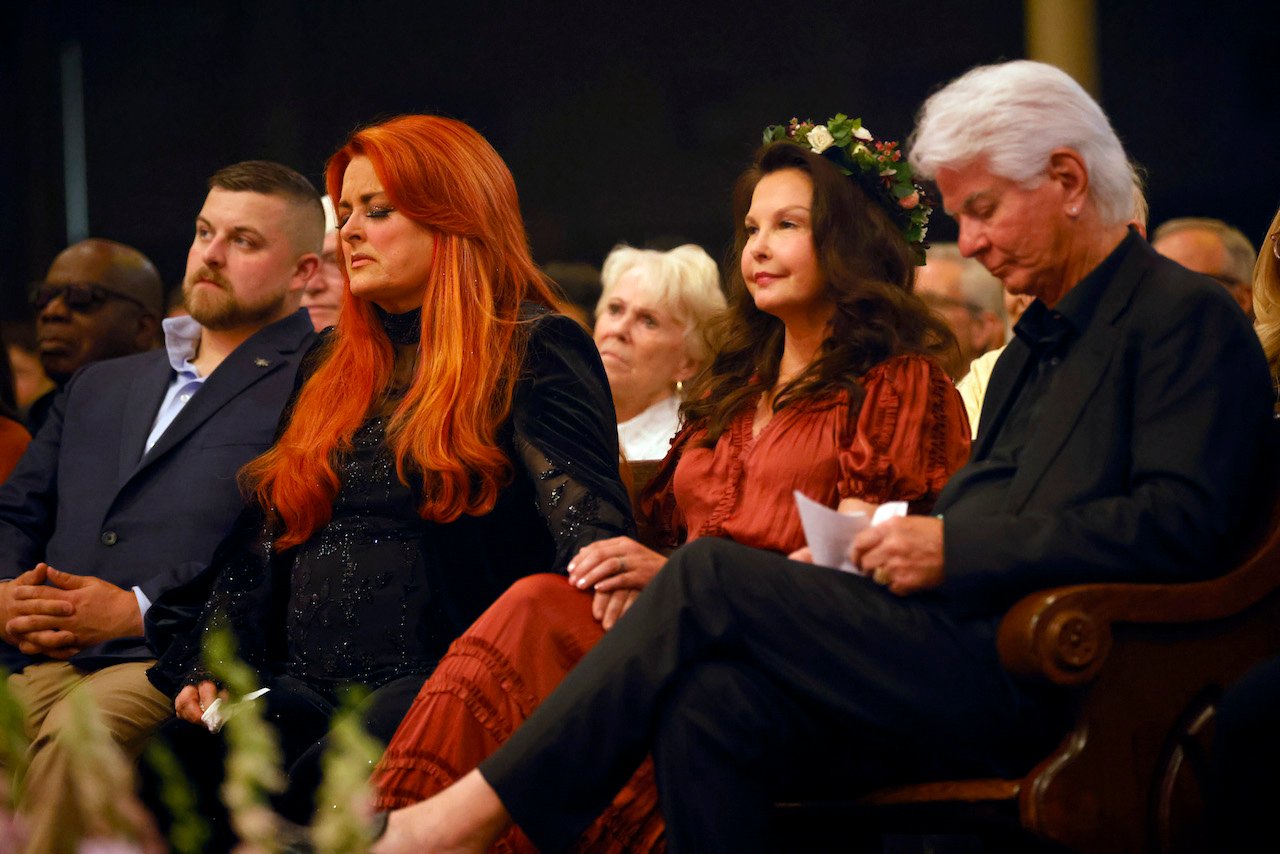 Ashley Judd paid tribute to Naomi Judd as her 'extraordinary' mother
Ashley started the Naomi Judd: River of Time memorial service held at country music's hallowed Mother Church. She explained that "this is where Mom wanted her public celebration to take place."
While occasionally pausing to grieve, she thanked the audience for showing up and described her mother as "everywoman."
"Perhaps this is why everyone felt they knew her," she added.
Still, the youngest Judd daughter pointed out, Naomi "was totally extraordinary" as a five-time Grammy award winner, multi-platinum artist, and Hall of Famer adored by millions.
Wynonna Judd paid tribute to Naomi Judd's music
The Judds announced a final tour for fall 2022 prior to Naomi's death. So, fans weren't sure if Wynonna would push ahead considering the tragedy. But she put their wonders to rest by confirming she is keeping the tour dates.
Wynonna told the audience at the memorial service, "I've made a decision, and I thought I'd share it on national television that, after a lot of thought, I'm gonna have to honor her and do this tour."
"The show must go on, as hard as it may be, and we will show up together, and you will carry me as you've carried me for 38 years … So we will continue this spectacle. That's what she would want, right?" she asked.
Wynonna also performed an emotional rendition of "River of Time," a song written by Naomi. She sang, "I'm holding back a flood of tears / Just thinking 'bout those happy years / Like all the good times that are no more / My mama is gone, gone, gone forevermore."
Naomi Judd's husband paid tribute to her kindness
Naomi married Larry Strickland in 1989, and they remained married until her time of death. He also spoke about the country legend at her memorial service.
"Naomi never met a stranger," he told the audience. "Much to my displeasure, she would start a conversation with anyone who made eye contact with her, and we would end up standing 10, 20, 30 minutes on a sidewalk while she talked to a complete stranger about their passions and their dog." 
Despite that friendly nature, Strickland knew his wife was in a delicate place before she died. "I was really scared to death about her flying alone all the way from Vienna back to Nashville cause I knew how fragile she was," he shared.
But he added, "Well, she made the flight home without any problem." 
Unfortunately, Naomi died by suicide in her home on April 30. Ashley and Wynonna shared the news by telling fans their mother's death was caused by mental illness.
How to get help: In the U.S., call the National Suicide Prevention Lifeline at 1-800-273-8255. Or text HOME to 741-741 to speak with a trained crisis counselor at the free Crisis Text Line.
RELATED: Wynonna Judd Once Defended Naomi Judd Against an Insult From a Television Icon