'Narcos': Pablo Escobar's Brother Sent Netflix This Terrifying Message Ahead of New Season
Article Highlights:
A Narcos scout was killed in 2017.
Pablo Escobar's brother warned Netflix to get security.
Narcos: Mexico premieres in November.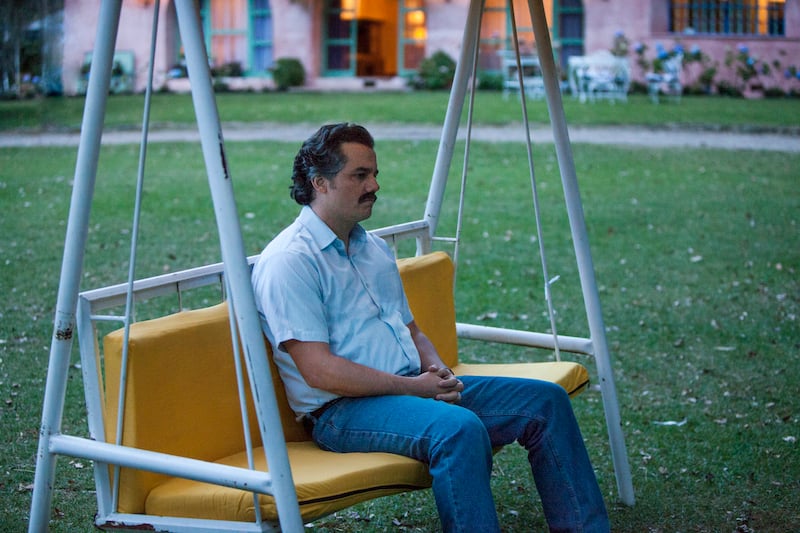 In 2017, Carlos Munoz Portal was shot and killed in a rural area outside Mexico City. Portal was shot while scouting locations for Narcos Season 4. According to El Pais, his vehicle was found with multiple gunshots. The location manager who'd become known for scouting projects like Man on Fire and Spectre was reportedly alone at the time of his death.
At the time, Netflix responded with a statement that reads: "We are aware of the passing of Carlos Munoz Portal, a well-respected scout, and send our condolences to his family. The facts surrounding his death are still unknown as authorities continue to investigate."
The fourth season overall came via Narcos: Mexico telling of the Juarez Cartel and aired for two seasons. Another is one that way in Nov.
Here's what Pablo Escobar's brother told Netflix
After the death of Portal, Roberto De Jesus Escobar Gaviria — Pablo Escobar's brother — gave a dire warning to the streaming network about protecting their cast and crew.
"You have to eliminate all threats. When I was walking in the jungle one day, I had a bag with $2 million in $100 bills. The army was searching for me and Pablo at this time. Suddenly, we are being shot at. Both me and Pablo, along with a few security people, start running toward a small channel of water; we swim away," he previously told The Hollywood Reporter.
He continued: "This was all done without guns. If you have the intellect, you don't need to use weapons. If not, you have to. In this case, Netflix should provide hitmen to their people as security. I don't want Netflix or any other film production company to film any movies in Medellin or Colombia that relate to me or my brother Pablo without authorization from Escobar Inc. It is very dangerous. Especially without our blessing. This is my country."
Gaviria worked as Escobar's lead accountant and became known as "chief of the hitmen" for the Medellin cartel. He previously served time in prison after a 1993 arrest. By 2014, he created Escobar, Inc. serving as "successor-in-interest rights." He later requested $1billion from Netflix for "unauthorized usage" of the Escobar likeliness and name.
'Narcos: Mexico' premieres in November
Despite that dire warning from a real-life Escobar, another season of the Narcos iteration arrives in Nov. This will be the third for the Mexico spinoff and the sixth overall. Much of the cast will return except for Diego Luna. Narcos: Mexico Season 3 will be the last, and it'll focus on what happened after Felix Gallardo's (Luna) arrest. Former star Wagner Moura (who played Pablo Escobar in Narcos) will direct and Luisa Rubino will narrate.
The official synopsis reads: "As newly independent cartels struggle to survive political upheaval and escalating violence, a new generation of Mexican kingpins emerge. But in this war, truth is the first casualty — and every arrest, murder, and take-done only pushes real victory further away."