Nas' Brother Jungle Recalls Confrontation With Tupac, Death Row: 'It Got Scary a Little Bit'
It feels like forever ago when the East-West Coast hip-hop beefs changed the landscape in music — and in the streets. While Tupac and Biggie became automatically associated with the drama, other rappers such as Nas, Mobb Deep, Snoop Dogg, and a legion of Death Row people were involved.
It was more than Bad Boy versus Death Row, with multiple artists, their associates, and fans caught up in the saga. At one point, Nas' younger brother Jungle found himself in a testy situation with Tupac and some members of the Death Row crew.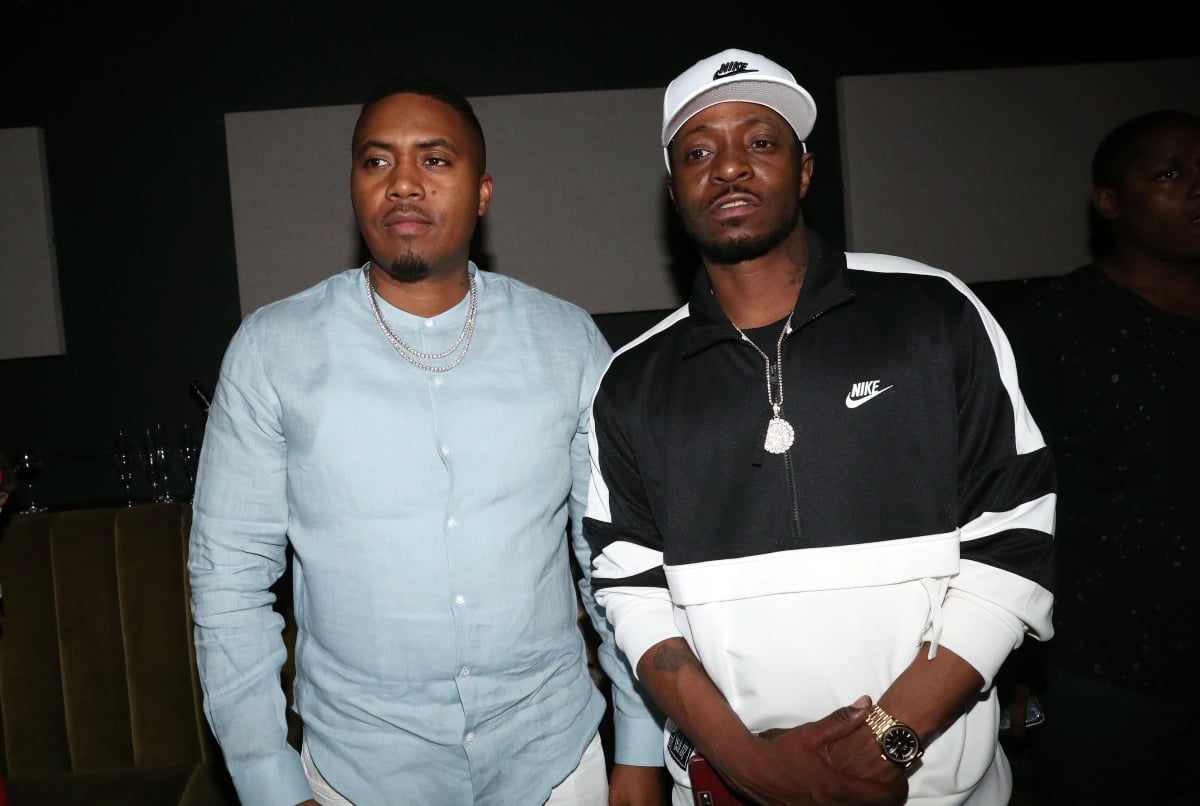 Nas and Jungle recall friction with Tupac and Death Row
For context, what began as beef between two record labels — Death Row and Bad Boy — ballooned into something much larger. Snoop Dogg took shots at New York in his songs, and then it was game on. Mobb Deep hit back and then later, Tupac also threw jabs when he dropped "Hit 'Em Up." Hostile feelings were the norm.
Nas' brother Jungle was Team Queensbridge all the way, and he expressed that when he bumped into the Outlawz and Tupac at an event.
Nas and Jungle shared the story during a recent interview on Ebro's Rap Life podcast and reflected on how young they all were. Jungle was only a teenager, while Nas and Tupac were in their twenties. Nas said they attended MTV VMAs at the Beacon Theater in New York because he had to present and award. Tupac and Snoop were also there to represent Death Row Records and present.
Nas told Ebro when he saw Tupac backstage, they "had words" but it was all in fun. Then Jungle changed that. Jungle said he met a random girl in the theater's lobby who was looking for her friends, and they happened to be Death Row, including the Outlawz. He wanted to see them face to face and joked that he would snatch their chains in the name of Mobb Deep. And they then came.
Jungle got into a confrontation with Tupac and Death Row
The young lady didn't think Jungle would keep talking smack as her Death Row friends came and found her, but she was wrong.
"When they was coming, I yelled it out, 'Mobb Deep! I will take a Death Row chain!' And they got ready, but then they left. They left to go get Tupac," Jungle recalled. When they brought him to the lobby, Tupac asked who was talking trash. And Jungle challenged him with a "What's up? I'll take your chain right now."
Threats commenced, and Jungle had one person with him as he faced off against Tupac and Death Row. "They surrounded me. 'Death Row, we here to die.' They had razors in their hands and everything," he said, remembering that Outlawz rapper Kadafi uttered that he was ready to die.
"I said, 'Whoa.' That was when it got scary a little bit. That was the first time my heart — I said, 'This is serious.' So I got ready," said Jungle. He said Tupac was with the Outlawz and "a couple of Death Row guys." Eventually, the commotion died down, and Nas, who was close to the stage, learned about it afterward.
Tupac did not want to beef with everyone
Nas reiterated that everything was peace with Tupac, and the "Changes" rapper expressed that he was not interested in the East vs. West "war." He mentioned Tupac's One Nation album and how it was going to unite artists from both coasts. It's something Tupac said himself when he and Snoop spoke with MTV at the VMAs that night, just days before he died. He said the drama was media-generated and that he was only interested in business.
"We are businessmen, we are not animals," said Tupac. He added that while they had no interest in collaborating with Biggie or Puffy, they were all about talent and music as a business. The unfinished One Nation project would have featured Black Moon, Smiff-N-Wessun, and other New York and New Jersey-bred artists. Fans should check out Nas' "Death Row East" track on King's Disease II where he talks about the old conflict.