Did Natascha and Ryan Stay Together After 'The Bachelor: Listen to Your Heart'?
Are Natascha Bessez and Ryan Neal still together after their 'Bachelor: Listen to Your Heart' elimination on May 11, 2020? Here's an update on their dating status.
Natascha Bessez and Ryan Neal surprised fans with their impeccable chemistry on The Bachelor: Listen to Your Heart Season 1. The couple met in the second week and seemed to hit it off right away. But unfortunately, Natascha and Ryan's journey ended in the fifth week when the cast went to Las Vegas. So did Natascha and Ryan stay together after The Bachelor: Listen to Your Heart? Here's what we know.
Natascha and Ryan were eliminated in 'The Bachelor: Listen to Your Heart' Week 5
In the May 11 episode of The Bachelor: Listen to Your Heart, the remaining contestants left LA for Vegas and continued to work on their relationships. For the most part, the final four couples were pretty solid, give or take a few hiccups. Natascha and Ryan also made a few steps forward.
When Natascha and Ryan received a date card, they opened up to one another. In a confessional, Ryan said he hoped Natascha accepted him for who he was. Then at the date, Natascha told her partner she liked him the way he was and didn't want to push him to say or do anything if he wasn't ready. 
"Ryan and I, we got a good thing going," Natascha said in a confessional. "If things keep going in this direction, who knows where it will take us. But I'm looking forward to finding out."
Later, Ryan and Natascha performed "Perfect" by Ed Sheeran and Beyoncé. However, they rearranged the piece and the judges thought it looked like two separate performances. Natascha later stated she sang the wrong verse and felt like she let her partner down. But every time the music artist expressed her doubts, Ryan reassured her. Nevertheless, the couple was eliminated at the rose ceremony. So is this the end of Ryan and Natascha? Maybe not.
Ryan and Natascha said they wanted to continue their relationship in 'The Bachelor: Listen to Your Heart' Week 5
At the end of the Listen to Your Heart episode on May 11, Ryan told Natascha he was proud of her and he didn't want their relationship to end. And Natascha replied, "It isn't." Then in a confessional interview, Ryan confirmed he wanted to continue seeing his partner after the cameras stopped rolling. 
"I wanted to find somebody who was compatible with myself. And I found that in Natascha," he said. "So I want to continue our relationship."
Meanwhile, in a separate confessional, Natascha gushed over Ryan. She also hinted their elimination could make them stronger. Natascha said:
We were meant to be on this journey together and it was beautiful because I was so happy and so fulfilled by just how he made me feel. I am a lucky girl that I got to have a partner like that through this journey. 

Maybe the universe has another plan for us. It doesn't include this journey, but maybe it'll include a better one. This could make us stronger, too. Yeah, it'll be better. 
Are Natascha and Ryan still together after 'The Bachelor: Listen to Your Heart'?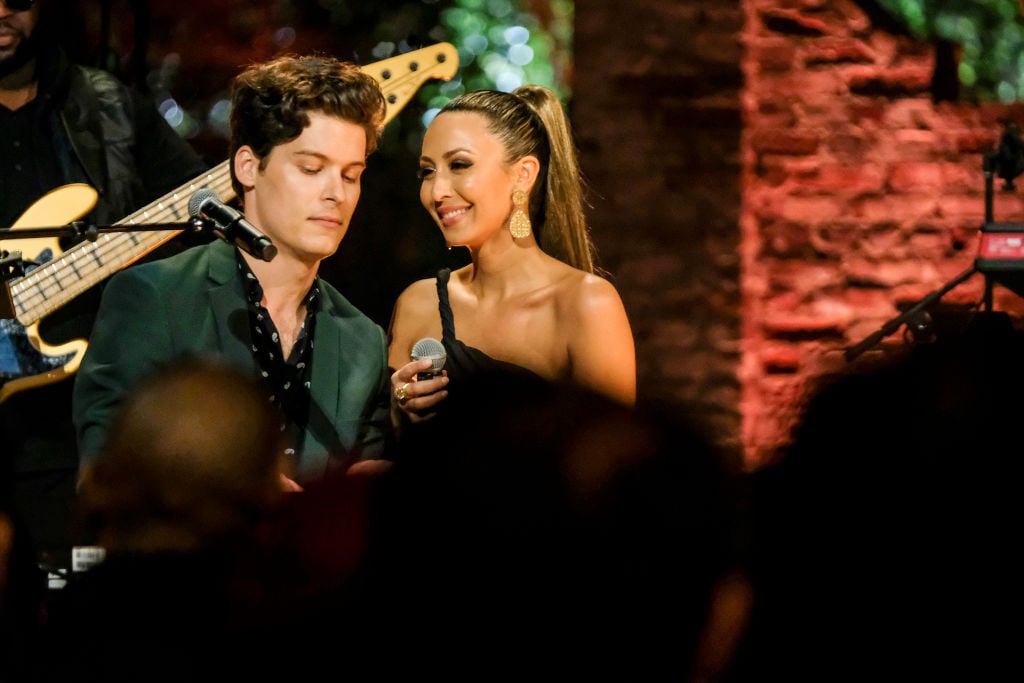 For now, The Bachelor: Listen to Your Heart fans will have to hold on a little longer to find out whether Natascha and Ryan are still together after the show wrapped. The couple said they would give their relationship a shot. However, as of this write-up, both parties haven't officially confirmed their current status.
Nevertheless, Natascha and Ryan seem like they're on good terms after filming ended. When speaking with Refinery29 in April 2020, Natascha gushed over her partner and only had kind things to say. She said:
Isn't he a cutie? I just want to squeeze him! [There are] so many great guys on the show — and there are so many not great guys too. It took us a while to get that connection. He might have been a little scared of me … But once he started to get to know me, he kind of put whatever judgement he had from when I first walked in with my bad news aside. 

He was like, Okay, let's be open-minded. That's what I love about him. He doesn't give a crap what anyone thinks, what anyone else says, he's so his own dude. That to me is hot.
Meanwhile, Natascha and Ryan have been teasing their relationship on Instagram since The Bachelor: Listen to Your Heart premiered. Then after their elimination episode on May 11, the two music artists shared separate posts and hinted things aren't over between "RyTascha."
In his Instagram post, Ryan thanked Natasha after sharing his gratitude for the cast and crew. He wrote: 
My partner-in-crime and star @nataschabessez You're so much more than your other-worldly talent and everyone sees that. You believed in me, trusted my instincts and empowered me to reach higher. You're a true gem and deserve all the love and support you're getting. How did I get so lucky? I hope I wasn't too bad for you.
Ryan also teased fans to "stay tuned" and that there was more "fun around the corner." Then a few hours later, Natascha wrote up a similar post, thanking Ryan for their time on the show. She wrote:
There wasn't one minute where I doubted him, and even though it's hard to witness these personal relationships grow with edits in 2 short hours a week, I know we were completely ourselves and fully vulnerable and open during this experience together. We listened to eachother, supported our decisions, and stood behind eachother despite certain obstacles.
Natascha also ended her Instagram post with a teaser. "Love you the most and better believe #RyTascha has got some surprises for you coming soon," she wrote.
Whether or not Ryan and Natascha are still dating after The Bachelor: Listen to Your Heart, it appears the couple is still in touch and has something planned for fans. So get ready. This story isn't over just yet.
Read more: Where Was 'The Bachelor: Listen to Your Heart' Filmed? Fans Already Miss the Original Mansion