'National Lampoon's Christmas Vacation': Where Is the Cast Now?
Now that Thanksgiving is in the rearview mirror, people are already thinking about Chevy Chase getting whacked in the head with a ladder descending from an attic. Or they're imagining an overcooked turkey cut open to reveal its desiccated remains. Or they're envisioning any number of other iconic scenes from arguably the funniest of holiday movies: National Lampoon's Christmas Vacation.
As people enjoy their umpteenth viewing of the Griswolds' holiday shenanigans, they might wonder where the cast is now and where this movie ranks in the Vacation series.
'Christmas Vacation' was the third in a series
Christmas Vacation has become so ubiquitous it's easy to forget or not even know there were four movies in the National Lampoon Vacation series — five if you count the reboot/sequel. According to The Numbers, Christmas Vacation was by far the biggest commercial success of the bunch, making $71 million in 1989 — about $141 million in today's money. 
The original Vacation, which saw the Griswold family going to Walley World, made $61 million, which was strong in 1983. The followup, the much less well regarded European Vacation, made $49 million, but Vegas Vacation fared even worse, making only $37 million. The 2015 movie starring Ed Helms and Christina Applegate didn't make much of a dent either, scoring only $59 million. 
That's why Christmas Vacation stands out in the franchise. It scored decent reviews in 1989, meriting a 68 percent score on Rotten Tomatoes, where the Critical Consensus states, "While Christmas Vacation may not be the most disciplined comedy, it's got enough laughs and good cheer to make for a solid seasonal treat."
Where is the cast now?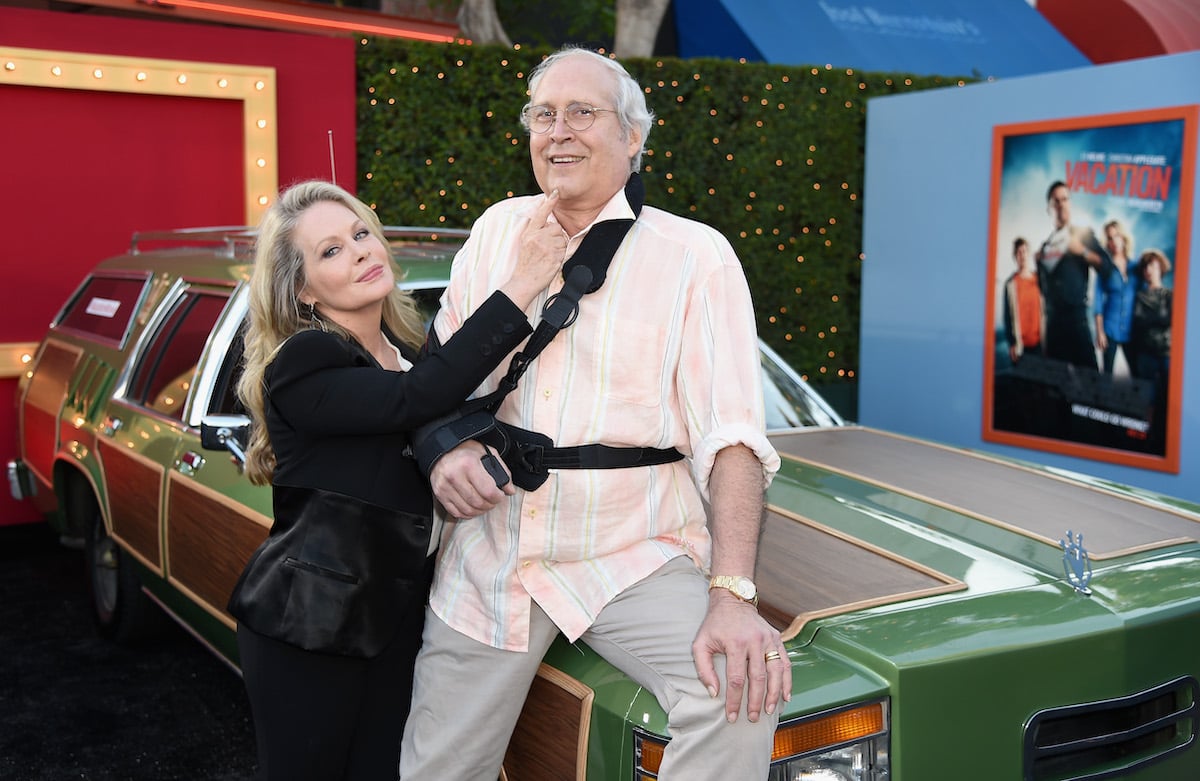 When discussing the cast now, many people point to Julia Louis-Dreyfus, who played one of the annoyed neighbors. Her turn as the snooty Margo Chester occurred between Louis-Dreyfus's stint on Saturday Night Live, where she first gained national attention but before Seinfeld, which catapulted her to her greatest fame.
It's also easy to know what happened to another SNL veteran, lead Chevy Chase, whose most prominent recent gig was NBC's Community.
According to Hollywood.com, mom Beverly D'Angelo continues working steadily. Her notable credits include American History X and The House Bunny.
Juliette Lewis, who played daughter Audrey Griswold, was not a big name at the time, but three years later, she scored an Oscar nomination for playing a precocious teenager in Martin Scorsese's Cape Fear, who turns out to be an easy mark for Robert De Niro's vicious criminal. She also starred alongside Woody Harrelson in Natural Born Killers. One of her recent credits is the movie Nerve, in which she plays Emma Roberts' mom.
As for Johnny Galecki, who played Rusty in Christmas Vacation: He went on to star in Roseanne and spent 12 seasons playing Leonard on The Big Bang Theory.
Diane Ladd, who played Clark's mom, Nora, counts among her recent credits the Jennifer Lawrence vehicle Joy.
Randy Quaid, who played the embarrassing but iconic Cousin Eddie, has been mostly absent from screens in recent years.
And Doris Roberts, playing Frances Smith, notably moved on to Everybody Loves Raymond.
Christmas Vacation cast members who have passed away include EG Marshall, Mae Questel, John Randolph, and William Hickey. 
'Home Alone' and 'Christmas Vacation' share the same writer 
There's another departed member of the Vacation crew who also deserves attention. When people think of the late John Hughes, they don't necessarily think of Christmas movies first. He tends to be best remembered for the string of films he directed in the '80s chronicling teen angst, including Sixteen Candles, The Breakfast Club, and Ferris Bueller's Day Off. But he was a writer first, having written or co-written the first three Vacation movies. 
In fact, in 1989 and 1990, he served up a holiday one-two punch, writing Christmas Vacation and Home Alone, the latter of which surprised everyone when it became a phenomenon. After that, Hughes wrote several Home Alone clones, including Dennis the Menace and Baby's Day Out. Those haven't become Hollywood classics like his teen movies, and certainly not as long as his two big Christmas screenplays or the Thanksgiving movie he wrote and directed — Planes Trains and Automobiles — in 1987. Audiences remain thankful for the acclaimed holiday movies he left behind.