Naturi Naughton Was a Member of 3LW: Inside the Group's Breakup
Naturi Naughton stole scene after scene on the Starz drama Power. But before her jaw-dropping role as Tasha St. Patrick, she was a member of one of the most popular girl groups of the early 2000s.
Naughton — along with daytime talk show host Adrienne Bailon and singer Kiely Williams — were members of the hit-making trio 3LW. The group amassed massive success and built a devoted fanbase, but the fairy tale was short-lived. 
Who is 3LW?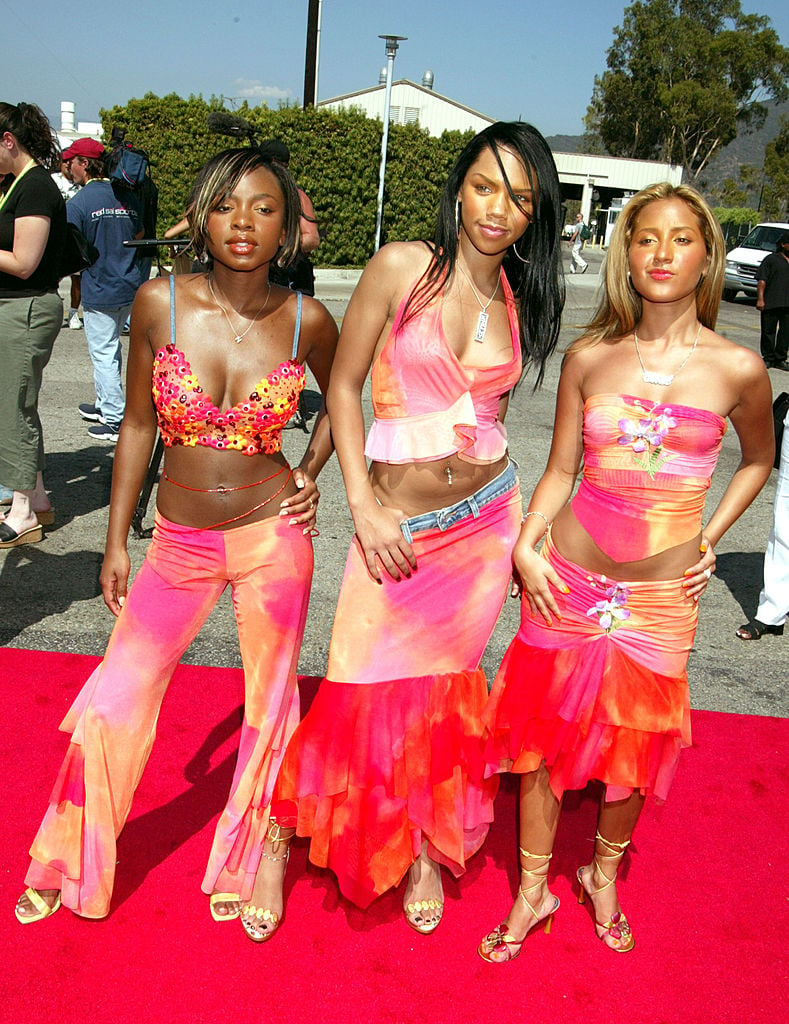 3LW, short for 3 Little Women, was a three-member R&B/pop girl group that gained popularity in the early 2000s. The group's founding members were Adrienne Bailon, Kiely Williams, and Naturi Naughton. They were signed to Epic Records and enjoyed chart-topping success with their hits "No More," "Playas Gonna Play," and "I Do."
3LW's self-titled debut album was released in December 2000. 3LW was certified platinum, selling 1.3 million copies in the U.S. They were part of the MTV Total Request Live Tour in 2001 with Destiny's Child, Dream, Nelly, Eve, and Jessica Simpson.
The group spent the first half of 2002 in the studio working on a follow-up album, but there was trouble in paradise. Rumors spread throughout the summer that the group was short one member. Naughton would confirm in August 2002 that she had left 3LW.
Why did 3LW break up?
News first broke of a split between the group when Naughton spoke on Wendy Williams' radio show, saying that she was forced out of the group. She elaborated a few weeks later in an interview with MTV News and revealed that she left the group after an alleged incident.
She said an argument between her and their manager, who is also related to Williams, ended with a plate of food being thrown in her face.
"There was an argument between me and our manager, Michelle Williams. And Kiely and Adrienne are cursing me out, and before I know it, Kiely throws her plate of food all in my face — mashed potatoes, macaroni all in my hair, down my clothes, messing up my [hair]do! Nobody has the right to hit me. That's not what I'm here for, … to be physically abused. So I said, 'Get me a flight back to Newark, New Jersey,' and they wouldn't even help me get a ticket."

MTV News
Naughton later told TV One's Uncensored that management felt her voice was too "soulful" and that she had too much of an urban appeal that would not lead to crossover success.
The other two members denied that a fight ever took place and replaced Naughton with Jessica Williams to help promote their sophomore album, A Girl Can Mack. The group did not have the same success and eventually disbanded.
Williams spoke out in April 2019 about Naughton's story of how the group ended. She accused Naughton of spreading lies in an Instagram post that was later deleted, saying, "Why would you need to make up new lies? Were the old ones not working anymore? You are on a hit television show. Why do you need this?"
Where are 3LW members now?
Williams and Bailon joined the Disney Channel, creating The Cheetah Girls movie series and touring as an official group for a few years before moving on to solo projects. Williams left the industry altogether and focused on marriage and motherhood, while Bailon dabbled in reality television. She appeared on Keeping Up With the Kardashians during her relationship with Rob Kardashian. She also had her own reality series on The Style Network with the show, Empire Girls, that lasted for two seasons.
Naughton took a break from music and focused on acting, appearing in films such as Lottery Ticket and Notorious. She had a run in the Broadway production Hairspray before landing the role she is most known for now. She starred on the Starz drama, Power, as Tasha St. Patrick.
Williams has been separated from Naughton since she exited the group and has not been close with Bailon since The Cheetah Girls ended. Bailon and Naughton appeared to make amends when Bailon apologized for their past issues on a 2017 episode of The Real.