Was Naya Rivera Still Friends With 'Glee' Co-Star Heather Morris in 2020?
Given what's come out about Lea Michele in 2020, it sounds like the Glee set wasn't always friendly. But other actors from the show have stayed close. And many of them have expressed sadness over the death of star Naya Rivera, including Heather Morris. Learn what Rivera and Morris' relationship was like at the time of the former's accident.
Naya Rivera passed away in 2020
On July 8, 2020, news broke that a search has begun for Rivera. She was last seen on a pontoon boat at Lake Piru in Ventura County, California. After she was meant to return her rental, her son, Josey, was found on the boat, with Rivera missing. Reports stated that they were swimming, but she did not get back on the boat.
Over the days that followed, the search became a recovery mission, as Rivera was presumed dead. It received international attention. On July 13, 2020, the Ventura Country Sheriff spoke in a press conference, stating that Rivera's body had been recovered.
She is best known for starring in 'Glee'
Rivera's career in show business began when she was just a child. She appeared on series such as Family Matters, Smart Guy, and The Bernie Mac Show. Rivera was also a model and musician. However, she is best known for her work on the hit Fox musical dramedy Glee.
Rivera portrayed Santana Lopez, a snarky cheerleader. She appeared on a recurring basis at first, but was promoted to series regular beginning with season 2. Over time, Santana developed from a typical "mean girl" teenager to a more nuanced character. Rivera remained on the show until the series finale in 2015.
Heather Morris starred as Brittany, Santana's love interest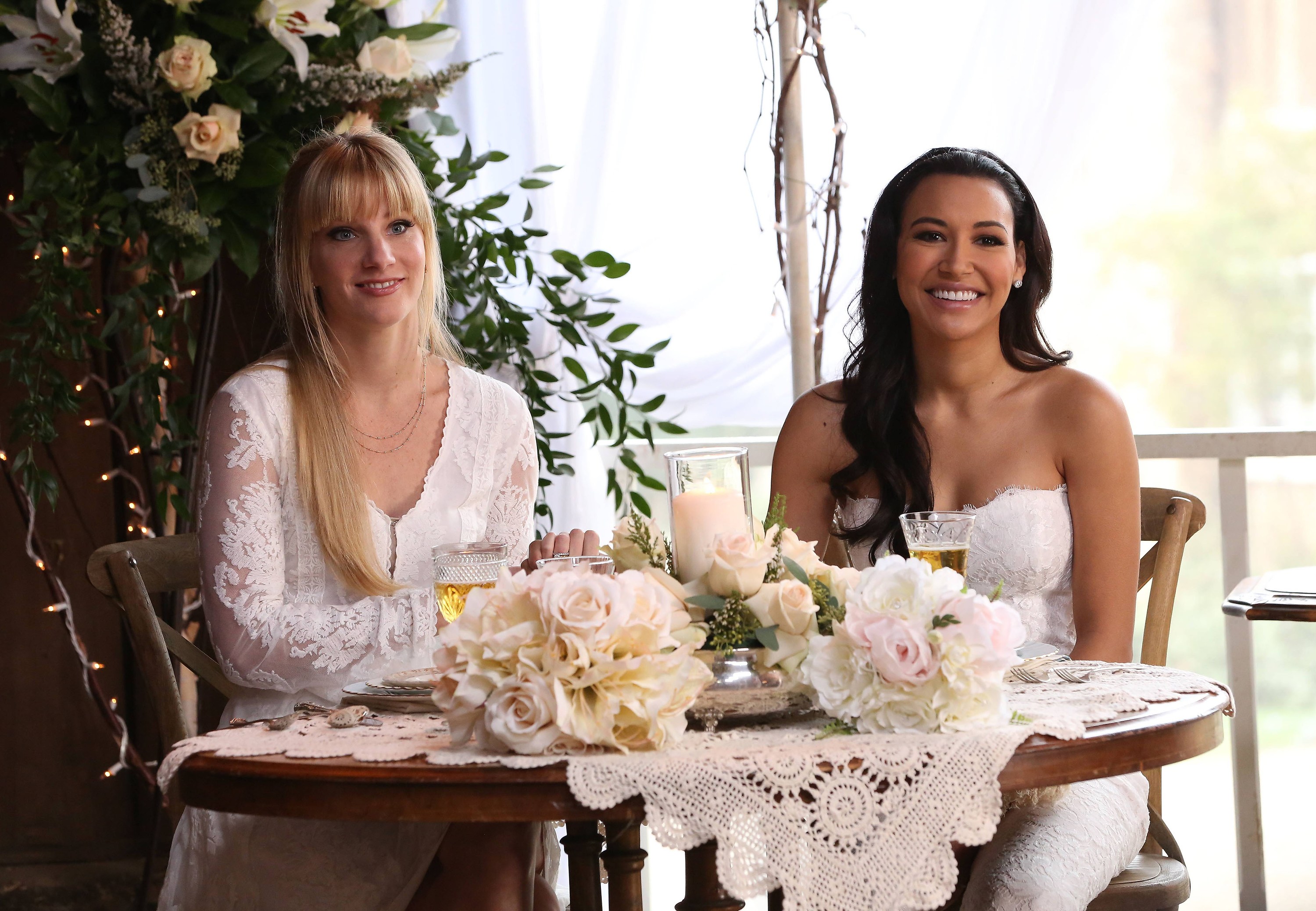 Also beginning as a recurring star was Morris. Before Glee, Morris was a dancer, performing with Beyoncé. She was brought in to teach the cast the "Single Ladies (Put a Ring on It)" choreography. Morris was then cast as Brittany Pierce, a fellow cheerleader and Santana's best friend.
At first, their sexual relationship was something of a joke to the characters. However, Santana comes to terms with her sexuality in Glee season 3, eventually coming out. Brittany and Santana date on and off throughout the series run. They get back together in season 5, and get married in the season 6 episode "A Wedding."
Morris aided in the search for Rivera
When Rivera went missing, many of her Glee co-stars, such as Demi Lovato, chimed in on social media. Morris was among them, writing a plea to fans on Instagram, "We need all the prayers we can to bring our Naya back home to us. We need your love and light."
However, many felt that wasn't enough. After posting a thank you to those working the case on July 9, Morris followed this a couple of days later with a tweet to the sheriff, asking for permission to start a citizen search. On July 12, she wrote on Twitter that she had spoken with him, saying she had "full confidence that they're doing everything they can, and probably more."
Were Rivera and Morris still friends?
After working so closely for many years, did Rivera and Morris remain close? They may not be hanging out daily as they did when they were on set, but it's pretty clear that they've stayed friends. In fact, they've attended multiple Monster Jam monster truck events over the years.
"THE reunion of all reunions" Morris captioned the above photos from a February 2020 event. Eerily, Rivera's body was recovered one year to the day after they attended a previous Los Angeles Monster Jam event together — and seven years after the death of their Glee co-star Cory Monteith.