NBA Star Russell Westbrook and His Wife Are Coping With COVID-19 Just Like the Rest of Us
The coronavirus (COVID-19) pandemic has changed many people's daily lives. In order to reduce infected cases and deaths, social distancing policies have been implemented in a lot of countries around the world. As a result, both celebrities and average citizens are finding themselves stuck at home and being physically far away from most of their friends and loved ones.
NBA star Russell Westbrook and his wife, Nina, are also trying to deal with the pandemic as best as they can. The couple is currently in quarantine in Los Angeles with their three children, and their experience during the pandemic is surprisingly relatable. Keep reading to see how the Westbrooks are passing the time at home and what advice they have for other families going through the same thing.
Russell and Nina Westbrook have been married for five years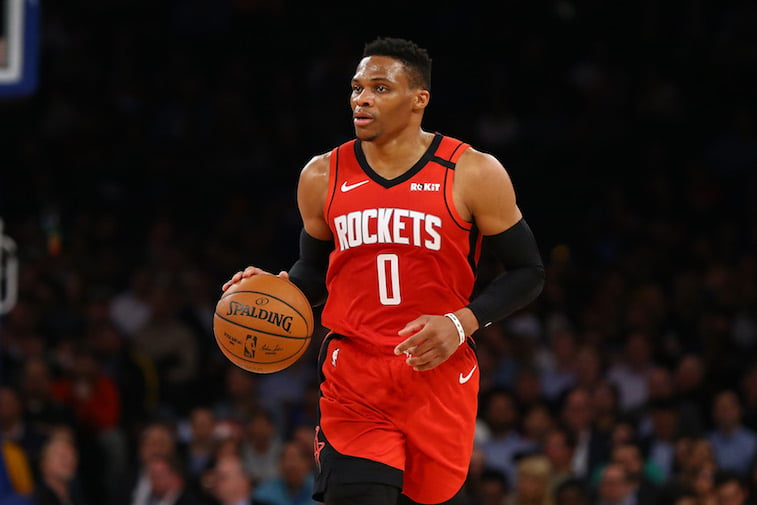 Russell and Nina met when they were both attending UCLA in the mid-2000s. Nina was a basketball player as well, and she recorded four double-figure games for their school.
They tied the knot in 2015. The couple welcomed their first child, Noah, in 2017. A year later, they had twin daughters, Skye and Jordyn.
How Russell Westbrook and his family are coping with COVID-19
Since Russell and Nina are self-isolating at home with three young children, things can be no doubt challenging for them at times. However, according to the Daily Mail Russell shared that he is grateful for the chance to spend time with his wife and kids.
"It's been great," he told Good Morning America. "It's something that I really enjoy getting a chance to wake up with [my kids] every morning. It's something that I live for, and obviously my wife being home and me being home every single day to be able to help her with the daily duties that she's always been doing, doing an amazing job of raising our children while I'm away, and so I'm excited. I'm blessed to be home with the family, and I'm enjoying myself."
Meanwhile, Nina is a licensed marriage and family therapist, and she has given fans some advice on how to keep one's relationship going strong during this unprecedented time.
According to the New York Times, in an Instagram Live session, Nina shared that it is important for couples to spend quality time with one another, whether it is connecting over hobbies or having date nights. Instead of stressing one's partner out, she also reminded people to be kind and patient with each other.
Additionally, it is healthy to make time for yourself, where you can connect with friends and family, work out, and engage in self-care activities.
Russell and Nina Westbrook are also participating in a relief campaign
COVID-19 has been hard on many people, though Russell and Nina do live a more privileged life than others. As such, they understand the importance of giving back. Their charity foundation, Why Not?, is working with Los Angeles mayor Eric Garcetti's office on a campaign to provide financial relief to those who are struggling during the pandemic.
Speaking to Good Morning America, Russell said: "I'm excited about it… I think you have been given a platform that you have to find ways to give to others, and I think that's the best way to be able to do it. Obviously in times like this, you have to find ways to immediately impact as many people as possible, and I think this is the best way to do it thus far."
Russell did not reveal how much his campaign has raised so far or what the fundraising goal is, but he did share that anyone who would like to contribute can text "L.A. Love to 21000."