'NCIS': Has Mark Harmon's Gibbs Known Cote De Pablo's Ziva Was Alive The Whole Time?
There is still a lot of mystery surrounding Ziva's (Cote de Pablo) surprise return in the Season 16 finale of NCIS. Based on everything we know, there are only two people who are aware that Ziva is alive: Gibbs (Mark Harmon) and Bishop (Emily Wickersham). Bishop figured it out while working one of Ziva's old cases while Gibbs had a face-to-face encounter with her at his home. We know that Ziva will play a big part in the season 17 premiere of NCIS, but new teasers have fans wondering if Gibbs knew that Ziva was alive this entire time.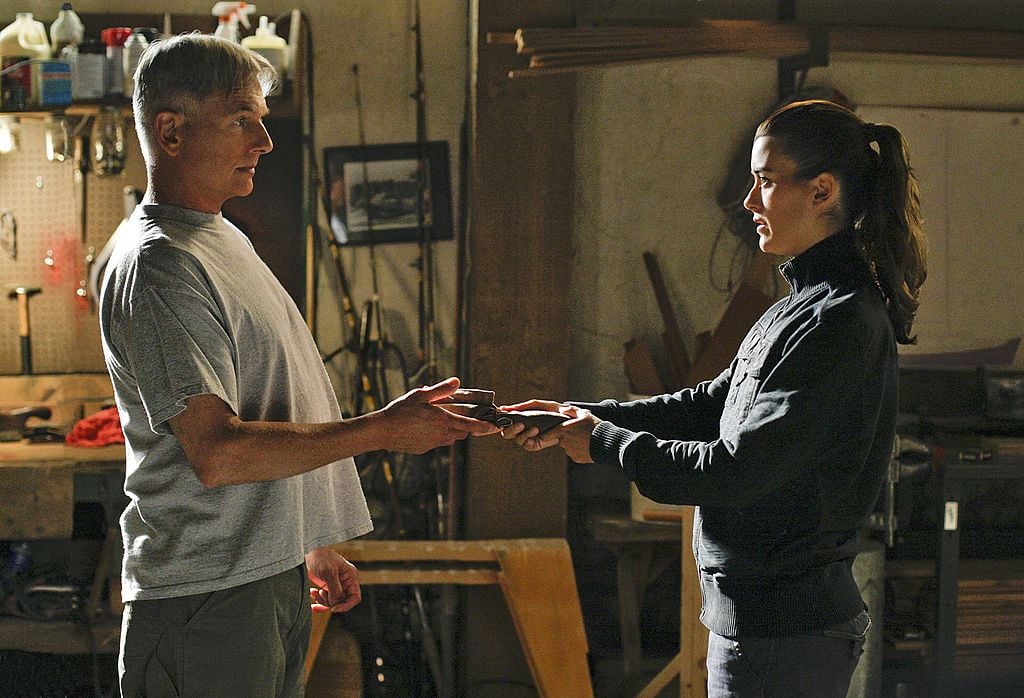 'NCIS' producers tease that Gibbs knew all along
Pablo originally left NCIS back in season 11. She was later presumed dead after getting caught up in a mortar attack. Fans had no reason to believe that Ziva was still alive until Season 16, when Bishop discovered that Ziva has been looking into her old cases. Bishop attempted to discern if Gibbs knew about Ziva's true fate but had zero luck getting anything out of him.
Pablo, of course, shocked everyone when she appeared in the Season 16 finale of NCIS to warn Gibbs about an impending threat. Given how Gibbs was hallucinating the entire episode, some fans argued that Ziva was just another figment of his imagination. We now know that is not the case.
In a new interview, NCIS producer Frank Cardea confirmed that Ziva is still alive and well. According to Cinema Blend, Cardea also teased that the Season 17 premiere of NCIS will reveal exactly what Gibbs knew prior to Ziva's appearance at his house. This includes when Gibbs found out that Ziva was still alive.
The news seems to suggest that Gibbs knew that Ziva was not dead, though exactly when he made that discovery is unknown. This could mean that Gibbs will have some explaining to do this season, especially considering how he kept this a secret from the rest of the NCIS team.
What about the threat?
Another mystery surrounding Ziva's return is related to the threat to Gibbs's life. Some NCIS fans believe the threat has something to do with the case Gibbs worked on last season.
Cardea, however, dispelled this theory and revealed that the threat is connected to why Ziva was forced to go into hiding in the first place. Cardea did not reveal any details about the threat, but it is clearly serious enough to make Ziva come out of hiding — jeopardizing her safety and that of her family.
If Ziva and Gibbs neutralize the threat, it is possible that she can finally come out of hiding, opening the door for future cameos on NCIS.
Pablo originally left the show because of creative differences. The actress was unhappy with Ziva's storyline and the decision to move her to Israel. Pablo later revealed that she would only return to NCIS if the story was compelling and did justice to Ziva as a strong female character. There is no telling how involved Pablo will be moving forward, but we have a feeling that her character will play an important role in the show in future seasons.
Did Gibbs know about Ziva?
Until we learn more, it is difficult to say if Gibbs knew Ziva was alive last season. Gibbs did not show any signs that he knew about Ziva's fate, though he could have been keeping her secret to protect her, just like Bishop did when she found out the truth.
If Gibbs did know, then he will probably have some friendships to mend once McGee, Ducky, and Palmer found out. That, of course, will depend on if Ziva ever reveals herself to the rest of the NCIS team.
Considering how Ziva will play a big role in the premiere — and the fact that Pablo is already popping up on her co-star's social media pages — there is a strong chance the rest of the team finds out sooner rather than later.
Fans can watch Pablo back in action when Season 17 of NCIS premieres September 24 on CBS.