'NCIS': Is Emily Wickersham Leaving After Season 17?
Bishop's (Emily Wickersham) career took a big turn in the fall finale of NCIS. In the episode, "The North Pole," Odette (Elayn J. Taylor) basically gave Bishop the chance of a lifetime when she offered to give her special training. Bishop is fully expected to take Odette up on her offer, but the direction of her storyline also has NCIS fans wondering if Wickersham is thinking about leaving the season after season 17.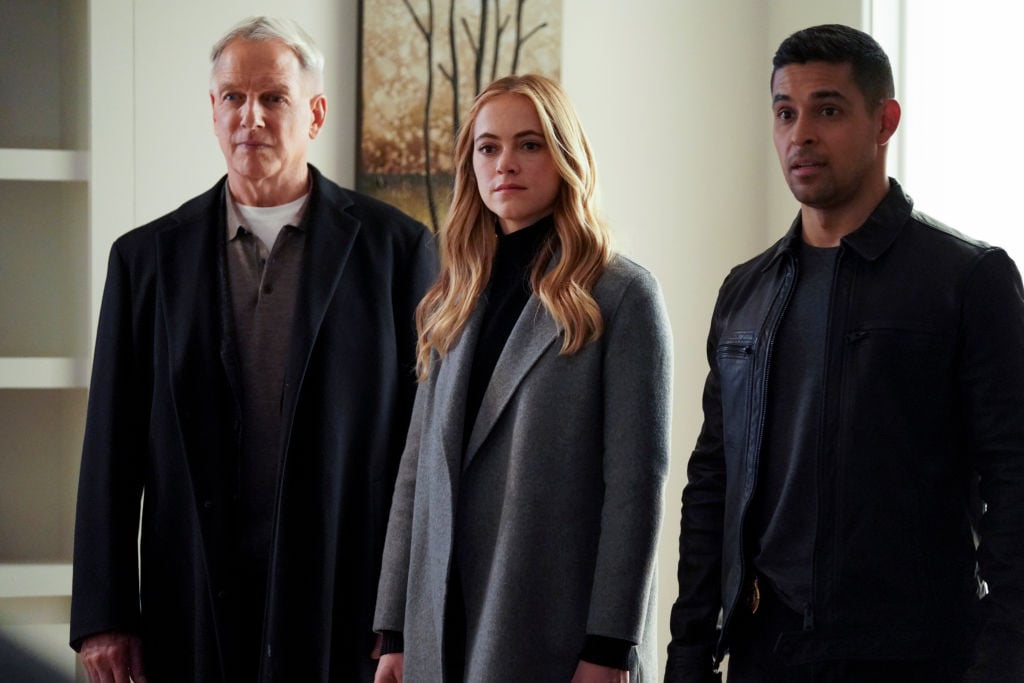 Inside Bishop's career change on 'NCIS'
In the fall finale of NCIS, Odette asked Bishop to pick up a hard drive in exchange for $100,000. Bishop obliged, but when she arrived at the drop, she basically told Odette that she was not going to hand over the information.
Instead, a confident Bishop said that she agreed to meet so that she could find out what was going on and report back to Gibbs (Mark Harmon).
Bishop later discovered that Odette used to work for the CIA. Torres (Wilmer Valderrama) warned her that she should probably make things right with Odette to avoid trouble down the road.
Towards the end of the latest NCIS installment, Bishop and Odette met one last time. Odette revealed that she had used Bishop to convince Gibbs to call Ziva (Cote de Pablo). She also admitted that Bishop impressed her when she walked away from their earlier meeting and offered her a unique opportunity.
"I had a performance to evaluate. It took a lot of guts to walk away from me with that drive. I see a certain promise in you, Agent Bishop. I'd like to offer you some specialized training, if you'd be interested," Odette told Bishop.
Is Wickersham leaving 'NCIS'?
The job offer left NCIS fans wondering if the series is going to end Bishop's storyline after season 17. After all, if Bishop accepts Odette's offer, she might be forced to leave the NCIS team.
We do not know what the show has planned for Bishop down the road, but NCIS producer Frank Cardea recently shed some light on Odette's intentions.
According to TV Insider, Cardea revealed that Odette believes Bishop has a lot of potential and is planning on being her mentor moving forward. In Odette's mind, Bishop shares some of the same traits as Ziva and wants to bring her under her wing just like she did with de Pablo's character.
"Odette sees a lot in Bishop that she saw in Ziva, this bright young human who has great potential," Cardea shared. "She's hoping to become a mentor to her just like she was with Ziva."
There are, of course, many differences between Ziva and Bishop on NCIS. Where Ziva was raised by a father who was a Mossad agent, Bishop's parents were farmers in Oklahoma. Even still, it will be interesting to see how the show develops this story in the second half of the season.
What we know about Wickersham's future
Based on Cardea's comments, it sounds like they have big plans for Bishop moving forward. Even if she does accept Odette's offer, it is difficult to see the actress leaving the show when her character is starting a new chapter in her journey.
That said, anything could happen, and we have seen stranger exits on NCIS in the past. Hopefully, Wickersham stays on board so that we can see if Odette can turn her into Ziva 2.0.
Wickersham joined the series right after de Pablo's exit and was meant to fill Ziva's shoes. Over the years, fans have watched her grow as a character and we cannot wait to see what the future holds for her.
Wickersham has not said anything about the rumors surrounding her future on NCIS.
'NCIS' kills off a character in heartbreaking fashion
The fall finale revealed a few more details about Ziva's apparent death. Via a flashback, we learned that Adam was the one who helped Ziva fake her own death.
Ziva made the decision to keep her daughter safe while she undertook a dangerous undercover mission.
Later in the episode, Ziva and Gibbs attempted to rescue Adam, who informed them that Sahar was not really dead. The person they killed at the beginning of the season was actually a decoy. Even worse, the real Sahar is someone they know.
The pair later discovered that Adam had died, which is when we found out that he had been in love with Ziva. This is why he agreed to help her in the first place, which was a pretty heartbreaking twist.
Season 17 of NCIS is scheduled to return to CBS in January.