'NCIS: Los Angeles': How did Eric Christian Olsen Meet His Wife, Sarah Wright?
NCIS: Los Angeles star Eric Christian Olsen has been married to his wife, Sarah Wright, since 2012. Here's everything Showbiz Cheat Sheet knows about how they first met.
Eric Christian Olsen admires his wife's strength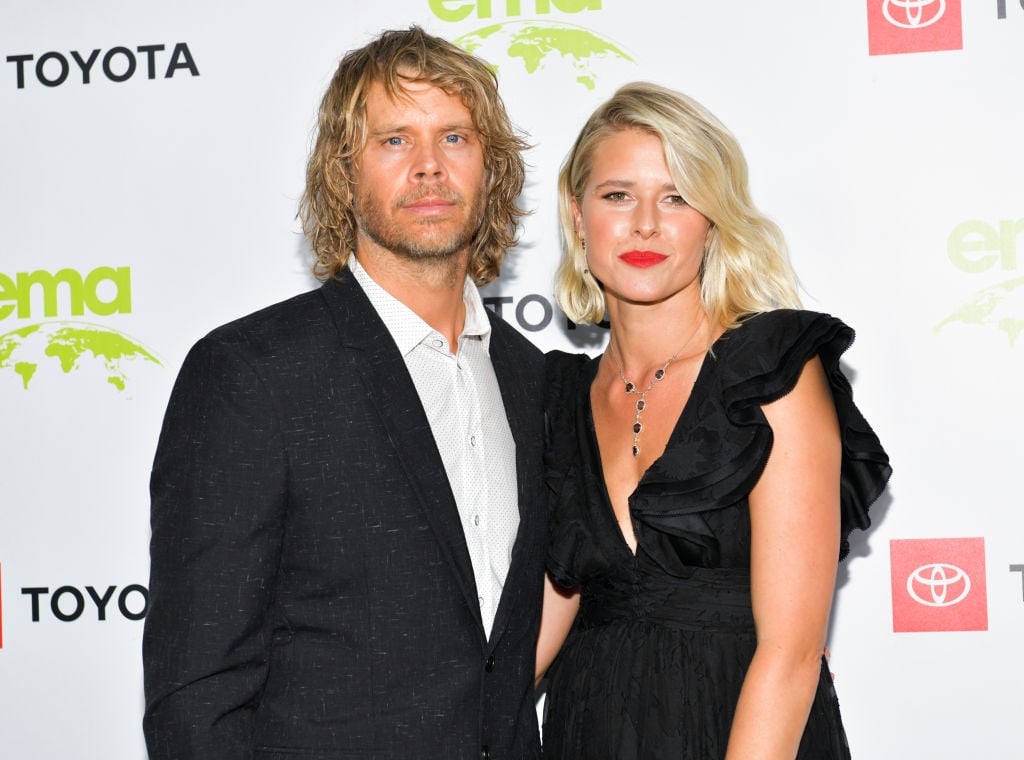 After Wright gave birth to their second child, Esmé Olivia, in 2016, Olsen posted a heartfelt tribute to his wife. He shared with his fans how much he admires her:
I remember reading that how you approach birth is intimately connected with how you approach life, and after watching Sarah go through the process twice, it's undeniably true. Birth is like a whirlwind microcosm of the rest of the journey and I am in awe of this woman; somehow navigating the most difficult moments with equal parts passion, fearlessness, and all-encompassing love. I suspect she may be magic.
How Eric Christian Olsen and Sarah Wright met
How did Eric Christian Olsen meet his wife? It wasn't exactly love at first sight for Olsen and Wright. They first met in 2006 on the set of the Fox comedy The Loop. Wright played Lizzy for seven episodes and Olsen played Sully Sullivan for 17 episodes until the show ended in 2007.
During an interview for Entertainment Tonight, Wright said she thought Olsen was "a jerk" when she first met him. Olsen had a different reaction. He said he thought Wright was hired because she was beautiful and not necessarily because of her talent. "I thought they hired you because you're super gorgeous and not because you are talented, so I was mean to you the first time we met," said Olsen.
Wright said that although she thought Olsen wasn't very nice, she began to change her mind when he laughed at her jokes during their first table read. "I thought you were a big jerk," said Wright. "But at the first table read you laughed at my jokes and came up to me and apologized."
Fortunately, everything worked out for the couple. After five years of dating, they were engaged in 2011 and married the following year.
How Eric Christian Olsen proposed to his wife
During an interview with the hosts of The Talk, Olsen said he wanted to surprise Wright with a proposal. He knew she was expecting a proposal, so he wanted to make sure she was surprised. He said he threw her off by pretending he wasn't sure if he wanted to get married. Later, he took her on a special trip to Mexico.
"We spent this perfect day swimming in the ocean, getting massages, the perfect day," said Olsen. After they had a meal on the beach, Olsen says he put a camera on a timer and ran up to take a picture with Wright. Once the shutters opened, he made this statement to her:
Nobody makes me laugh more. Nobody makes me happier. Nobody is going to be a better mother. I want to spend the rest of my life with you. Will you marry me?
Read more: 'NCIS: Los Angeles': What Is Eric Christian Olsen's Wife Famous For?
Follow Sheiresa @SheiresaNgo