'NCIS: Los Angeles': Nell's Leave of Absence Seems to Be Causing Trouble
During NCIS: Los Angeles Season 11, Episode 21 (titled "Murder of Crows"), the team seems to be struggling. At some point, Fatima and Eric hint at experiencing job burnout. It looks like Nell's job dissatisfaction might be rubbing off on the agents. Here's Showbiz Cheat Sheet's take on the drama with the NCIS Los Angeles team.
Fatima is having trouble balancing home and work life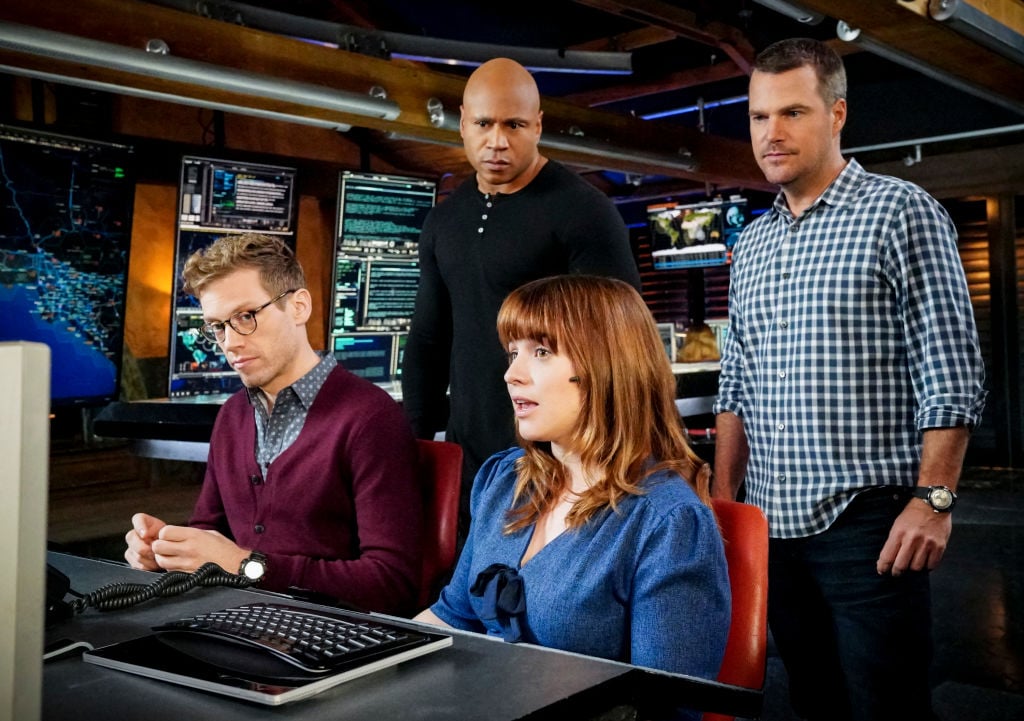 During NCIS: Los Angles Season 11, Episode 19 (titled "Fortune Favors the Brave"), Kensi (Daniela Ruah) seems more sensitive to the team's needs ever since Nell decided to take a step back from NCIS. After Nell reveals she doesn't want to be an agent anymore, Kensi checks in with Fatima. She tells her she's available if she needs a shoulder to lean on, and she can talk to her if she ever feels overwhelmed by the job. "If you ever feel like this job is getting a little tough and you need to talk to someone, just know that I'm here," offers Kensi. Fatima shrugs off the offer and says she's fine, but it's obvious something is bothering her.
Fast forward to season 11, episode 21, and Fatima finally comes clean. She admits she has been having trouble balancing work with her social life. In fact, she doesn't have much of a social life. After work, she just heads home to eat Ruffles potato chips and watch The Great British Bake Off. She also told Kensi about her dismal dating prospects.
Eric Beale is feeling lost
Eric (Barret Foa) seems a bit lost and confused. Nell's departure has him a bit turned around. During a team meeting, Fatima references work-related fatigue and Eric says he forgot why he started working for NCIS. Kensi tells both of them to "get it together." Part of Eric's frustration is that he's writing a speech about his work, but he has trouble even remembering why he chose this profession.
Nell's decision to take a break from NCIS seems to have caused Eric to question himself and the work he does. If Eric decides to leave the agency, he won't have any problem getting a job. He mentioned several times that he regularly receives job offers from tech firms. Will Eric make his exit?
The 'NCIS: Los Angeles' team isn't the only one feeling burnout
The NCIS team is also feeling the burn. In a recent episode, Palmer expressed how overwhelmed he's been feeling lately. Now that Ducky has stepped back from his daily duties, Palmer is the main medical examiner. All the work now falls on him. This means longer hours and less time for his family. Unfortunately, his wife, Breena, isn't thrilled with the changes.
Will the NCIS and NCIS Los Angeles teams bounce back? Could more agents make an exit in the future? It would be interesting to see if there are cast changes. This agency-wide burnout could be a foreshadowing of things to come.
Read more: 'NCIS: Los Angeles': Callen Considers a Big Move and The Team Hunts for a Former Tech Operator's Partner
Follow Sheiresa @SheiresaNgo