'NCIS: New Orleans': The Surprising Connection Between Vanessa Ferlito and Necar Zadegan
A few of the 'NCIS: New Orleans' are connected outside of the show. Necar Zadegan is the newest recruit. How is she connected to Vanessa Ferlito?
With NCIS: New Orleans on hiatus until after the new year, there's ample room to get to know the cast. Many of the actors on set, such as Vanessa Ferlito and Necar Zadegan, have connections to each other outside of the NCIS franchise. What projects have they worked on in the past?
Vanessa Ferlito stars as Special Agent Tammy Gregorio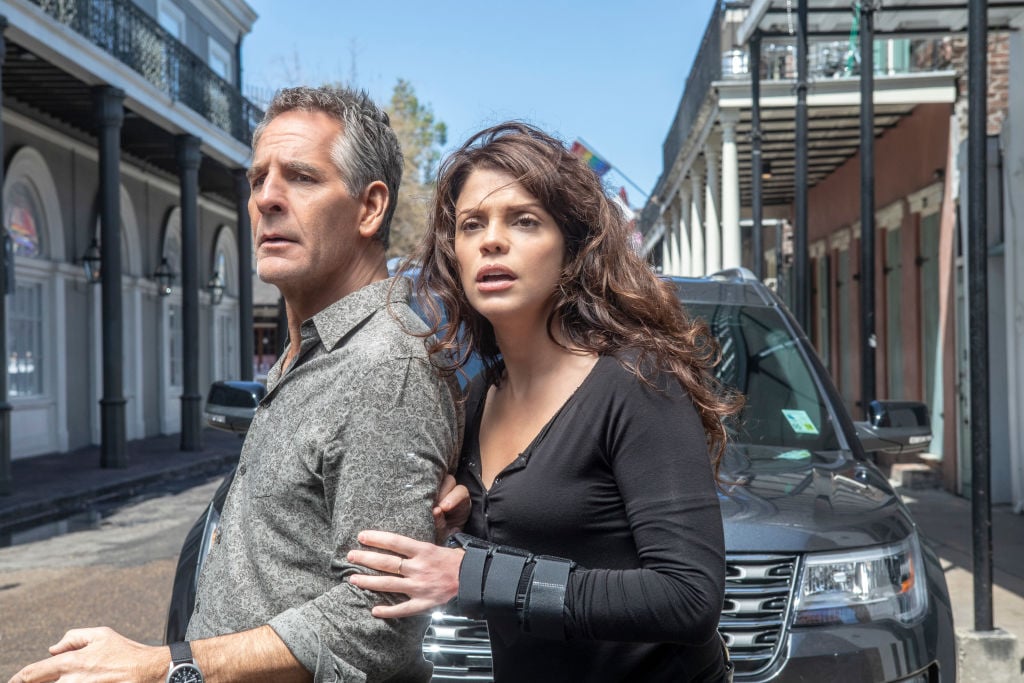 Ferlito's rough and tough Gregorio became part of the NOLA team in 2016. She came on as DC task force assigned to investigate Dwayne Pride (Scott Bakula) at the start of season 3.
Ferlito began as a Wilhelmina model. Her role as Lizette Sanchez in the 2003 film, Undeafeted (opposite John Leguizamo), garnered her an NAACP nomination for Outstanding Actress in a TV movie. 
The single mother cemented herself as one of Pride's trusted teammates on NCIS: New Orleans, but her resume goes back to 2002. Her projects include work with some of the biggest names in Hollywood, including Al Pacino, Spike Lee, and Tyler Perry.
This season, Ferlito's been on the front lines of the NOLA team. As Sebastian Lund's (Rob Kerkovich) roommate, and Pride's go-to agent in lieu of LaSalle's passing, Ferlito's Gregorio sets the stage for any agents to come.
Necar Zadegan stars as Special Agent Hannah Khoury
When Special Agent Khoury came along, Pride had just been shot and was working on the administrative end. Her place was as a Pride fill-in, which are big shoes to fill.
Luckily, Hannah holds her own as an international expert who speaks six languages (which is a talent Zadegan utilizes in real life). Showrunner, Christopher Silber, previously said she's a "very capable" person.
"She's worked all over the world [and is] good at reading people," he told TV Insider.
Even after Pride's return, Hannah's invaluable expertise became a necessary addition. Showrunners deemed Zadegan a series regular. Prior to NCIS: New Orleans, Zadegan made a name for herself on Broadway as Leper in the Pulitzer Prize and Tony Award-nominated Bengal Tiger at the Baghdad Zoo. She played opposite the late, great, Robin Williams.
The Heidelberg, Germany-born actress studied theater and dance at the University of California and followed-up at the Sorbonne University in Paris.
Here's the surprising connection between the two 'NCIS: New Orleans' actresses
One of the most fascinating, yet lesser-known facts about the NCIS: New Orleans cast has to do with their varied, random connections to each other through different projects.
The most obvious example is that Bakula and CCH Pounder (who plays Dr. Loretta Wade), starred in an episode of Bakula's hit show, Quantum Leap. A few of the actors have made cameos on one of the Law & Order franchise shows (including Pounder).
That said, Ferlito and Zadegan have a more interesting connection. Each had a CSI appearance. Ferlito played Aiden Burn on CSI: New York for two seasons. Zadegan had a one-episode stint on the Miami version in 2010. But there's more than that.
Each had a major role in the hit Fox series 24. Ferlito played Claudia Hernandez during the 2003-2004 season, while Zadegan played Dalia Hassan in the 2010 re-boot.
Clearly, Pride's team came together long before the roles were cast. We'll be interested to see what happens when NCIS: New Orleans returns in 2020.