'NCIS: New Orleans': Fans Have 1 Major Complaint About the Midseason Premiere and It's Not Sebastian's Mustache
Finally — the world of NCIS: New Orleans returned with a jam-packed episode on Sun., Feb. 16 in its new night for CBS. The show followed NCIS: Los Angeles giving the franchise a double-header in ratings. That said, a lot happened in the midseason premiere. Here's what fans loved, and what they didn't.
[Spoilers for NCIS: New Orleans Season 6 midseason premiere ahead]
The first episode of 'NCIS: New Orleans' in 2020 had a lot going on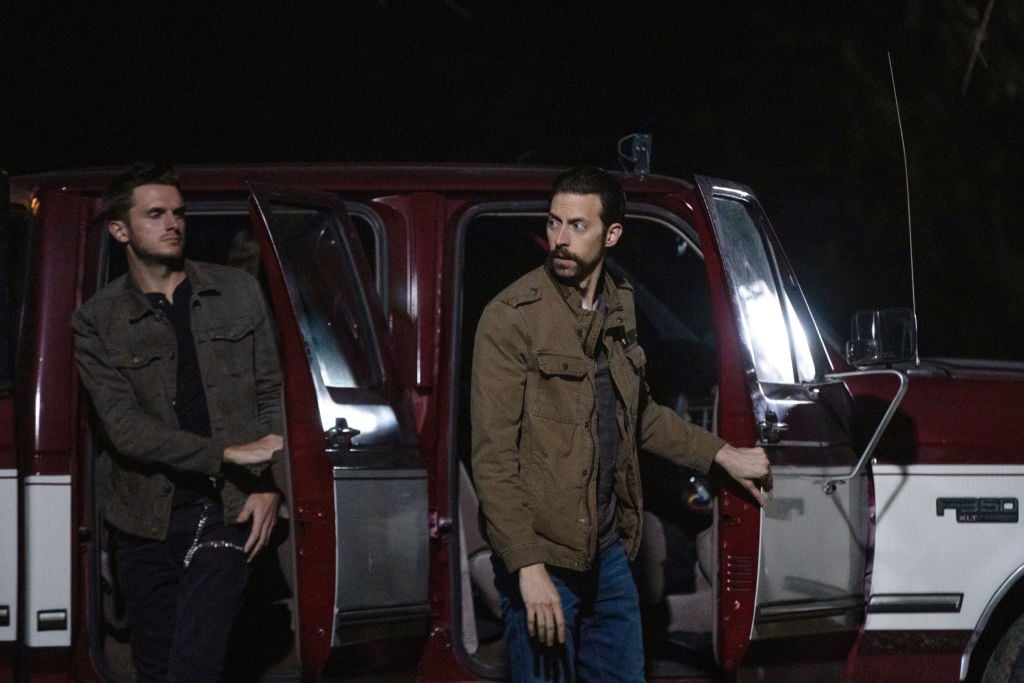 The first episode of the back-half of NCIS: New Orleans Season 6 aired with a bang. "Bad Moon Rising" followed Sebastian Lund (Rob Kerkovich). He went undercover with a group of white nationalists in order to find the murderer of a Naval Aviation Mechanic who turned down the offer to work for them.
Dwayne Pride (Scott Bakula) and the rest of the team became concerned when Sebastian hadn't been heard from, except for the few messages he was able to get to them via a dead man's arm where "Pride" was evident.
The Commander in charge of the white nationalists previously served three years for manslaughter and had something bigger planned. He asked Sebastian to be the sniper while the Commander implemented a terrorist attack on the military using nitrogen to rid them of all those who "didn't belong."
Of course, Sebastian, Pride, and the trusty NCIS team saved the day just in time, but not without Sebastian punching Pride twice, vomiting over having to dispose of a dead body and a tiff between him and Tammy Gregorio (Vanessa Ferlito) when Sebastian's REACT confirmation arrived.
Again, a lot happened in just one episode. One thing not really addressed just yet — Pride shooting and killing cult leader, Eddie Barrett (Eddie Cahill).
What are fans saying about the midseason premiere?
The general consensus — after all the weeks of awaiting a new episode — is that Dwayne Pride and his NCIS team nailed it.
"Great episode tonight you guys I will see you all next week #NCISNOLA" one fan tweeted.
Another fan said, "Great wrap-up to a great episode!! Y'all are stretching your characters so we get to watch them grow and experience their struggles – while still being family!"
"@NCISNewOrleans This has been one action-packed return of #NCISNOLA A enigmatic, dark & elusive episode," this fan added.
By the way the fall finale ended, no one could know how the show would kick things off, especially with Pride's emotional and mental state. That said, the biggest complaint among the fanbase is unanimous.
"Need more about the friendships, not the weird dreams," this viewer said. "Getting tired of the dream sequences," another added. "Stop the dreams!!!!!!!!!!!!!!!!!" this fan demanded. "I don't know why Pride is still having these dreams and seeing this guy," this viewer said on Instagram.
Clearly fans want to get to the bottom of what Pride is hallucinating the man in the red suit without having to see so many scenes where the hallucinations happen. Maybe it's due to the long wait between news episodes, but a little patience may go a long way with half the season left to go.
Who stole the show?
Everyone involved in the midseason premiere killed it, but there's one star in particular fans are lauding as a scene-stealer: Sebastian. While the episode was Sebastian-heavy in general, the character's undercover persona took it to the next level.
"I always pictured you as the adorable and brilliant tech geek of the NCIS NO team but tonight you have taken your character Sebastian who a whole new level by being such as badass which was phenomenal & it would have made Lasalle proud that's for sure. You Rock Rob!" this fan tweeted.
"Beautiful episode very cool seeing you in the uncover type role knocked it out of the park," another viewer said.
"What an amazing episode. Loved Sebastian going undercover. I'm with Gregorio. Is it wrong I wanted Sebastien to not get into REACT? But super pumped to see what's next #CanadianLove#NCISNOLA," this viewer said.
"Awesome mustache, great acting. Fabulous show last night," another fan said. And finally, this enthusiastic Kerkovich supporter said it best: "Dang Sebastian looking good!!"
With more episodes left in season 6, we have a feeling this is only the beginning of Sebastian taking risks, rocking the undercover gear, and we're here for it.
NCIS: New Orleans airs Sundays at 10 p.m. on CBS.