'NCIS: New Orleans': Is This the Real Reason Shalita Grant Left the Show?
Any NCIS: New Orleans fan knows the ins and outs of Dwayne Pride's (Scott Bakula) team of special agents. With season 6 underway, the loss of a major character shook fans to the core.
It's only natural to wonder if another agent will fill Christopher LaSalle's (Lucas Black) spot much in the way Tammy Gregorio (Vanessa Ferlito) replaced Sonja Percy (Shalita Grant). That said, why did actress, Grant leave the show?
Shalita Grant played Sonja Percy through season 4 of 'NCIS: New Orleans'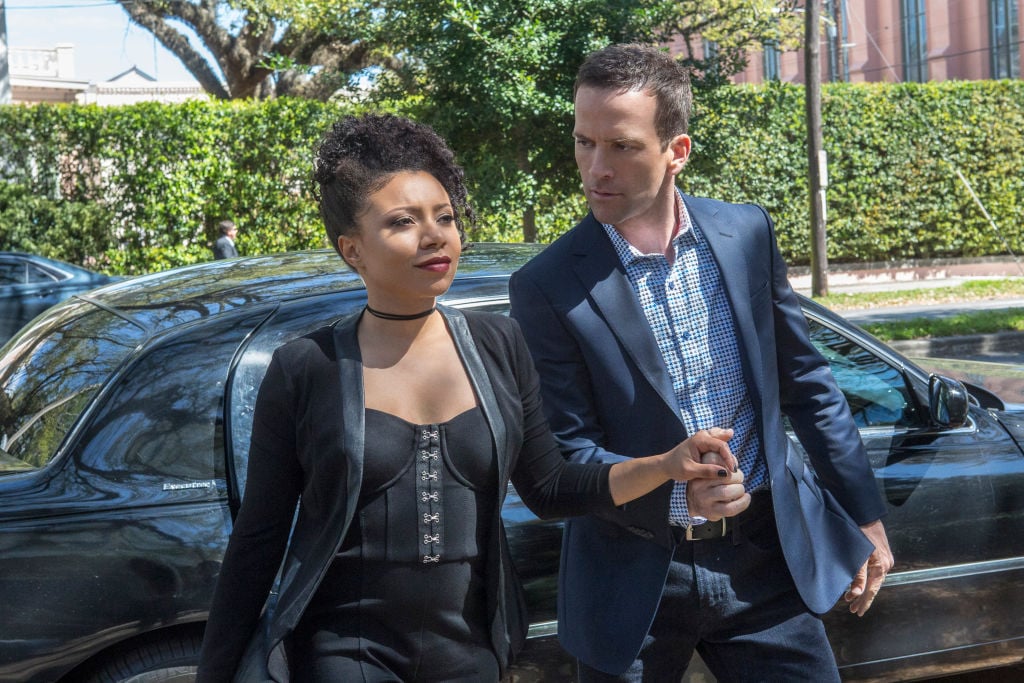 Agent Percy joined the NCIS team in 2015. Grant's character is a former ATF agent who had a recurring spot in the first season. She later joined full-time in season 2. Percy and Pride's relationship never quite hit the mark, mostly due to her undercover role with ATF.
Pride, and Percy's partner, LaSalle, often feared for her safety. Though, she was determined to do things her way, much to Pride's chagrin. It's that no-nonsense attitude that would eventually cause Percy to part ways with her NOLA team in exchange for a role with the FBI.
In Percy's final episode, she handed in her badge after an undercover operation went wrong. With Pride's support (and that will-they-won't-they unmined relationship with LaSalle left hanging), Percy vanished from the NCIS set.
Grant said she left on her own volition
When a beloved character leaves a hit show, you never know if it's due to off-screen drama. According to Grant's manager, Didi Rea, none of that went down.
"It's just time for a change," Rea told Variety. "This is about moving on to the next great thing."
As Deadline also reported, Grant's departure was "mutually agreed upon."
Grant picked up a few other projects since NCIS, such as Netflix's Santa Clarita Diet and TBS's Search Party.
For any fans missing Percy's sass, there's always a chance she could return. They didn't kill her off, which means the door is open. As of now, it doesn't look like Grant will be back to the NOLA team, but never say never.
Others claim harassment from an 'NCIS' showrunner
While Grant claims she left the show on good terms, other reports suggest bad blood behind the scenes. When Brad Kern became showrunner in 2016, a slew of sexual harassment, discrimination, and racially charged comment allegations came to light.
CBS eventually concluded the inquiries lacked evidence, but they told staff "appropriate" action had been taken.
"We were aware of these allegations when they took place in 2016 and took them very seriously," CBS said in a statement to Variety.
"Both complaints were acted upon immediately with investigations and subsequent disciplinary action. While we were not able to corroborate all of the allegations, we took this action to address behavior and management style, and have received no further complaints since this was implemented."
Could discrimination be part of the reason Grant left the show?
Past employees from NCIS: New Orleans — claimed Kern made the set an unsafe environment for women.
"He discriminates against women, against working mothers, against anyone he can't control — especially women," one source said. Multiple sources alleged that Kern sometimes spoke in "an offensive voice meant to imitate African-American vernacular speech."
Adding to that, they said "racially insensitive behavior" became an issue. Kern allegedly stereotyped speech patterns in regards to dialogue written for Darryl "Chill" Mitchell and C.C.H. Pounder.
"It was offensive," a former employee said.
Other sources pointed to castmember Zoe McLellan's (who played Meredith Brody) exit because she wasn't attractive enough for male viewers.
Timothy Farrell, a VP for human resources at CBS said, "We have taken appropriate responsive action."
Even with an investigation, some said the NCIS: New Orleans set "continued to be a hostile work environment, every second of every day."
It's unclear if any of this influenced Grant's desire to leave or if she really was ready to move on. Representatives from the alleged declined to comment to Variety at the time of the reports. With LaSalle and Percy long gone, we hope the NOLA team unifies on set, and off.