'NCIS: New Orleans': Is Scott Bakula Leaving the Show?
It's not a long shot to say Dwayne Pride (Scott Bakula) is the glue that holds the NCIS: New Orleans team together. As the Supervisory Special Agent in charge of keeping the southern region safe, Pride has a lot on his plate at any given time.
Pride's found himself in plenty of near-death situations. This leads fans to believe his end is inevitable. After the shocking loss of Special Agent Christopher LaSalle (Lucas Black), anything could happen. Is Bakula planning to leave the popular spin-off?
Pride's death has been looming for awhile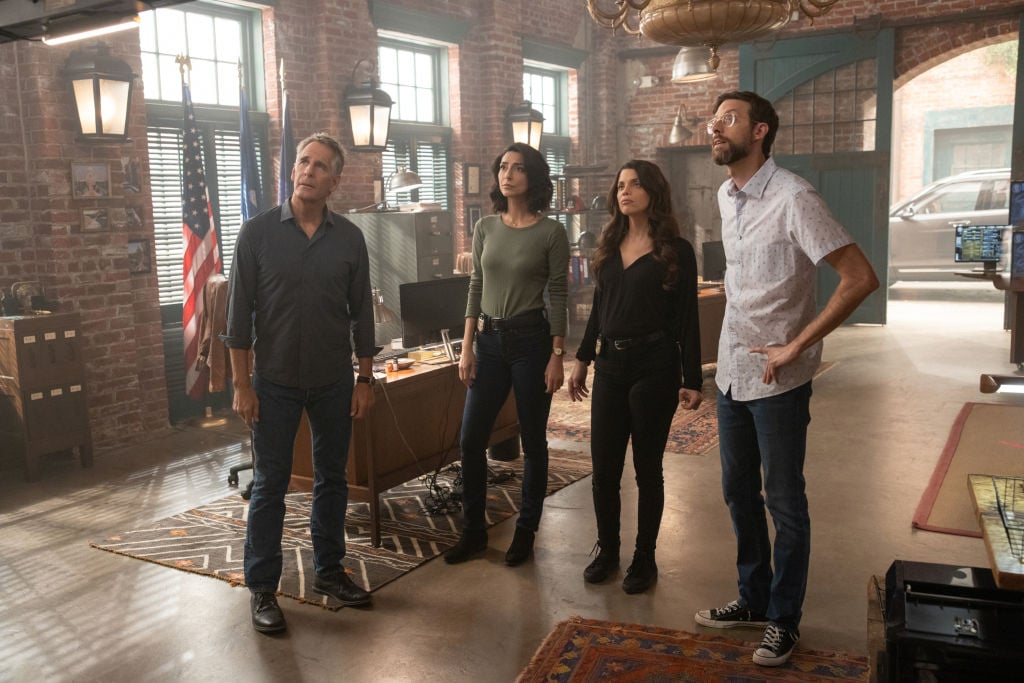 You'd think Scott Bakula's character would've died a long time ago. Leave it to all three NCIS shows to keep viewers guessing. As CBS's highest-rated show, the home base NCIS sits in the top spot. That also makes the show eligible for a slew of fan theories. It's hard to say if or when Leroy Gibbs (Mark Harmon) will leave the long-running series, but it opens the field to other leaders like Pride.
NCIS: New Orleans began with a backdoor pilot within NCIS in 2014. Bakula is so beloved, the spin-off in NOLA became an instant success. Six seasons in, Bakula's Pride has been through a lot (to say the least).
In season 4, Pride was shot, clinging to life, for a few nail-biting episodes. He survived, of course, but stayed on desk duty throughout most of season 5 — until the "Reckoning."
Enter a job opportunity with FBI and CIA personnel which would've helped him avenge his father's death. He turned down the offer and instead worked with his usual team to take down Apollyon, which is the group responsible for murdering Pride's father, Cassius.
That decision eventually led to his kidnapping, drugging, and Post Traumatic Stress Disorder that affects him in later episodes with his hallucinations and sleepless nights.
"This guy wears his heart on his sleeve, anyway, so when you start messing around with his family or extended members of his family, he has trouble doing both things — taking care of his people and also doing his business," Bakula said of Pride's mentality. "It's a battle. It's something he fights all the time."
Because of all of this, Pride may find himself falling deeper and deeper into a hole he soon won't be able to fight his way out of.
The fall finale hinted at something ominous for Pride
The fall finale revealed Pride's newest hallucination, a man in a red suit. By the looks of it, the man is someone Pride recognizes or it's a feeling he remembers, like guilt. Many believe this man is the beginning of the end for Pride, like an "Angel of Death."
With everything Pride's been through, plus the recent loss of LaSalle, he has a lot of emotional trauma to work through.
"He has those kinds of parental emotions, and he and Lasalle have been together the longest. He's nurtured him and been his mentor. He knows Lasalle's story and knows the challenges he's faced with his brother," Bakula said. "It's a powerful arc, and it's explosive in many ways."
The loss of LaSalle is a grim reminder that no one on Pride's team is immune from death — not even Pride.
The last time Pride's hauntings appeared, they suggested his imminent death. As season 6 progresses, it looks more like déjà vu — which is exactly how the show's Twitter account described Pride's sighting of the man in the red suit. Could this mean Pride (aka Bakula) is about to exit the series?
Is Scott Bakula leaving 'NCIS: New Orleans'?
NCIS: New Orleans has a lot of answering to do when the show returns in February 2020. While it looks as though Eddie Barrett's (Eddie Cahill) death should've avenged LaSalle, Pride still has to explain what happened in the moments before he shot Barrett.
Bakula previously told TV Insider some of what season 6 would cover, which is, "A little bit less of the Apollyon kind of stories and more about getting back to the more local, more personal stories."
There's nothing more personal than the possibility of the death of Dwayne Cassius "King" Pride. NCIS: New Orleans has yet to be renewed for season 7, and Bakula's mum on whether fans can expect Pride for the long haul. Can you imagine NOLA without him?
Once the show picks back up, fans will see if Pride can move forward, or if it's all been too much. Hopefully, he'll make another comeback just as he has many times before. For now, Pride, and Bakula, are still part of the team.
NCIS: New Orleans returns Sunday, February 16, 2020, on CBS.