'NCIS: New Orleans' Star Chelsea Field Reveals the 1 Thing Even Husband Scott Bakula Didn't Know
NCIS: New Orleans has done more than entertain viewers. The hit NBC spin-off is on its sixth season with leading Supervisory Agent, Dwayne Pride. Scott Bakula plays the role that's based on a real-life former NCIS agent. Bakula's wife, Chelsea Field, also stars in the series as Rita Devereaux. The two have worked together in the past, However, there's one thing even Bakula didn't know about his beloved.
Scott Bakula does more than act on 'NCIS: New Orleans'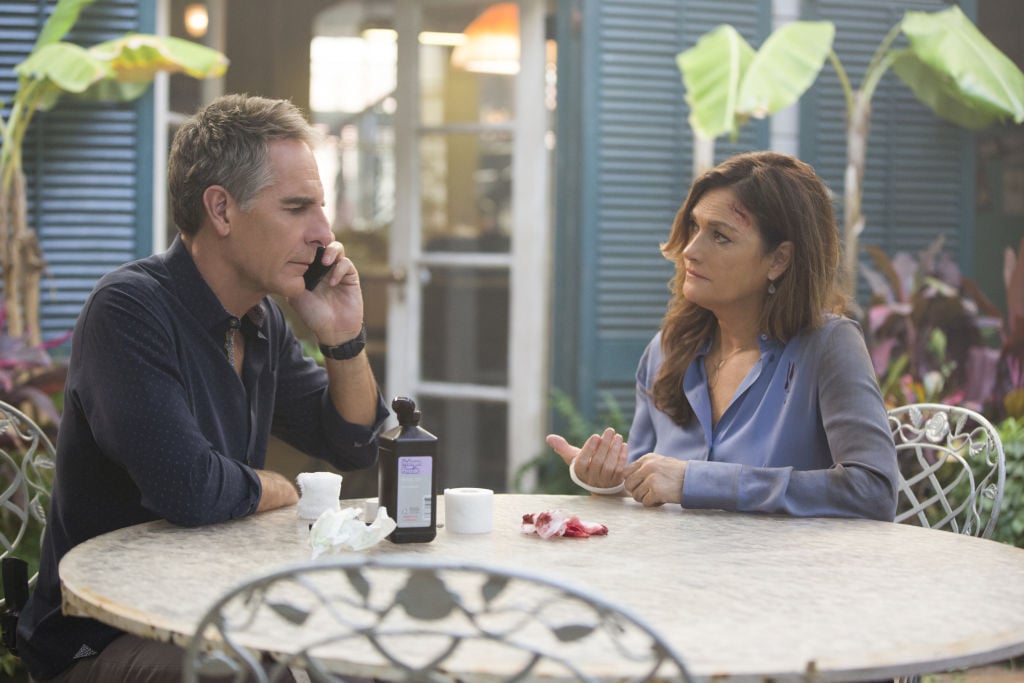 Everyone knows Scott Bakula from a few notable projects: Dr. Sam Beckett on the sci-fi hit, Quantum Leap, Captain Jonathan Archer on Star Trek: Enterprise, and, of course, Dwayne Cassius "King" Pride on NCIS: New Orleans.
The Missouri native, who began with his Tony-nominated theater work, has talents that run behind-the-scenes. Not only has Bakula directed three episodes of Quantum Leap, but he also has a long list of producer credits, including 71 episodes of NCIS: New Orleans with 10 of them as Bakula leading the charge as executive producer.
Bakula's first notable producing credit goes all the way back to 1996 and it just so happens that Field was part of the project.
Chelsea Field and Bakula have worked together on a few projects
The two NCIS: New Orleans stars first met on the set of the 1994 made-for-TV movie, A Passion to Kill. Bakula had been married and divorced once before and had two children by the time he and Field fell in love.
In 1996, Bakula picked up his producer hat with the CBS movie, The Bachelor's Baby. The movie followed a single man (Bakula also acted int the movie) faced with fatherhood after a fling. Field starred as his romantic interest.
"There are certain aspects of the movie that do parallel our life together," Bakula previously told Entertainment Weekly.
"I'm having a nervous breakdown. That's how it mirrors my life," Field joked. She'd just given birth to her and Bakula's son, Wil, before shooting began. "I played her as a woman who had one too many things piled on top of her, and it broke her. I can see how that could happen."
Though the couple shared a home and child at this point, they had never been interviewed together until this movie.
"We wanted to promote [the movie] — and ourselves — because we're really happy about it," Bakula added.
In the years since that first interview, the two went on to co-star in other things, most notably NCIS: New Orleans. Fans love watching their real-life love story unfold on-screen.
In an episode of Rachel Ray, Bakula addressed what it's like working with his life partner on-set.
"I love working with her. We worked together a bunch before," he said. "She makes me a better actor because she works more intensely and more deeply than I tend to work." 
Field revealed a secret Bakula didn't know
The Bachelor's Baby was apparently meant to be the end of one big thing for Field. The actress and dancer intended on reverting back to her real last name, Botfield, after that film.
"I dropped the 'Bot' when I started dancing, but since we have no plans to marry, I wanted to go back to Botfield to have more of a connection with my son," she said.
"But I'm realizing more people know who I am than I thought, so maybe it's not the smartest thing to do. It's not quite solved yet, and people are confused."
Bakula admitted he, too, felt confused.
"I'm glad you're asking these questions because I wanted to know the answer," he said.
Field never did go through with the name change and she and Bakula did marry and have another child. It just goes to show, a woman has the indefinite right to change her mind.
NCIS: New Orleans returns to CBS on Sunday, February 16.