'NCIS: New Orleans' Star Scott Bakula Talks 'Quantum Leap' Reboot: 'There's Lots to Do'
Scott Bakula stars as Dwayne Pride on 'NCIS: New Orleans'. The star got his big break on the hit series, 'Quantum Leap' decades ago. Will there be a reboot?
Right now, Supervisory Agent Dwayne Pride is struggling to keep it all together on NCIS: New Orleans. The man behind the part, Scott Bakula, is living his best life. During a recent interview with the ladies of The Talk, Bakula revealed whether or not those Quantum Leap reboot rumors carry any weight.
[Spoiler alert: Discussion of NCIS: New Orleans Season 6 below]
Scott Bakula's Dwayne Pride is going through a lot on 'NCIS: New Orleans'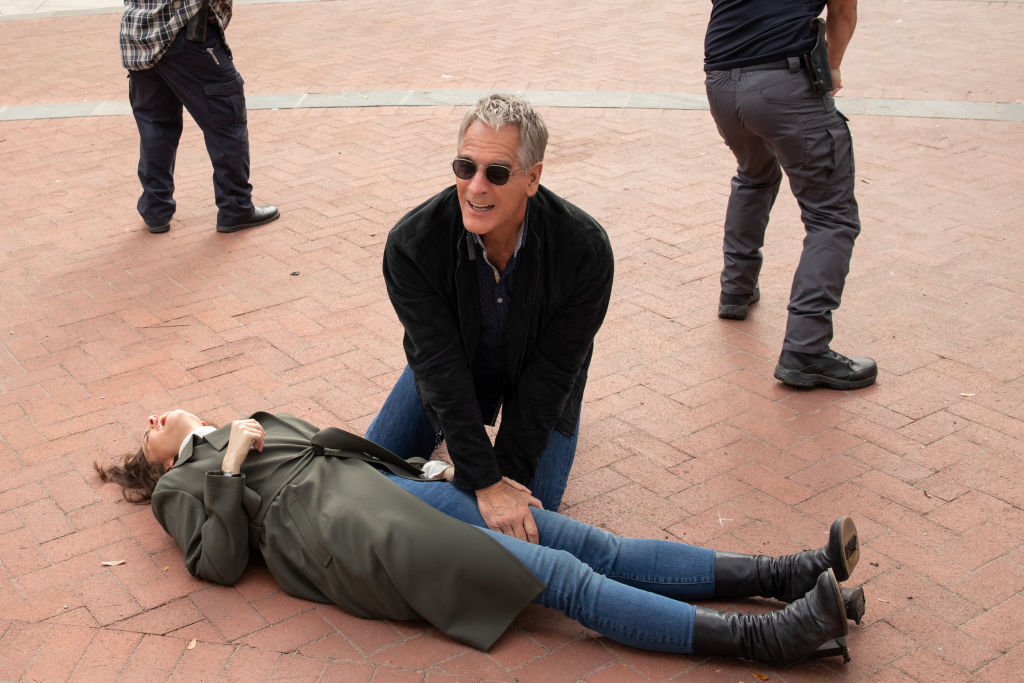 After a multi-week wait, NCIS: New Orleans returned with a bang. The one who caught most of the shrapnel is none other than Pride. The Sebastian-heavy (Rob Kerkovich) episode focused on bringing down a group of white nationalists. Below the surface, Pride's internal struggle is beginning to show.
For one, the man with the red suit who appeared in Pride's hallucination at the tail end of the fall finale made an appearance in the midseason premiere. Though Pride seems to understand he's not really seeing the man — who may be a symbol for something bigger — he can't control his fear of him.
All of those emotions he's carrying are bound to come out and interfere with work at some point. During the episode, viewers caught a glimpse of Pride's insomnia, which turned into oversleeping. Later in the episode, when Dr. Loetta Wade (CCH Pounder) checks him over, he saw another flash of the man in the red suit.
Many think the vision has to do with Pride's conscience after killing cult leader, Eddie Barrett (Eddie Cahill). There have been no consequences for the death as of yet — except for the guilt manifesting inside of Pride.
Clearly, Pride's issues won't resolve in one episode, or even two. Maybe by the end of season 6, he'll have a firm grasp on reality again. Or, as many fear, he's going to break.
'Quantum Leap' became Bakula's breakout role, but he had success before
Bakula's not all Dwayne Pride all the time. Long before the star premiered the character in the NCIS backdoor pilot (circa 2014), he garnered Tony nominations, created music for sitcoms he starred in (like his 1989 breakout hit, Quantum Leap), and became the kind of actor many longed to work with.
The Missouri native may have grown up thinking he'd follow his father's law school — and he did until he dropped out — but ended up on many theater stages where he sang and danced his ways into the hearts of many.
As the kind of talent who sang with the St. Louis Symphony but also appeared on the 1995 cover of Playgirl (in which he admitted he'd be OK doing nudity), is there anything the NCIS: New Orleans lead can't do?
Here's what Bakula says about reboot rumors
During a segment on The Talk, co-host, Sheryl Underwood, asked Bakula about whether or not he might return to the Quantum Leap world. Rumors about a potential reboot have run amuck since its ending, and fans would love to see a more official end to Dr. Sam Beckett's journey.
"I don't know, I don't know," Bakula said. "But I know the fans would love to have a reboot."
The conversation continued with what a reboot of the show — which had Bakula's Sam Beckett "leaping" through time to "right" historical "wrongs" — might look like in today's culture.
"There are so many things going on right now that need to be put right, that are currently going wrong, that (Beckett) would be very, very busy. Lots to do."
Does this mean the reboot has been confirmed? Not exactly. With the major success of NCIS: New Orleans, Bakula's plate is pretty full. However, because the NCIS creator also created Quantum Leap (and is rumored to have pieces of a script already written), never say never.
NCIS: New Orleans airs Sundays at 10 p.m. on CBS.