'NCIS: New Orleans': The 1 Thing Ellen Hollman Did on Set That Proves Amelia Parsons Is the Best Villain in 'NCIS' History
The entire NCIS franchise spans nearly two decades in three separate TV shows. Over the years, each series has had its share of villains. In 2018, NCIS: New Orleans introduced Amelia Parsons, played by Ellen Hollman. What could've been a one-off ended with a five-episode arc. Throughout her time, Hollman did something few other guest stars have done, and it's arguably the very thing that makes her the most memorable.
Who is Amelia Parsons on 'NCIS: New Orleans'?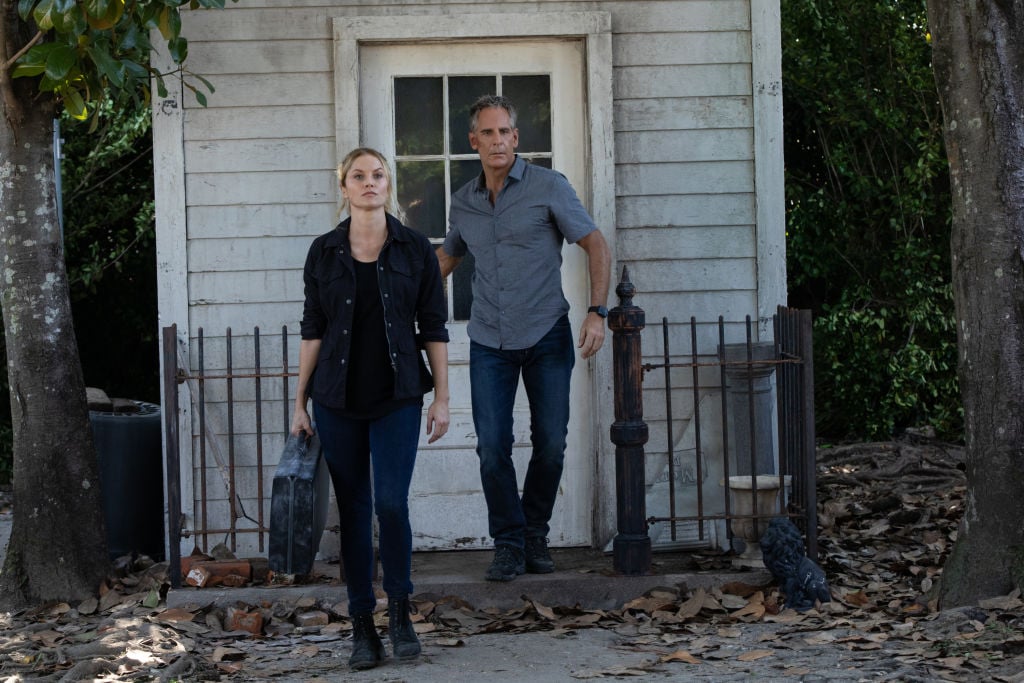 Season 4 of NCIS: New Orleans offered fans hitwoman-for-hire, Amelia Parsons. Associate Attorney General, Eric Barlow (Doug Savant), contracted Amelia to take down Dwayne Pride (Scott Bakula) once and for all.
It wasn't a tough sell considering Amelia had her own reasons for wanting Pride dead — like the death of her husband, John Stone. By the season 4 finale, Amelia shot Pride three times and left him to die. She walked away and viewers assumed she'd never be heard from or seen again.
Obviously, now that the show is on season 6, we know Pride made it through the ordeal and stayed at NCIS, but not without more from Amelia. The villain returned in season 5.
In a strange twist of fate, Pride needed Amelia to help to find files of an underground group to save kidnapped individuals, including Pride's father, Cassius.
When they found Cassius, Amelia used the opportunity to try to kill Pride once more, but Cassius took the bullets. Pride killed Amelia, leaving her no chance to make another attempt in the future.
Who is Ellen Hollman and what else has she been in?
Some might recognize Hollman from some of her other projects like Spartacus, Hawaii Five-0, Into the Badlands, and more. She even appeared on the original NCIS, once 2006 and again in 2015, as Special Agent Tina Larsen. Clearly showrunners loved her enough to give her another spot in a different NCIS world.
Hollman, a female state record holder for the long jump in Michigan, is trained in Jiu-Jitsu. According to IMDb, she "earned her 'Women Empowered' Pink belt as well as 'Combatives' Blue Belt from the Gracie Academy, where her The Scorpion King 4: Quest for Power co-star Eve Torres is also a member."
Fitness and acting aside, Hollman became the CEO and Founder of her non-profit organization, Visual Impact Now, which offers eye clinics and glasses to children across Los Angeles.
What 1 thing did Hollman do to make Amelia the best villain in franchise history?
For a show that's been on as long as NCIS: New Orleans, a lot of actors have worked on-set with the main NOLA crew. What makes her stand out as a fan favorite?
The fact that Hollman filmed herself behind-the-scenes while alongside the likes of Bakula — whom she refers to in this tweeted video as "Count Bakula" — certainly helps. She also stayed in character which is great marketing.
"Busted out of jail by @ScottBakula #BucketList," Hollman previously Tweeted.
In another video, Hollman said she's the reason the fighting choreography was so tight."
"#BEHINDTHESCENES for @NCISNewOrleans where they let me coordinate the action! Took a few pages from @87elevenAction"
Not only did the actress stay in the character of Amelia most of the time, she never hesitated to thanks the costars and give credit to the show for offering her the "killer" job. Fans love Hollman as Amelia so much, the character even has her own Twitter account.
The best villains make it hard for you to choose whether to root for them to fail, or succeed. Hollman's portrayal of Amelia Parsons did just that for all the reasons above. NCIS: New Orleans fans only hope the next person to try and take down Pride is half as entertaining, on and off-set, as she was.
NCIS: New Orleans returns Sunday, February 16 on CBS.