'NCIS: New Orleans': Who Plays Ryan Porter? Meet the Actor Who Once Disrupted 'Dawson's Creek'
In 2019, Ryan Porter was introduced on 'NCIS: New Orleans'. He is Hannah Khoury's ex-husband. Who plays the part and what else has he been in?
In only four episodes, Ryan Porter became the center of Special Agent Khoury's (Necar Zadegan) terrorist encounters on NCIS: New Orleans. Who plays Ryan and what else has he done? Here's why the actor looks so familiar.
Who plays Ryan Porter on 'NCIS: New Orleans'?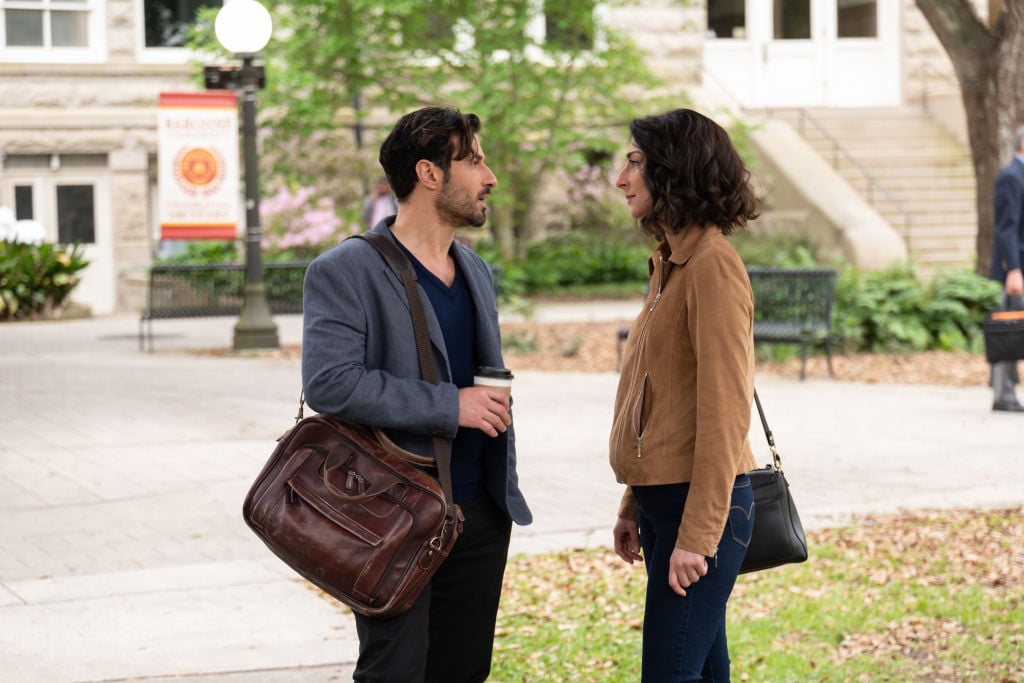 The Northern Cyprus actor, Hal Ozsan (Halil Ozsan), may have been raised in the United Kingdom and educated in Essex, but his vibe on NCIS: New Orleans fits in with Scott Bakula and Ozsan's TV ex-wife, Zadegan.
Though Ozsan moved to the U.S. in the '90s, he began his acting career in 2000. The star worked for years then took a break between 2006-2008, according to IMDb. What did he do with his time? It turns out, Ozsan does more than act. The L.A.-based singer-songwriter signed to an independent record label with his band, Poets and Pornstars.
The band opened for mega-stars like Muse, Alice in Chains, and Bon Jovi, and you may have heard them on the radio or caught one of their North American tour shows.
More so, as the band's songwriter, some of his work has been featured in multiple TV shows. Based on a post of Ozsan playing a Chris Stapleton cover, his Instagram page, his talent knows no bounds.
What has Ozsan been in?
The role of Ryan Porter on NCIS: New Orleans wasn't Ozsan's first crack at acting, obviously. His first role was as two different roles in two separate episodes of Felicity in 2000. He must've nailed the first part as a "long-haired guy," since he returned as "student/stoner guy."
After that, the actor picked up quite a few one-off roles in shows like Jesse, Roswell, Nash Bridges, Grounded For Life, and Six Feet Under.
Eventually, Oxsan picked up recurring roles such as fallen angel Azazel in Fallen, Cassidy in Kyle XY, and Miles Canon in the first re-boot of 90210. He also starred in the made-for-TV movie, Helter Skelter in 2004 to rave reviews.
Even in his early days, Ozsan worked opposite some of the greats. In his first feature-length film, S1m0ne, he may have only played a "hotel concierge," but the movie starred Al Pacino and that's not nothing.
In 2017 Ozsan co-executive produced and co-wrote the critically acclaimed Viceland comedy series What Would Diplo Do?
Ozsan said this about his role on 'Dawson's Creek'
The first major recurring role Ozsan picked up was that of Todd Carr in the final two seasons of Dawson's Creek. He and leading man, James VanDerBeek, are still friends to this day. In fact, Ozsan showed support in the audience when VanDerBeek competed on Dancing With the Stars.
The character of Todd came in as a British director working in L.A.  Dawson lands the job of Todd's Assistant Director on a B-horror film and the rest is history.
Todd, in Ozsan's words, was "the good stuff, the juice of acting; getting to do and say things you'd never dream of doing and saying in normal, civilized company." He referred to Todd as "shameless," adding it was "one of the most enjoyable gigs I've ever had the pleasure of doing."
He continued: "Also, I think Todd was exec producer Tom Kapinos' secret alter ego, his inner 'Tyler Durden', so he wrote the role with unbridled relish. Every Saturday I couldn't wait to tear open the envelope with next week's script in it just to see what a**hole-y wondrousness was going to come out of Todd/Tom's mouth."
Though Ozsan's Todd was written as a one-off. They loved him so much, they extended his part into 15 episodes over two seasons.
"We created a monster. It was brilliant," he said adding that even though the show ended, he "made extraordinarily dear, life-long friends."
As far as returning to music, that ship has sailed.
"I have no plans on going back in. I love film and TV and I am thrilled with every minute of what I'm doing now," he said. This is a very good thing for NCIS: New Orleans fans, and those who've been a fan since Todd Carr disrupted Dawson's Creek for the better.
NCIS: New Orleans airs Sundays at 10 p.m. on CBS.