'NCIS: New Orleans': Why Did Steven Weber Leave the Show?
It's been a while since NCIS: New Orleans fans could root for the series villain to fail. Mayor Douglas Hamilton, played by Steven Weber, became the ultimate antagonist to Dwayne Pride's (Scott Bakula) justice-seeking protagonist. The storyline with Mayor Hamilton wrapped up by the NCIS: New Orleans Season 3 finale. Why did Weber really leave the show?
Steven Weber joined the 'NOLA' cast in 2014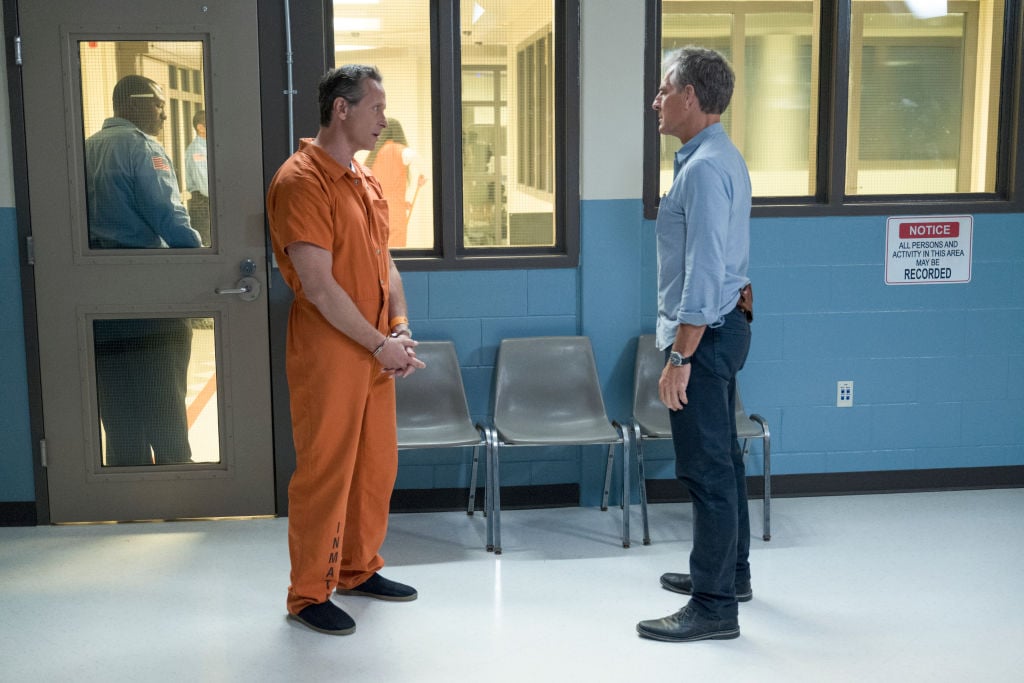 Accomplished actor, Steven Weber, first appeared as Mayor Hamilton in season 1 of NCIS: New Orleans. He played the city councilman of District C. From the start, he and Pride didn't exactly like each other. They managed to put that behind them and worked together to keep New Orleans safe.
By season 2, Hamilton became Mayor of The Big Easy when the opposing candidate was caught moving drugs into his area. As the ultimate thorn in Pride's side, things continued to progressively get more heated between the two.
In season 3, Hamilton and Pride's working relationship intensified when Hamilton's sex tapes and emails were leaked to media.
Issues with Hamilton's shady dealings only escalated. Hamilton planned to move a Navy shipyard to Clearwater and demolish Pride's NCIS team. Pride's bar was blown to bits, forcing him to go rogue to take Hamilton down once and for all.
Pride captured Hamilton and learned he'd hired men to open the floodgates to drown all of Clearwater. However, he and his team remained in imminent danger with floodwaters already rising.
Of course, Pride eventually saved the day and Hamilton confessed his entire plan with the FBI listening in. In doing so, he wrapped up a multi-season storyline. By the season 3 finale, Hamilton was arrested for his dealings in a big case.
While it made sense to NCIS: New Orleans for Hamilton to pay for his actions, what's the real reason Weber left?
Why did Weber leave 'NCIS: New Orleans'?
While Mayor Hamilton's arrest was some kind of poetic justice for Pride and his NCIS team, fans had mixed feelings. Some felt satisfied with the conclusion, but others feared his absence might leave Pride without an antagonist.
"He was the quintessential New Orleans politician, with his finger in a lot of pies, some of which were nefarious," Weber previously told TV Insider about the character. "It was a logical progression that he is truly bad because he and Pride are opposite sides of the same coin."
So why did Weber really leave the hit series? There's no direct mention on Weber's departure, but it's likely no coincidence he had other projects lined up around the time of his NOLA departure.
Aside from a continual stream of one-off parts throughout 2017 (when he left NCIS: New Orleans), Weber landed a number of recurring roles like Mom and 13 Reasons Why. His 2018 and 2019 lineup via IMDb had even more credits with Ballers, The Bravest Knight, and more. Weber is one busy, and in-demand, guy.
Obviously, something had to give. With Mayor Hamilton's story wrapping in the most natural way possible, it opened the door for Weber's exit to pursue other projects.
Will Weber return to the 'NOLA' set in the future?
Luckily, Mayor Hamilton hasn't been written out of the series completely. He's in jail, serving time for his crimes, but that doesn't man writers won't toss him into a storyline, if needed (and if Weber's schedule permits).
On the bright side, at least writers didn't give the villain the same fate as fan-favorite, Special Agent Christopher LaSalle (Lucas Black).
NCIS: New Orleans returns to CBS on Sunday, February 16.