'NCIS: New Orleans': Will Sebastian and Tammy Ever Be a Thing? 3 Solid Reasons Fans Think So
Now that the midseason premiere of NCIS: New Orleans has finally aired, new discussions about whether Forensics Agent Sebastian Lund (Rob Kerkovich) and Special Agent Tammy Gregorio (Vanessa Ferlito) might ever become a thing. Here's why fans think it's inevitable.
[Spoilers for NCIS: New Orleans midseason premiere ahead]
Tammy had an interesting reaction to Sebastian's REACT news on the 'NCIS: New Orleans' midseason premiere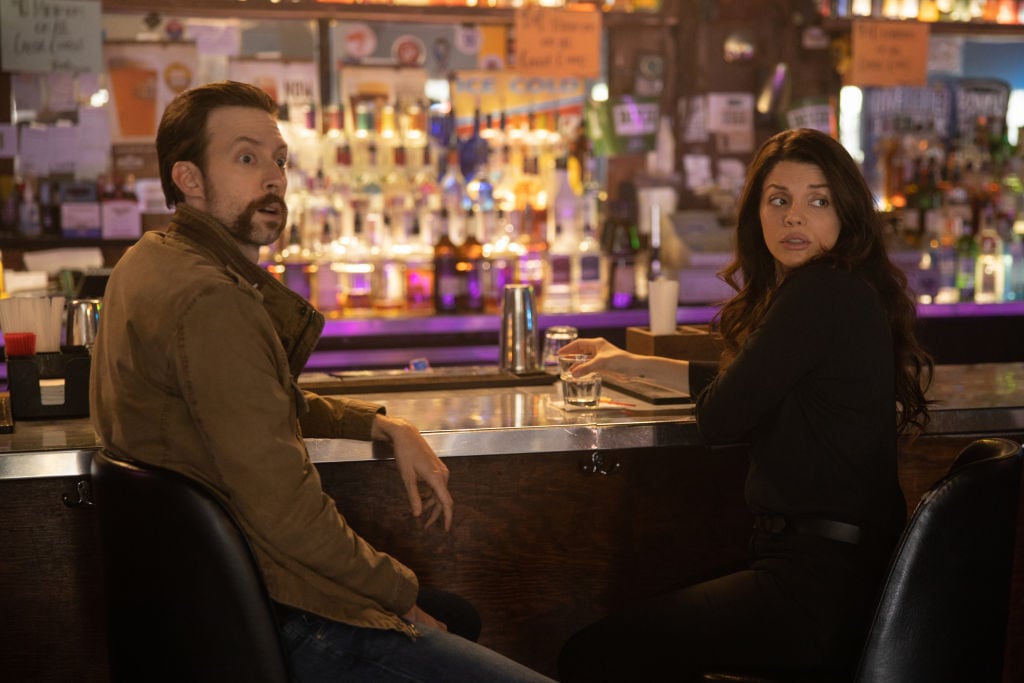 It's no secret Sebastian (Kerkovich) and Tammy (Ferlito) have great chemistry on NCIS: New Orleans. The two have that "opposites attract" vibe that many fans are into.
Ever since Ferlito joined the cast in 2016, she and Kerkovich's character have become the series odd couple, replacing Special Agents Sonja Percy (Shalita Grant) and Christopher LaSalle (Lucas Black).
During the midseason premiere, Sebastian awaited news on his application to join the REACT team. Gregorio's reaction to the letter insinuated she may care about Sebastian more than she lets on.
With her tough exterior and take-no-nonsense attitude, Gregorio doesn't reveal her emotions easily. So, when she asked Pride if hoping Sebastian didn't get into REACT makes her a bad friend, it became clear how much he means to her — even if it's mostly rooted in friendship.
By the end of the episode, when Sebastion finally opens the letter, Gregorio supports whatever decision is made, making it clear she will still worry about him, regardless of whether he gets in or not. And of course, she does it in the most Gregorio way possible — by offering to throw spaghetti sauce on his head.
Sebastian has a photo of his partner taped to his computer
Nothing gets by the dedicated fans of NCIS: New Orleans. Nothing. During the midseason premiere, one super sleuth noticed a little something taped to Sebastian's computer works screen: a photo of Gregorio with a mustache and devil horns.
Kerkovich retweeted the post as a way of confirming fan suspicions. If the forensics agent respects and admires Gregorio enough to tape a photo of her to his computer, who knows what else he might have hidden.
"Y'all have got it goin' on!!!" another fan said in support. "Nicely done! Love you two," another viewer said. "They are really fun to watch!! You never know, things might change and the two of them get together??? You never know!!!" another fan added.
The roommates thrive on banter and fans are living for it
Now that Gregorio and Sebastion live together, all it might take is one small act to get either one of them to realize their friendship could be more. Some pointed out that Gregorio is more into women, but she does have an ex-husband, too.
This, along with Sebastian's lack of a love life on the show, would give NCIS: New Orleans that little something extra fans are thirsty for. Is there anything better than a bickering friendship-turned-romance?
"I absolutely love their friendship. They really balance each other out," this fan said. "I love the chemistry between these two," another added.
"I love the fact that she can eat him alive, however, she would never harm a hair on his head, he's still get's her worked up, just to watch her react. Above all, they love each other and would do anything to protect the other one. #NCISNOLA," this viewer echoed.
While not everyone wants to see a relationship blossom from Gregorio and Sebastian's bond, far more do. Regardless of what the rest of season 6 may bring, you can rest assured there will never be enough #Gregastian #Seborio banter.
NCIS: New Orleans airs Sundays at 10 p.m. on CBS.