NCIS': Which Cast Member Has Been on the Show the Longest?
It seems CBS has found the most success having many of their dramas run longer than initially expected. Even some of their recent reboots have almost been on as long as the original shows (e.g. Hawaii Five-O). NCIS is a good example of an original concept managing to go well beyond expectations of most dramas.
Really, though, NCIS was a spinoff of the long-defunct 1995-2005 series JAG. Rarely do you see a spinoff go on even longer than the show it sprang from. No doubt being related to the real Naval Criminal Investigative Service helped.
The show's cast are all superstars now, but many are starting to leave. Which ones have been with the show since it began 16 years ago?
The initial spinoff from 'JAG'
Not until JAG's eighth season in 2003 did NCIS finally spin off to its own show. All it took was a two-episode arc to introduce the characters, with Mark Harmon as investigator Leroy Jethro Gibbs.
The following fall, NCIS started on CBS while initially being called Navy NCIS. This title was one of the biggest gaffes in TV history since the 'N' in NCIS already stands for Navy.
CBS amended the title by the second season and did a good job of pretending nothing happened. Like many iconic shows, it took several years before it became a major hit. By its eighth season, it was voted all-time favorite TV show, which might surprise those who've never seen one episode.
Who were the original cast members?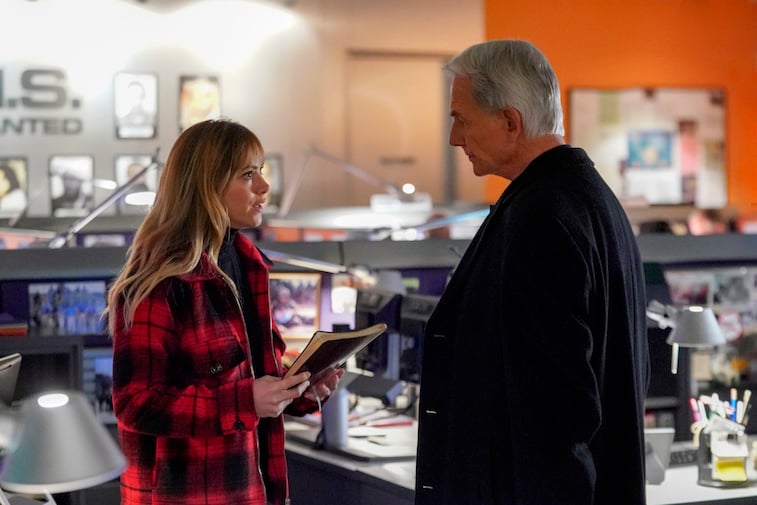 Mark Harmon heads the entire show, and he's been with the show since the beginning. He's not the only cast member to still be with the show. One of them just left last season, which some think will never make the show the same again. Another actor left the show a few years ago to star in his own spinoff.
Yet another original cast member is still going and could be called a legend in the acting community.
Many other cast members have joined in recent years who've become popular enough to keep the show going even longer.
How long will Harmon be with the show?
Considering Harmon is now one of the rare actors able to star on a show for close to 20 years, it seems inevitable the rumors about him leaving will spring up. Sure enough, some media reports are saying Harmon will leave the show next year. CBS apparently has yet to renew it for a 17th season, even if it seems a sure bet due to still strong ratings.
Should Harmon stick with the show, he could join the "20-Year Club." Only a select few actors have played one character continually for more than two decades.
Sasha Alexander as Caitlin Todd
Leroy Jethro Gibbs' favorite partner on the show in the beginning was Caitlin Todd, played by Sasha Alexander. Latter left the show when the Todd character was killed at the end of the second season. Still, Alexander's "Kate" Todd character is occasionally seen in flashbacks and through references.
Some of those references are done out of habit, bringing a wistful realism to the show.
Alexander was in the news a little more recently when discussing sexual assault allegations against former cast member Michael Weatherly.
Michael Weatherly as Anthony DiNozzo
While fully known for the show Bull now, Weatherly played senior field agent "Tony" DiNozzo from NCIS's first season. After 13 years, he decided to move on to new horizons.
Wisely, CBS didn't make his next same-network show a NCIS spinoff. With the popularity of Bull, don't be surprised to see him play the character for another 13 years.
Pauly Perrette as Abby Sciuto
Perrette left NCIS last season after being with the show for 15 seasons. Her Abby Sciuto character was a true fan favorite from Season One, though it was becoming close to a typecast role.
A few rumors have gone around she might return this season for at least a guest appearance.
David McCallum as Dr. Donald "Ducky" Mallard
Outside of the humorously ironic name, the Dr. Mallard character from actor David McCallum is almost as iconic as Harmon's Gibbs. No doubt a few of you know how legendary David McCallum is if you remember the late 1960s show The Man From U.N.C.L.E.
He hasn't left NCIS and shows no signs he will at the age of 85. Oddly enough, he acted on The Man From U.N.C.L.E for only four seasons. We can only hope he'll be remembered for playing Dr. Mallard above all when it's more than possible he'll play the character for close to 20 years