NCT 127 Made History as the First K-pop Group to Perform at RodeoHouston
NCT 127 just made history. On March 10, the group became the first K-pop act to ever perform at RodeoHouston. This historic achievement comes just days after NCT 127 released their new album, Neo Zone.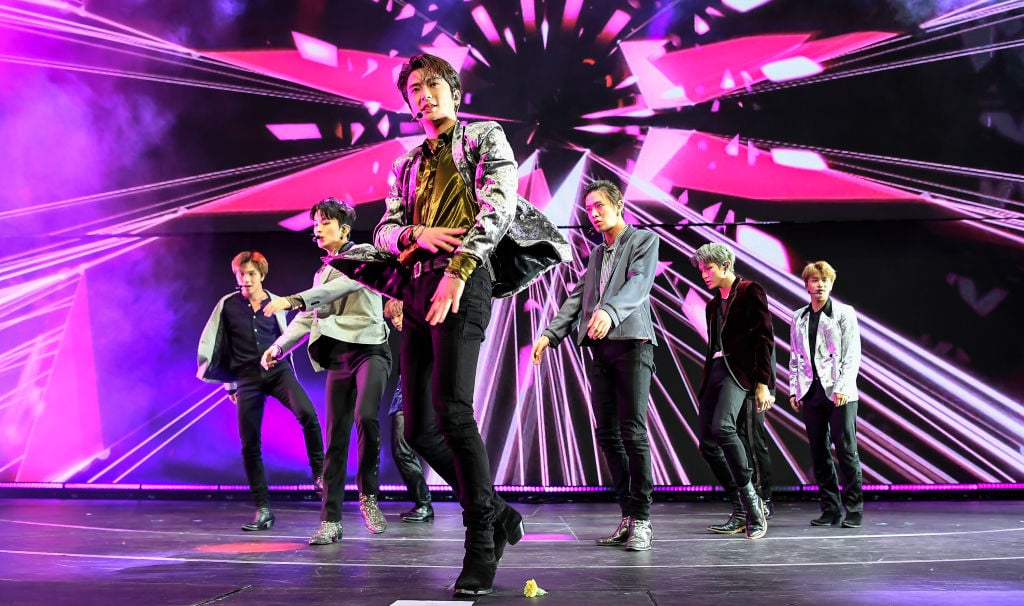 The group released 'Neo Zone' on March 6
NCT 127 first debuted in 2016 with SM Entertainment, and since their debut they have released multiple EPs and two studio albums. In May 2019, NCT 127 released their fourth EP, We Are Superhuman. The EP debuted at No. 11 on the Billboard 200 chart, making it NCT 127's highest-charting album on the chart to date. It also became the second NCT 127 album to reach No. 1 on the World Albums chart.
On March 6, 2020, NCT 127 released their second studio album, Neo Zone. Before the album even released, it achieved a record of 530,000 pre-order album sales, the highest of any NCT 127 album. "Kick It" is the album's lead single, and so far the music video for "Kick It" has over 18 million views on YouTube.
While NCT 127 is still a fairly young group, they have already developed a trademark sound. The K-pop band's most well-known songs incorporate heavy bass instrumentals, and thanks to the talent of their vocalists and rappers they musically push the boundaries with every new era. Neo Zone shows NCT 127 at their best, and demonstrates their transition from a rookie group to seasoned professionals.
NCT 127 made history by performing at RodeoHouston
Perhaps nothing proves NCT 127's ascent in the music industry better than their performance at RodeoHouston. The annual event is known for its 20 consecutive nights of a rodeo and concert, and every year big-name artists are drawn to perform. Tickets are typically inexpensive, making the concerts more accessible for the general public.
At RodeoHouston 2020, NCT 127 joined a lineup consisting of Lizzo, Kane Brown, Keith Urban, Khalid, Gwen Stefani, Becky G, Chance the Rapper, Maren Morris, Marshmello, Chris Young, Ramón Ayala, Willie Nelson, Midland, Luke Bryan, Brad Paisley, Chris Stapleton, Dierks Bentley, Jon Pardi, and Cody Johnson.
On March 10, Taeil, Johnny, Taeyong, Yuta, Doyoung, Jaehyun, Jungwoo, Mark, and Haechan stepped out onto the massive stage to the opening of their hit single "Cherry Bomb." They performed the song along with their singles "Simon Says," "Regular," "TOUCH," "Replay," "Fire Truck," "Superhuman," "Highway to Heaven," and "Kick It."
The setlist took audience members through NCT 127's discography, and the group performed to a sea of green NCT lightsticks. With the performance, NCT 127 became the first K-pop group to perform at RodeoHouston.
This is not the first time NCT 127 made history
What makes this accomplishment even more impressive is the fact that this is not the first time NCT 127 made history in a country outside of South Korea. On Nov. 3, 2019, the group became the first K-pop group to perform at the MTV Europe Music Awards. Then on Nov. 28, 2019, they became the first K-pop group to perform in the Macy's Thanksgiving Day Parade.
In the span of a little less than six months, NCT 127 made history internationally on three different occasions. It's clear from their upward trajectory that NCT 127 are forging their own path in the music industry.
Following their appearance at RodeoHouston, the band will embark on a six-show North American tour in June 2020. For the NEO CITY – The Awards tour, NCT 127 will visit New York City, Atlanta, Chicago, San Jose, Los Angeles, and Seattle.