Need a Good Laugh? These 'Tiger King' Memes Will Have You Rolling on the Floor
The only thing better than Netflix's newest true crime documentary, Tiger King: Murder, Mayhem and Madness, are the memes that this show has inspired.
Joe Exotic isn't only the Tiger King, he's also the meme king!
Just like many other people who can't seem to get enough of the Oklahoma zoo owning, mullet-wearing country singer, we too have fallen into the hype surrounding Netflix's hit documentary series, Tiger King: Murder, Mayhem and Madness.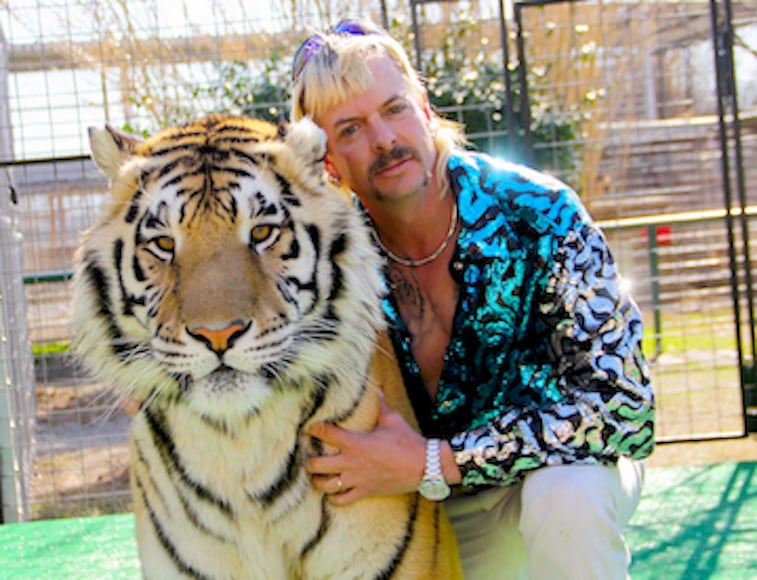 Not only has this show given us edge of the seat drama, a murder-for-hire plot, a missing person mystery, lions and tigers galore, and out of the box fashion, it's also created some pretty amazing memes that we just can't get enough of.
'Tiger King' quickly became a fan favorite
The only thing better than Netflix's newest true crime documentary, Tiger King: Murder, Mayhem and Madness, are the memes that it has inspired.
Since its debut on the popular streaming service, Tiger King has been a fan favorite, binge-worthy series that's still generating buzz on social media.
The docu-series follows the intense feud between former Oklahoma zoo owner Joe Exotic — aka Joseph Maldonado-Passage, aka Joseph Schreibvogel — and animal rights activist/owner of Big Cat Rescue Carole Baskin.
Though a majority of the series follows Exotic and Baskins' ongoing disputes with each other, it also focuses on Exotic's relationships with his many husbands, fellow zookeeper Bhagavan "Doc" Antle's growing animal business, as well as several unexpected twists and turns, making it the perfect show to binge while self-quarantining.
Though it's only been a few days since Tiger King debuted on Netflix, it's already become one of the most streamed shows on the platform, and the most talked-about series on social media.
Lately, Twitter has been flooding with hilarious Tiger King memes, and the ones we're about to show you are so good, you won't be able to hold in your laughter.
'Tiger King' memes are the gift that keeps giving
A number of memes took hilarious jabs at Joe Exotic's unique fashion choices that included A LOT of fringe, animal print, and of course, sequins.
"Homegirl got her arm ripped off by a tiger and Joe Exotic's first move was to throw on the EMS bomber. The drip never takes a backseat," read the caption of another post.
Other fans even took shots at Joe's first husband, John Finley, whose choice to be shirtless throughout the entire documentary was one many are still questioning.
"Hold tf on. Honestly, are there other docu interviews that have the interviewer just shirtless? I don't actually want to know, but does one just pull up shirtless or show up with a shirt then decide to take it off," someone tweeted.
Not only has Joe Exotic and his interesting life been the talk of the town, tweets surrounding the conspiracy theory that Carole Baskin was involved in her husband's alleged disappearance has also been circulating through the world wide web.
Some are even convinced that Baskin did away with her husband, especially since she explained how one would get a lion to eat a human.
Though most of the Tiger King tweets have surrounded Joe Exotic and Baskin, many people have been pointing out the mind-boggling craziness that is the entire series.
"It's crazy that a woman got her arm ripped off and yet by the end, it's not even in the top 10 wild moments," someone else tweeted.
Tiger King is a show that definitely did not disappoint, and though many of us breezed through the series in record time, it still remains very relevant in our lives thanks to the fantastic memes it has inspired.