Netflix's 'After Life': What Ricky Gervais Says About Season 3
Even before his Golden Globe Awards monologue went viral, comedian Ricky Gervais made his mark in the entertainment world as a writer and actor. Right now, he's starring in The Willoughbys and his own show on Netflix.
His latest series will make you laugh, cry, and perhaps heal with its quirky characters, sad-but-angry protagonist, and real-life subject matter: grief. After Life is the next thing you want to check out on the streamer.
For those of you who are already fans, you'll note there are two seasons of the show that are easily binge-able. Season 2 just dropped on April 24 on Netflix and viewers would love to see a third installment. It's up in the air, but Gervais has some thoughts on it.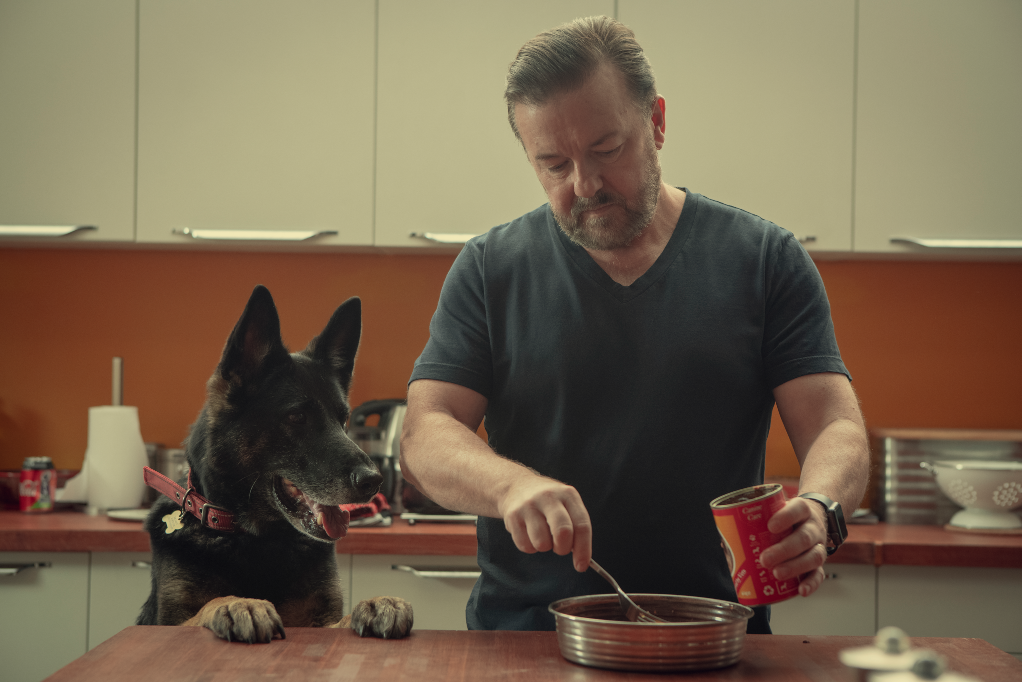 What is 'After Life' about?
The title clues you in that this is a show about life after death, but the British dark comedy about a widower trying to cope after his wife's death is a little more than that.
Tony Johnson, played by Gervais, is left feeling angry and depressed after Lisa dies from cancer. His only comfort is their dog Brandy and videos his wife recorded for him in secret.
They keep him somewhat grounded, but Tony is suicidal and tells everyone that—including his co-workers and therapist. He used to be a nice person, but death and grief cause him to be jaded toward humanity.
Kids are not immune to his outbursts, neither are strangers. His job at the newspaper puts him in touch with odd characters in town, but it adds to the glamour, wisdom, and humor in Tony's life.
Fans want more of 'After Life'
Two seasons in and Tony has grown on viewers. His sarcasm, hidden tenderness, and relationships with the people around him work. So do the supporting characters, many of whom are struggling socially too.
The lovelorn lazy postman, the awful psychiatrist, Daphne the sex worker, the nurse (Emma), Anne the widow, and everyone else who shares the screen in the series help make the show enjoyable for viewers.
Most of all, fans find the series relatable and love Gervais' witty, heartfelt performance. The way the show addresses loss, grief, and depression has struck a chord with audiences and they would love to see another season of After Life.
Gervais addressed the idea of a third season
Gervais shared that he initially didn't plan for three seasons of the show. But it sounds like the overwhelming response from fans may change his mind. He said that so many people have reached out to say the show's helped them cope with death and bouts of sadness in their lives.
During an interview with This Morning, he was asked if he'd be up to work with Netflix on a season 3.
"For the first time ever, I think I would do a series 3 just because the world's so rich, there's so many characters. There's characters in this that could be the lead in like six or seven cases. But it's got to go down a storm, and it seems to be at the moment so if it carries on like this then, yeah."
After Life is definitely looking like a success for Gervais; catch seasons 1 and 2 on Netflix now.