How Much Are the Founders of Netflix Worth Today?
The company's founders are worth two very different amounts.
Netflix has taken over the television industry. What once started out as ordering a movie and having it arrive at your door a few days later has suddenly become a digital empire with its own movies and television series. But the brilliant idea started from the brains of two men who have worked hard to build it into what it is today — Reed Hastings and Mark Randolph. But what are these two founders worth today?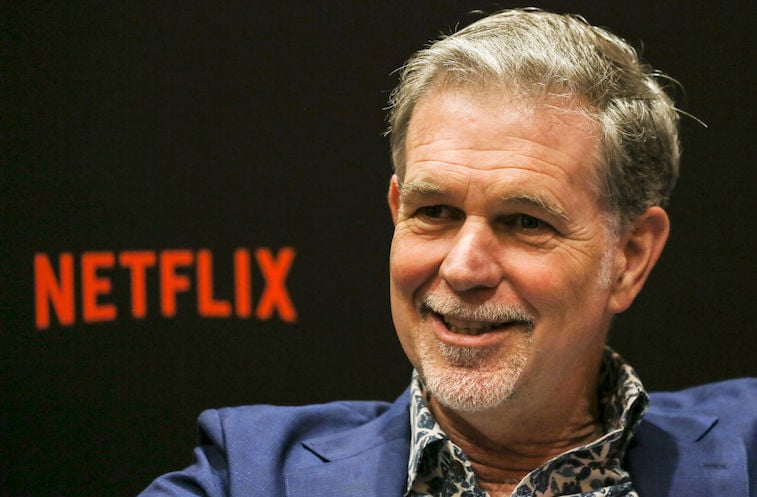 Netflix was first founded in 1997
Hastings and Randolph first paired up back in the 1990s to create Netflix. They wanted to utilize the Internet to rent movies on DVD (similar to the way Amazon was utilizing the Internet to sell books). Since people were just starting to get used to having computers and the Internet in their homes, it seemed like the perfect time to drum up a million-dollar idea. But the founders got more than they bargained for. Nobody could have guessed the company would turn into what it is today.
Today, the company has redefined television
Netflix started out as a simple process: You ordered a movie online, and a few days later it got delivered to your home. After you watched the movie, you'd put it back in the mail and send it back to the company. It gave companies such as Blockbuster a run for their money; now, you didn't even need to leave your home to enjoy a movie. But since the 1990s, Netflix has made some major strides in modern television. Today, thousands of shows and movies are available for streaming on the network, as well as original movies and series Netflix has released. The company has picked up big-name actors and actresses, such as Adam Sandler and Sandra Bullock, to star in its films. As of 2017, Netflix had more subscribers than cable television, according to Fortune.
Marc Randolph is worth around $400 million today, but he resigned from the board in 2002
Marc Randolph, a founding partner of the streaming service, didn't stick around to see everything the company turned into. Randolph resigned from Netflix's board back in 2002. And since then, Randolph has taken issue with the way Reed Hastings, the other co-founder who is still with Netflix, presents the company. It's unclear what the relationship between the two is like these days, but it doesn't seem like things are too smooth between them. Despite removing himself from the company more than 15 years ago, Randolph is still worth an estimated $400 million.
Reed Hastings is worth around $3.7 billion today
Hastings has remained with the company since he and Randolph founded it. However, he reportedly made up the story of how Netflix got started (he said he got slapped with a $40 late fee from Blockbuster, and it inspired a new way to send movies), but he leaves Randolph out of the story. Randolph has since come forward to say the story is made up; but the real story is still unclear. Regardless, Hastings owns about 2.5% of the company today. And it has done wonders for his net worth; he's worth an estimated $3.7 billion, according to Forbes.
Check out The Cheat Sheet on Facebook!