Netflix's 'Tiger King': Where Is Joe Exotic Now?
Netflix's 'Tiger King' exposes how big cat enthusiast Joe Exotic tried to have his rival killed. Here's what happened to the breeder and where he is today.
Netflix's new series, Tiger King: Murder, Mayhem, and Madness, follows the story of big cat breeder and zookeeper, Joe Exotic. The true-crime documentary uncovers the bizarre events that led the 57-year-old to hire hitmen to kill his rival. After seeing his riveting story play out on screen, many are wondering where Joe Exotic is now.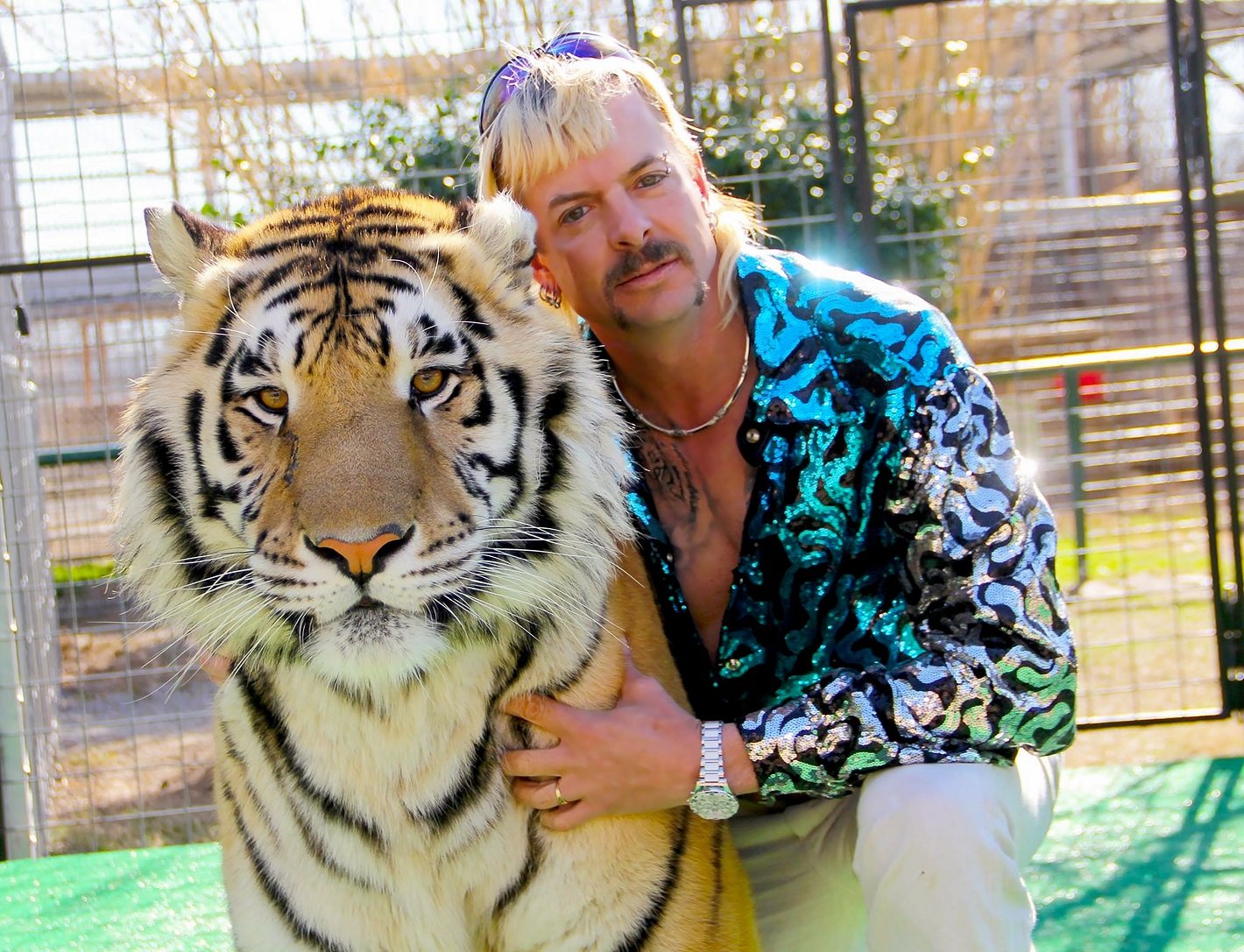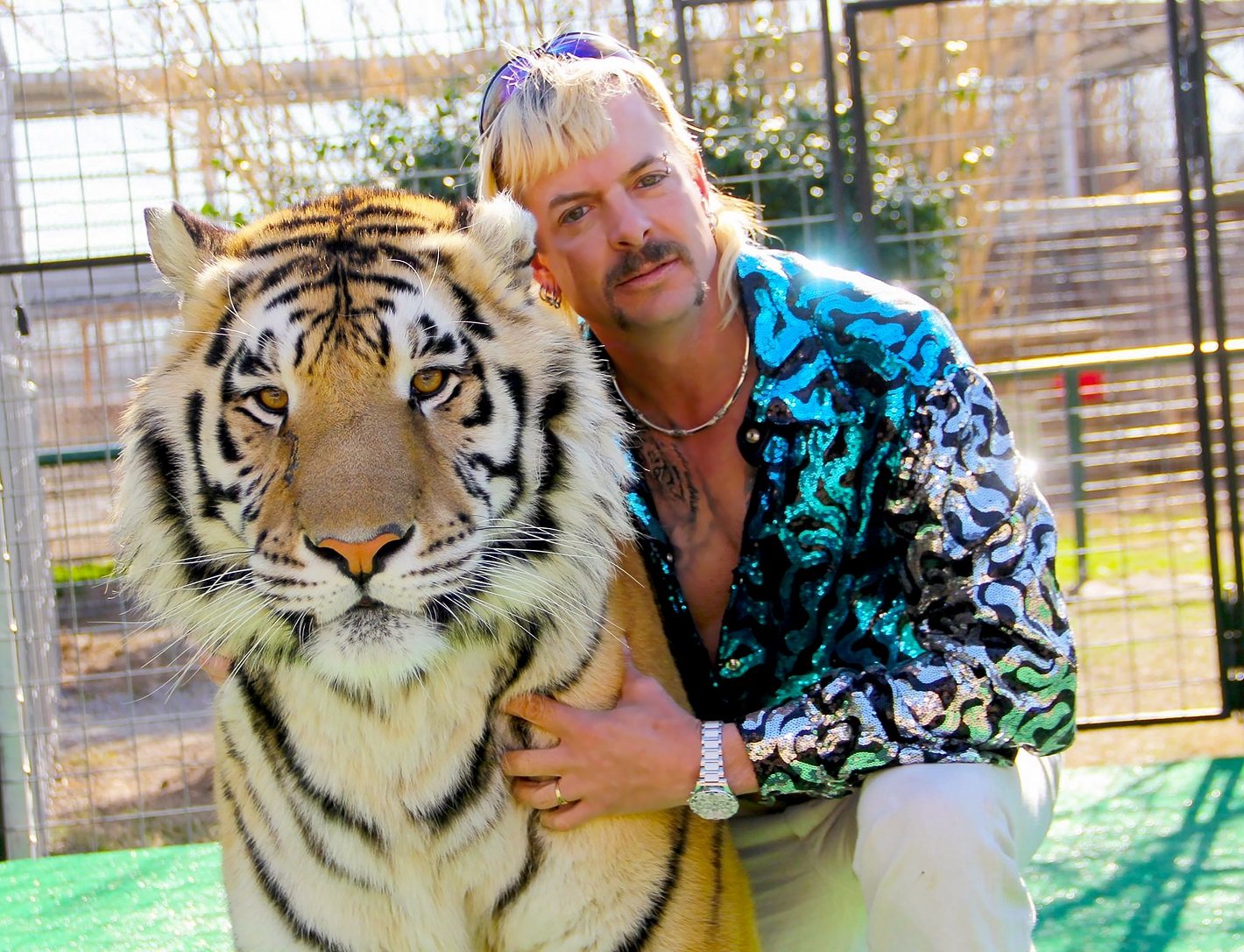 What is 'Tiger King' about?
Co-directed by Rebecca Chaiklin and Eric Goode, Tiger King dives into the world of wild animal breeding. The documentary series hones in on two major players, Joe "Exotic" Maldonado-Passage and Carole Baskin. 
Baskin runs Big Cat Rescue, a sanctuary for tigers, lions, and other big cats. She takes in animals that owners are unable to care for. Some wild animal enthusiasts can't keep up with the growing demands the animals have, and others get overwhelmed with their enormous adult size. Either way, Baskin rescues these exotic animals from the dire situations they are left in.  
Maldonado-Passage is a big-cat breeder, who calls himself the "Tiger King." Along with breeding white tigers and lions, he mixes species, which include a tiger-lion hybrid called a liger. He showcases his animals in his Wynnewood, Oklahoma zoo, and would tour them at events around the country.
But Baskin began to interfere in Maldonado-Passage's business. She would publicly criticize him for endangering his animals and have his events canceled. As covered in the docuseries, the zookeeper retaliated by hiring two hitmen to kill Baskin. But eventually, he was arrested and charged.
The Tiger King was convicted and sentenced earlier this year
As reported by NBC News, Maldonado-Passage was sentenced to 22 years in federal prison by the U.S. District Court for the Western District Court of Oklahoma. The breeder was convicted of attempting to hire a hitman (who turned out to be an undercover federal agent) and pay him $3000 to kill Baskin in 2017. When that attempt failed, Maldonado-Passage was recorded trying to hire another hitman (also an FBI agent), this time offering $10,000.
At the time of his sentencing, Baskin said that the ordeal left her traumatized and she admitted she sees "every bystander as a potential threat." Baskin also pleaded with the court to consider how her family would feel if "this vicious, obsessed man is ever released from jail." 

Baskin ultimately asked the court to give Maldonado-Passage the maximum sentence. "If he completes his sentence and is released, we will end up spending the rest of our lives, constantly looking over our shoulders, for a threat to our lives," she said. "I hope you will give us as many years free of that threat as you can."
Where is Joe Exotic now?
At the time of his indictment, Maldonado-Passage was being held at the Santa Rosa County Jail in Milton, Florida. But he was later transferred to Oklahoma for his sentencing. 
According to records on the Federal Bureau of Prisons website, the 57-year-old is in the system, but his current location is not stated. However, once his processing is complete, his status and location will likely be updated.