'Never Have I Ever': Ben Will Have to Pick Between Aneesa and Devi in Season 3
If Never Have I Ever is renewed for a third season, it seems the Netflix series could have two different love triangles. The show has primarily focused on the love triangle between Devi Vishwakumar (Maitreyi Ramakrishnan), Paxton Hall-Yoshida (Darren Barnet), and Ben Gross (Jaren Lewison).
Based on how the second season ended, it appears this love triangle is far from over, and there could be a future love triangle between Devi, Ben, and Aneesa (Megan Suri). In an interview with Entertainment Weekly, Lewison confirmed that Ben will find himself torn between Devi and Aneesa in Never Have I Ever.
[Spoiler Alert: This article contains spoilers for season 2 episode 10 of Never Have I Ever.]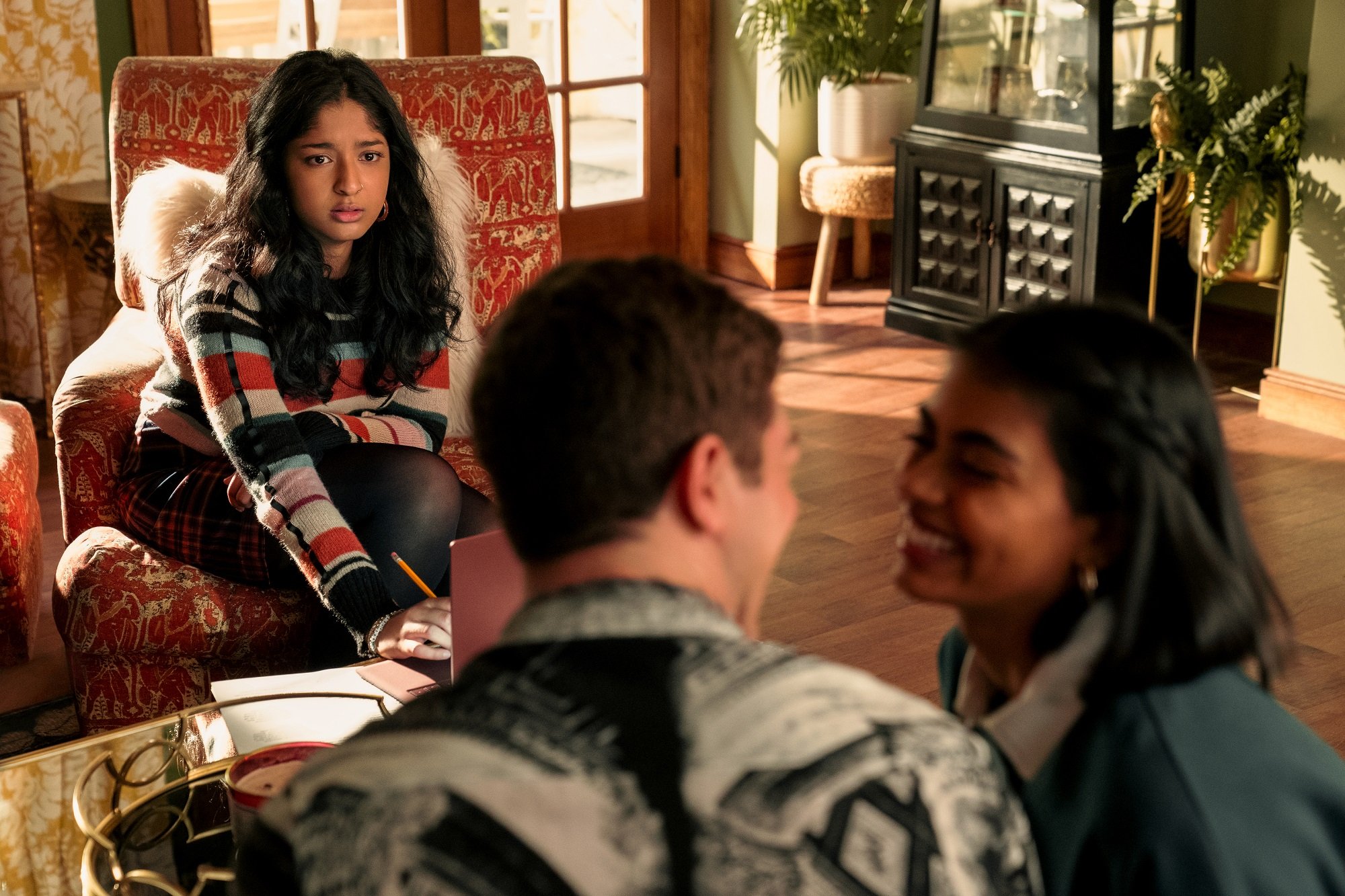 Ben has feelings for Devi while dating Aneesa in 'Never Have I Ever'
At the start of season 2 of Never Have I Ever, Devi attempts to date Ben and Paxton at the same time. They find out and break up with her. Paxton eventually forgives Devi, but Ben ices her out and starts dating Aneesa, a new student.
As the season progresses, Paxton and Devi become close friends. Devi continues to struggle with Ben and Aneesa's relationship, as she regrets not originally choosing Ben over Paxton. This seems to change when Paxton confesses he still has feelings for Devi, and they begin a secret relationship.
When Paxton refuses to go to the school dance with Devi, Ben comforts her, and for a moment it seems like the two might not be over one another. In the end, Paxton ends up showing up to the dance to be Devi's date.
Even though Ben attended the dance with Aneesa, his girlfriend, he finds himself hurt and jealous when he sees Devi and Paxton together. The second season of Never Have I Ever concludes with Devi and Paxton happy and together while Ben sadly stares at them.
Ben will be conflicted over his feelings for Aneesa and Devi
After season 2 of Never Have I Ever premiered on Netflix, Lewison was interviewed by Entertainment Weekly about Ben's reaction to Paxton and Devi at the dance.
Lewison told Entertainment Weekly that Ben will have to make a choice between Aneesa and Devi, saying:
"That scene gave me goosebumps because I realized Ben has such an inner conflict that has just surfaced that he's now going to have to deal with. You're thinking, okay, he's kind of got this relationship with Aneesa [Megan Suri] going on. And it's like, can he continue putting his heart into that? Or is his heart in a different place? And if it is, can he even do anything about it? How do you navigate that? I'm really excited, fingers crossed, for season 3 to see that explored. It's a situation that we've never seen him in. Both of those girls have some really incredible qualities that Ben's really attracted to, and I think it's going to come down to what is going to make him a better person. Who's going to challenge him in specific ways, and who's going to make him feel seen?"
What Mindy Kaling thinks about the future of 'Never Have I Ever'
Mindy Kaling is one of the co-creators of Never Have I Ever, and she was also interviewed by Entertainment Weekly about the show's second season. According to Kaling, fans can expect a lot of complicated romantic plotlines if the series is renewed for a third season.
"I've watched enough romantic comedies that it's not interesting unless it's constantly shifting and changing," Kaling told Entertainment Weekly. "Having the lead character be happy in love is not super interesting to me. It's more suspenseful when we don't know."
Both seasons of Never Have I Ever are available to stream on Netflix.