'Never Have I Ever' Episode Recap: Devi Faces Major Consequences for Her Actions
The fourth season of 'Never Have I Ever' premiered on Netflix on July 15. In the sixth episode of the fourth season, '... betrayed a friend,' Devi tries her best to hide the fact she accidentally started a rumor about her new friend Aneesa.
One of the reasons Devi (Maitreyi Ramakrishnan) is such a likable protagonist in Netflix's Never Have I Ever is that she is forced to confront her mistakes and constantly grows as a result. In season 2 episode 6 of Never Have I Ever, titled "… betrayed a friend," Devi deals with her guilt over accidentally starting a rumor about her new friend Aneesa (Megan Suri).
[Spoiler Alert: This article contains spoilers for season 2 episode 6 of Never Have I Ever.]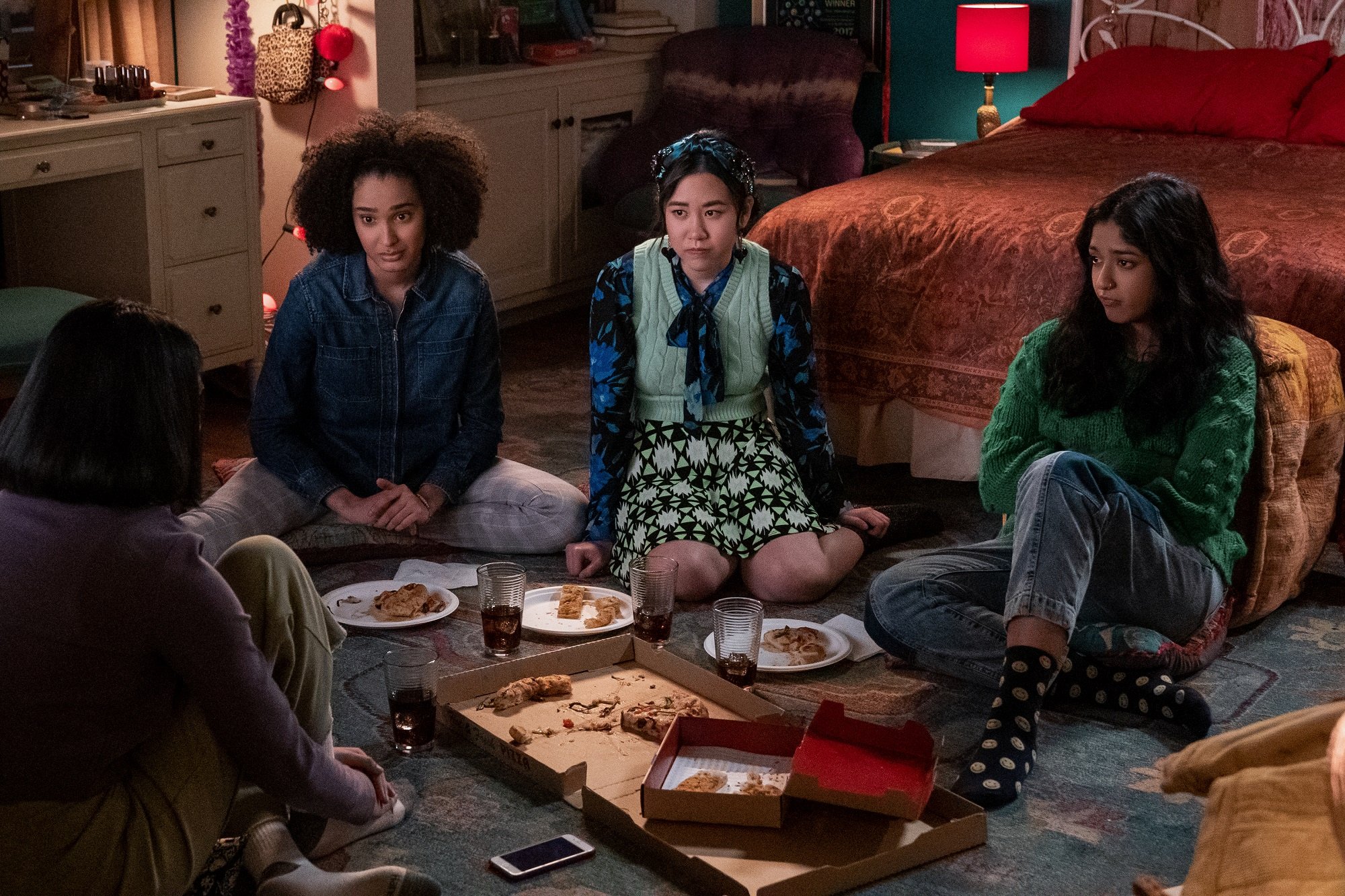 Devi tries to hide her mistake in 'Never Have I Ever'
After being called into the principal's office, Devi finds that Aneesa is already there. While Devi worries she is about to be punished for accidentally starting the rumor that Aneesa was diagnosed with anorexia, Principal Grubbs (Cocoa Brown) reveals she called Devi in to support Aneesa.
Aneesa says she simply wants to "lay low" and let the rumor run its course, but Principal Grubbs is determined to catch whoever originated the rumor. Devi agrees to help run the investigation so she can keep someone from letting it slip that she is the reason the school knows about Aneesa's eating disorder.
After the previous episode's 24-hour relay, Fabiola (Lee Rodriguez) and Eve (Christina Kartchner) decided to run for Cricket Queens at the upcoming winter dance, hoping to bring more LGBTQ representation to the school. Even after their decision, Fabiola still finds it difficult to fit in with Eve's friends.
To avoid her problems, Fabiola decides to help Devi and Aneesa track down the person who started the rumor. Eleanor (Ramona Young) also joins the investigation, and the group tracks the origin of the rumor to Shira (Hanna Stein) and Zoe (Aitana Rinab), who spread the rumor after overhearing Devi mention it.
Devi confesses to starting the rumor
For spreading the rumor, Shira and Zoe are given detention and are kicked off the dance committee. Even though Shira and Zoe did gossip about Aneesa, Devi feels guilty about hiding the truth from her friend.
That evening, Devi's cousin Kamala (Richa Moorjani) finds out that she was not included as a co-author for a paper based on her own research. For the entire season, Kamala has been hazed and ostracized in her Ph.D. lab rotation by the lab's research assistant, Evan (P. J. Byrne), and she realizes that Evan purposely kept her from being credited for her work.
Eleanor, Fabiola, and Aneesa come over to Devi's to have pizza while Devi's mom Nalini (Poorna Jagannathan) attends a retirement party for her former mentor. As Devi and her friends talk with Aneesa, Devi's guilt grows and she admits that she started the rumor.
Devi is suspended in 'Never Have I Ever'
After Devi comes clean, Fabiola, Eleanor, and Aneesa leave. At school the next day, Fabiola and Eleanor let Devi know they are not mad at her. Fabiola and Eve sign up to be nominated for Cricket Queens, and Devi is called into the principal's office once again.
As Devi enters Principal Grubbs' office, Aneesa walks by her and Devi sees her mom sitting in the office. Principal Grubbs tells Devi she is suspended for starting the rumor and then lying about it.
When Devi protests the decision, Nalini replies, "I'm sorry, Devi. These are the consequences of your actions."
How to get help: In the U.S. call the National Eating Disorders Association helpline at 1-800-931-2237.