'Never Have I Ever' Episode Recap: Devi Makes a Grand Apology
Season 2 of Never Have I Ever premiered on Netflix on July 15. Midway through the season, Devi (Maitreyi Ramakrishnan) finds herself suspended from Sherman Oaks for starting a rumor about her classmate Aneesa (Megan Suri). In season 2 episode 7 of Never Have I Ever, "… begged for forgiveness," Devi must learn how to apologize to her new friend.
[Spoiler Alert: This article contains spoilers for season 2 episode 7 of Never Have I Ever.]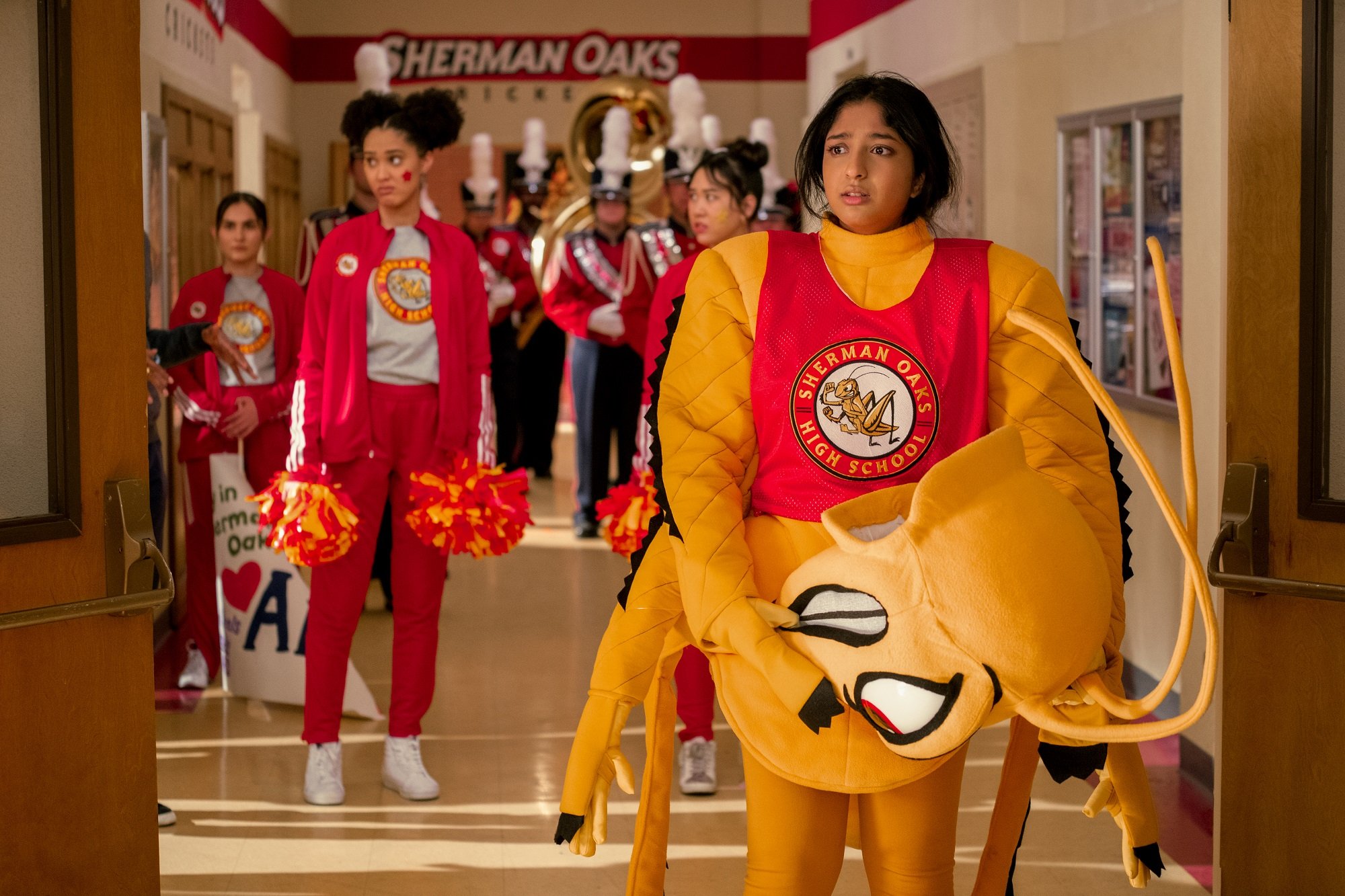 Devi must apologize to Aneesa in 'Never Have I Ever'
After being suspended, Devi must spend her next week at home without electronics, and she is also tasked with helping her grandmother Nirmala (Ranjita Chakravarty) around the house. One night while Devi is eating dinner with her family, Ben Gross (Jaren Lewison), her classmate and ex-boyfriend, shows up.
He yells at Devi and tells her that Aneesa has decided to transfer schools because of the rumor that is spreading throughout Sherman Oaks. He encourages Devi to apologize to Aneesa and do something to convince her to stay.
"Devi, you need to make things right," Ben tells her.
At her therapy appointment with Dr. Ryan (Niecy Nash), Devi admits that she feels guilty about what she did to Aneesa. She also confesses that she wants Ben back, and she sets out to make a huge apology so that Ben will fall for her again.
At work, Devi's mother Nalini (Poorna Jagannathan) confides in another doctor in her building, Dr. Chris Jackson (Common), about Devi's behavior. He encourages her to try and find ways to be there for Devi even if she does not understand her daughter's actions.
Devi's first apology fails at getting through to Aneesa
Throughout season 2 of Never Have I Ever, Devi's cousin Kamala (Richa Moorjani) struggles to earn respect during her Ph.D. lab rotation. In "… begged for forgiveness," her boyfriend Prashant (Rushi Kota) tells her to keep her "head down" until the rotation ends.
Devi sneaks out of her house in an attempt to apologize to Aneesa. With the help of her friends Fabiola (Lee Rodriguez) and Eleanor (Ramona Young), Devi arranges for a public apology that incorporates a giant sign, the school marching band, and Devi dressed as the school's mascot.
The apology backfires, and Aneesa finds herself embarrassed by Devi's public declaration. Kamala comes to school to pick up Devi, and she hits it off with Devi's English teacher, Mr. Kulkarni (Utkarsh Ambudkar). Before they leave, Kamala asks Devi for advice about her problems at the lab, and Devi encourages Kamala to fight for what she deserves.
Devi apologizes for real in 'Never Have I Ever'
To make things right with Aneesa, Devi sneaks back to school for another public apology. This time, she speaks from the heart. Devi admits that she was jealous of Aneesa when she first came to school, but she wants the chance to be friends with her.
Aneesa stops by Devi's house after school and officially accepts Devi's apology. However, Aneesa's mother still wants her to switch schools. Devi asks her mom for help, and Nalini agrees to speak with Noor (Pooja Kumar), Aneesa's mother. Nalini convinces Noor to let Aneesa stay at Sherman Oaks.
At her lab rotation, Kamala stands up for herself and adds her name to the list of co-authors on the rotation's research paper. Meanwhile, Nalini thanks Chris for his parenting advice and the two share a kiss.