'Never Have I Ever' Episode Recap: Devi Makes a New Friend
On July 15, season 2 of Never Have I Ever premiered on Netflix. The new season of Never Have I Ever has 10 episodes, and the fourth episode is titled "… had an Indian frenemy." In the episode, a new student named Aneesa (Megan Suri) transfers to Devi's (Maitreyi Ramakrishnan) school, and Devi struggles with accepting Aneesa as a friend.
[Spoiler Alert: This article contains spoilers for season 2 episode 4 of Never Have I Ever.]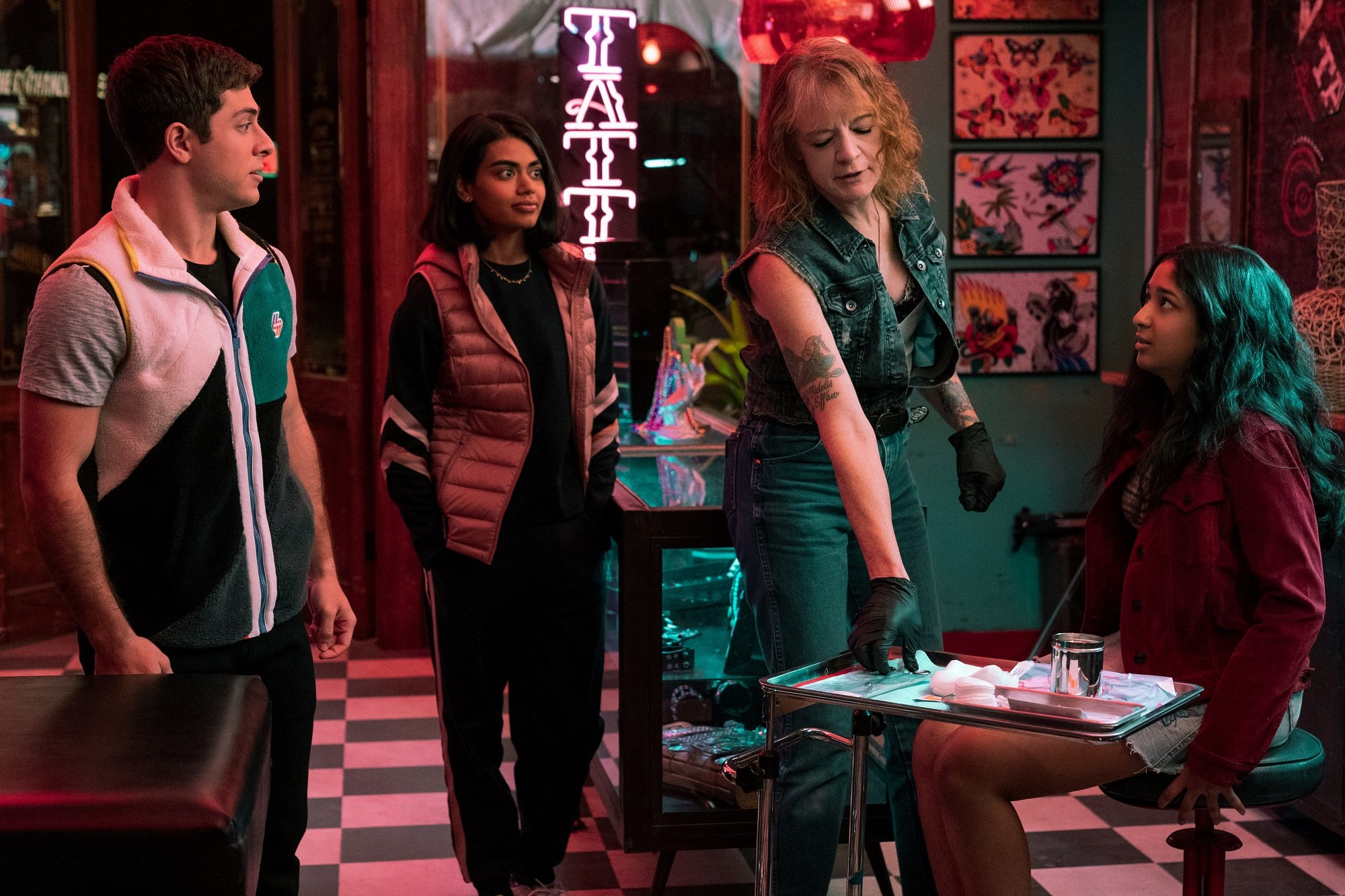 Aneesa transfers to Devi's school in 'Never Have I Ever'
After cheating on Ben (Jaren Lewison) and Paxton (Darren Barnet), Devi has spent time resolving things with Paxton. By the fourth episode of the second season, Paxton and Devi are on good terms and friends again. Devi attempts to make things right with Ben, but he makes it clear that he is still mad at her.
In history class, Mr. Shapiro (Adam Shapiro) introduces Aneesa to the class. Devi immediately feels intimidated that Aneesa is also Indian. Making matters worse, Devi's classmates start calling Aneesa "Devi 2.0."
Because Devi and Aneesa have the same schedule, Devi is tasked with showing Aneesa around the school. While Aneesa is kind, Devi remains cold toward Aneesa because of her jealousy toward Aneesa's immediate popularity.
RELATED: Is Netflix's 'Never Have I Ever' Based on a True Story?
Devi invites Aneesa over for a sleepover
After complaining to her mom Nalini (Poorna Jagannathan) about Aneesa, Nalini insists that Devi and Aneesa "should be best friends." Devi begrudgingly invites Aneesa over for a sleepover that was originally only supposed to be Devi and Eleanor (Ramona Young).
Nalini immediately loves Aneesa, and later that night Eleanor and Aneesa hit it off as well. Devi feels the need to prove herself, and she suggests that they should sneak out to meet Eleanor's crush, Malcolm (Tyler Alvarez). To Devi's dismay, Malcolm also invited Ben to hang out.
The group decides to go to a tattoo parlor so Malcolm can get a tattoo to shake his child actor image. Aneesa suggests that Devi would look great with a nose ring. Ben tells Devi that if she gets a nose ring, he will get a tattoo.
Devi goes through with it, but Ben later reveals that he only got a temporary tattoo to trick Devi. He brings up how hurt he is that Devi cheated on him, and Devi suggests that they can be even now.
"We're not even close to even," Ben tells her. "Devi, you followed him. At the party, you followed him and you left me behind! We're not friends, so stop pretending like we are."
RELATED: Episode Recap: 'Never Have I Ever' Returns for Season 2
Devi warms up to Aneesa in 'Never Have I Ever'
Because she is so distracted by Ben, Devi forgets to take out her nose ring and her mom finds out. To help Devi, Aneesa says sneaking out to get the nose ring was her idea, and she suggested the nose ring to Devi as a "symbol of Indian feminity."
Nalini admits that the nose ring looks good on Devi, and Devi realizes that Aneesa could actually be a good person to have as a friend. That is, until she sees Ben and Aneesa talking in the hallway and she becomes jealous all over again.