'Never Have I Ever' Episode Recap: Devi Sabotages Ben and Aneesa
The second season of Never Have I Ever premiered on Netflix on July 15. In the season's fifth episode, Devi Vishwakumar (Maitreyi Ramakrishnan) finds herself forced to take part in a 24-hour relay. During the event, she does her best to keep her ex-boyfriend Ben Gross (Jaren Lewison) and new friend Aneesa (Megan Suri) separated.
[Spoiler Alert: This article contains spoilers for season 2 episode 5 of Never Have I Ever.]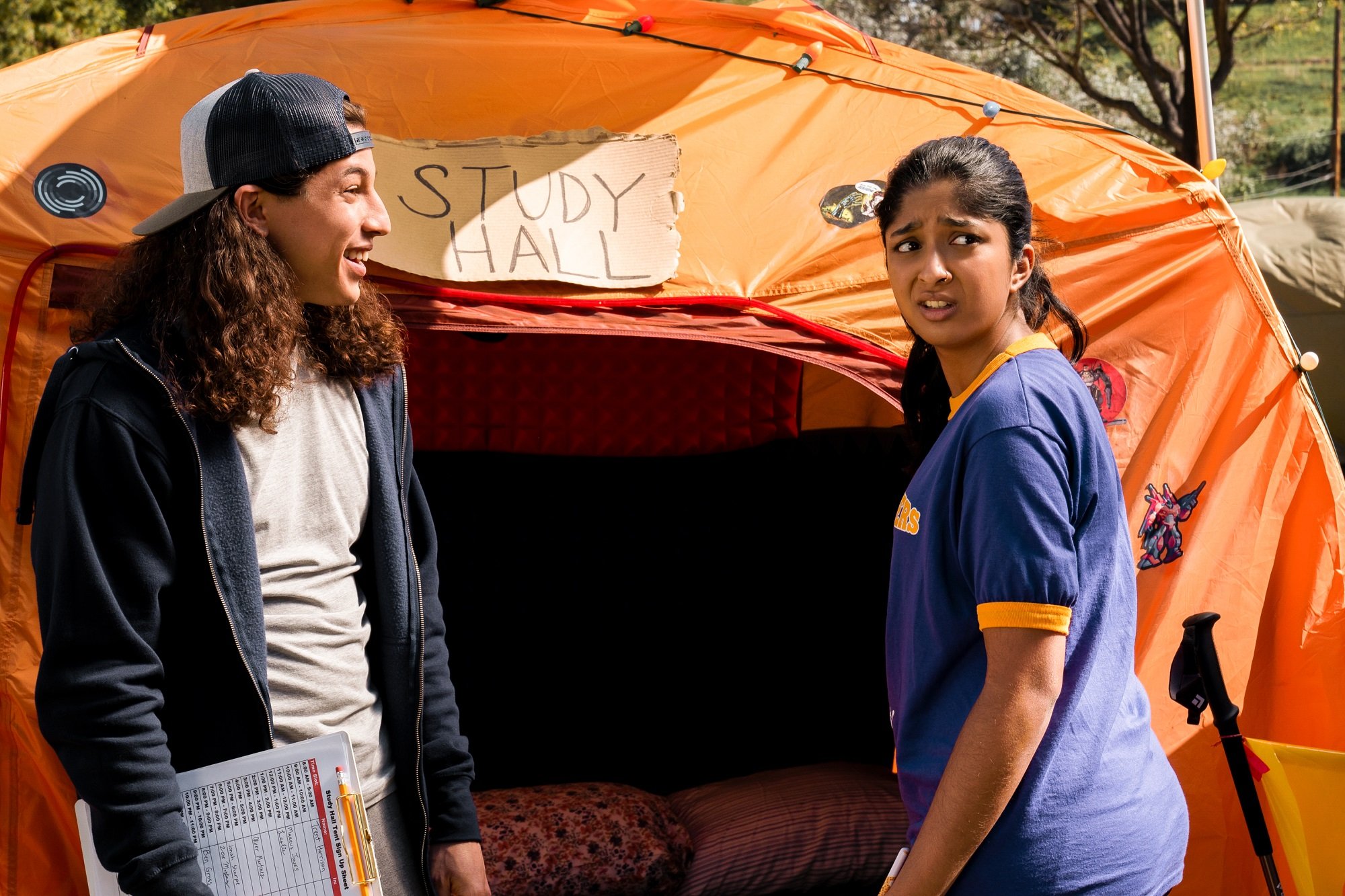 Devi realizes she might fail PE in 'Never Have I Ever'
Season 2 episode 5 of Never Have I Ever, "… ruined someone's life," picks up where the fourth episode of the second season left off. Devi witnesses Ben and Aneesa flirting in the hallway, and she realizes the two might be on their way to starting a relationship.
Devi goes to a therapy session with Dr. Ryan (Niecy Nash) and complains about Aneesa hypothetically making moves on Ben. She admits to Dr. Ryan that she should not have cheated on Ben with Paxton (Darren Barnet), and Devi also shares her hope that Ben will one day want to get back together with her.
Ms. Warner (Alexandra Billings), the school's college counselor, finds Devi at school and tells her that she has missed so many PE classes she might fail the course that semester. In order to boost her grade, Devi must participate in the cross country team's 24-hour relay.
Devi decides to form a team with her friends, and Aneesa suggests asking Ben to join, making Devi even more jealous and suspicious.
RELATED: Darren Barnet Met Common Way Before 'Never Have I Ever' Season 2
Devi spends the whole relay trying to keep Ben and Aneesa apart
At school, Devi helps Paxton study while trying to hide her jealousy over Ben and Aneesa's growing friendship. Paxton reveals that most students use the 24-hour relay to hook up, making Devi even more panicked about the event.
At the relay, Fabiola (Lee Rodriguez) tries to keep her mom and her girlfriend Eve (Christina Kartchner) from meeting each other. Devi also attempts to keep Ben and Aneesa from spending too much time together, repeatedly making them run more laps around the course than necessary.
Paxton finds he cannot study without Devi's help, and he comes to the relay to spend time with her. She blows him off to keep trying to sabotage Ben and Aneesa. So, Paxton decides to get high with his friend Trent (Benjamin Norris) instead, and he later falls asleep on Devi's shoulder.
Devi accidentally starts a rumor about Aneesa in 'Never Have I Ever'
In her fury about Ben and Aneesa, Devi finds herself yelling about Aneesa to a member of the cross country team. Not thinking anything of her words, Devi flippantly comments that Aneesa is anorexic.
RELATED: 'Never Have I Ever': What Was Star Maitreyi Ramakrishnan in Before the Netflix Hit?
Shira (Hanna Stein) and Zoe (Aitana Rinab) overhear Devi, and the next morning, the rumor has been spread by everyone participating in the relay. Devi finds Aneesa crying, and it turns out that Devi's offhand comment was true.
The next day at school, Aneesa is not in class, and Devi is called into the principal's office.
How to get help: In the U.S. call the National Eating Disorders Association helpline at 1-800-931-2237.