'Never Have I Ever' Episode Recap: Devi Tries to Get Over Ben
On July 15, the second season of Never Have I Ever premiered on Netflix. The season began with Devi (Maitreyi Ramakrishnan) attempting to date both Paxton (Darren Barnet) and Ben (Jaren Lewison). By season 2 episode 8 of Never Have I Ever, "… been Daisy Buchanan," Ben has moved on to dating Devi's friend Aneesa (Megan Suri), and Devi is finding it difficult to deal with their new relationship.
[Spoiler Alert: This article contains spoilers for season 2 episode 8 of Never Have I Ever.]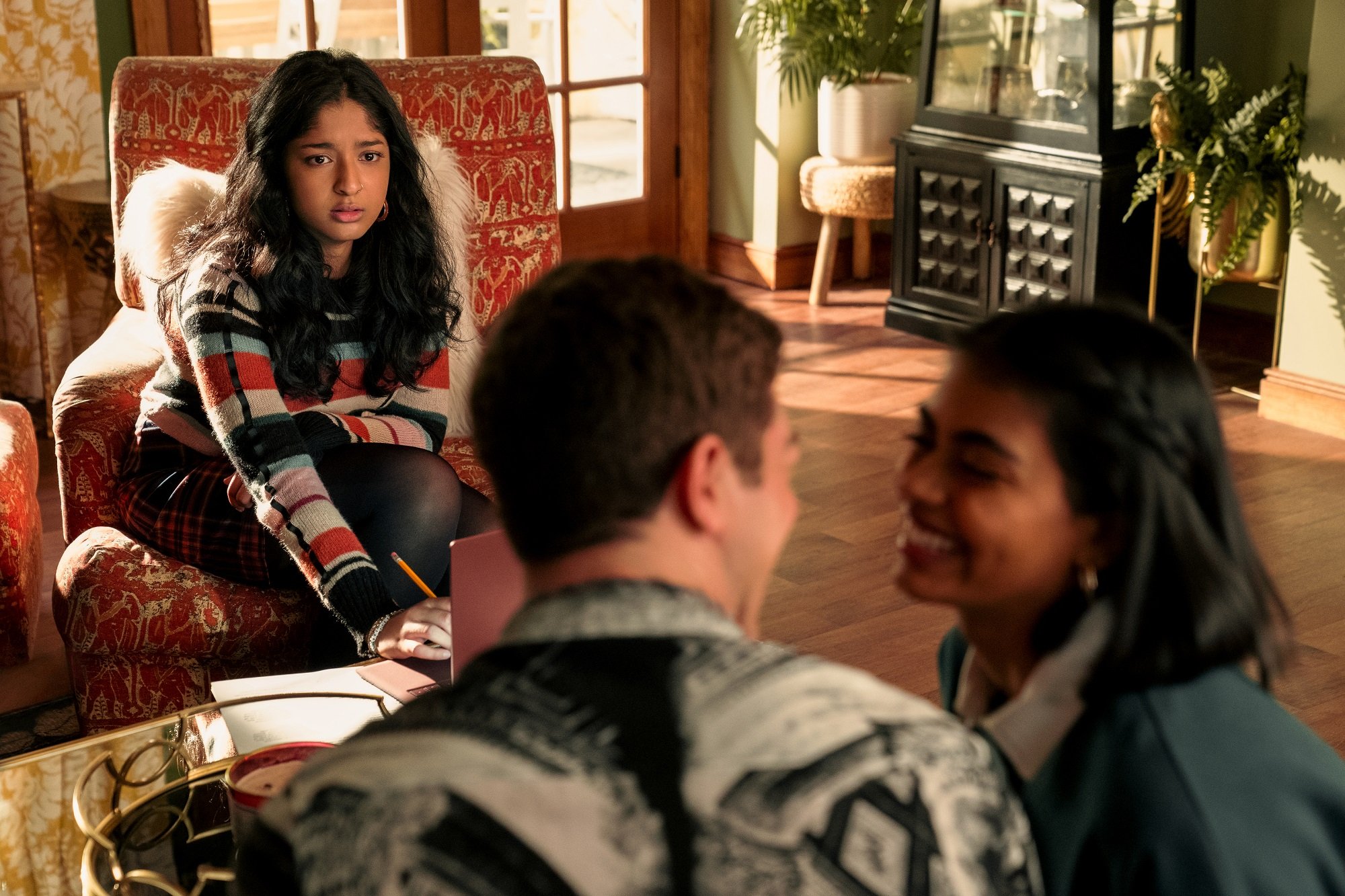 Devi must work with Ben and Aneesa on a project in 'Never Have I Ever'
After Devi managed to convince Aneesa to stay at Sherman Oaks in the previous episode of Never Have I Ever, "… begged for forgiveness," Ben decides to ask Aneesa out. Aneesa then asks Devi if she is cool with Aneesa dating her ex-boyfriend.
Devi supports Aneesa's decision to date Ben, and "… been Daisy Buchanan" begins with Devi observing Aneesa and Ben's new PDA-filled relationship.
Fabiola (Lee Rodriguez) and Eve (Christina Kartchner) continue their campaign to be crowned Cricket Queens at the upcoming school dance, but Fabiola is told that she has to skip robotics practices to spend time with different social groups.
In her English class, Devi sits with Paxton and apologizes for snapping at him. He tells her that he does not need her tutoring help anymore because he is going to try and succeed in school on his own.
Mr. Kulkarni (Utkarsh Ambudkar) places the students into groups so the class can hold a mock trial of Daisy Buchanan from The Great Gatsby, and Devi is assigned to work with Ben and Aneesa as defense lawyers.
RELATED: Is Netflix's 'Never Have I Ever' Based on a True Story?
Mr. Kulkarni gives Devi advice about Ben
For the trial, the students must decide if Daisy is guilty of the death of Jay Gatsby. Devi proposes that Aneesa should be Daisy while she and Ben are lawyers. Aneesa says she wants to be a lawyer with Ben, and Ben sides with Aneesa, saying Devi is closer to Daisy's personality.
Devi goes to Mr. Kulkarni and asks to switch groups because she cannot work with Ben. He tells her to use the experience as a way to get over Ben and encourages her to focus on everything that she finds annoying about Ben. This tactic works, and Devi also takes the time to apologize to Ben for cheating on him with Paxton.
While Fabiola works on The Great Gatsby project with Paxton and Malcolm (Tyler Alvarez), she sees suspicious texts on Malcolm's phone. Devi and Fabiola then feel the need to break the news to Eleanor (Ramona Young) that Malcolm could be cheating on her.
RELATED: Episode Recap: 'Never Have I Ever' Returns for Season 2
Ben and Aneesa's relationship faces a challenge in 'Never Have I Ever'
During the mock trial in Never Have I Ever, Aneesa mixes up her flashcards for her closing statement while Fabiola delivers a crushing speech. As a result, the prosecution ends up winning the case. This upsets Ben, as he is used to excelling in school, but he plays it off to keep the peace with Aneesa.
After class, Eleanor confronts Fabiola and Devi for trying to ruin her relationship with Malcolm. Devi cries as she walks home, and Paxton stops to offer her a ride. They make up, and Devi gives him more encouragement to keep trying in school.
When Paxton drops Devi off near her house, she sees her mom sitting in a car with Dr. Chris Jackson (Common).