'Never Have I Ever' Episode Recap: Season 2 Ends With a School Dance
Season 2 of Never Have I Ever premiered on Netflix on July 15, and the season concluded with season 2 episode 10, "… been a perfect girl." In the Never Have I Ever episode, the students of Sherman Oaks prepare for their school's winter dance. Devi (Maitreyi Ramakrishnan) uses the dance to try and figure out her confusing relationship with Paxton (Darren Barnet).
[Spoiler Alert: This article contains spoilers for season 2 episode 10 of Never Have I Ever.]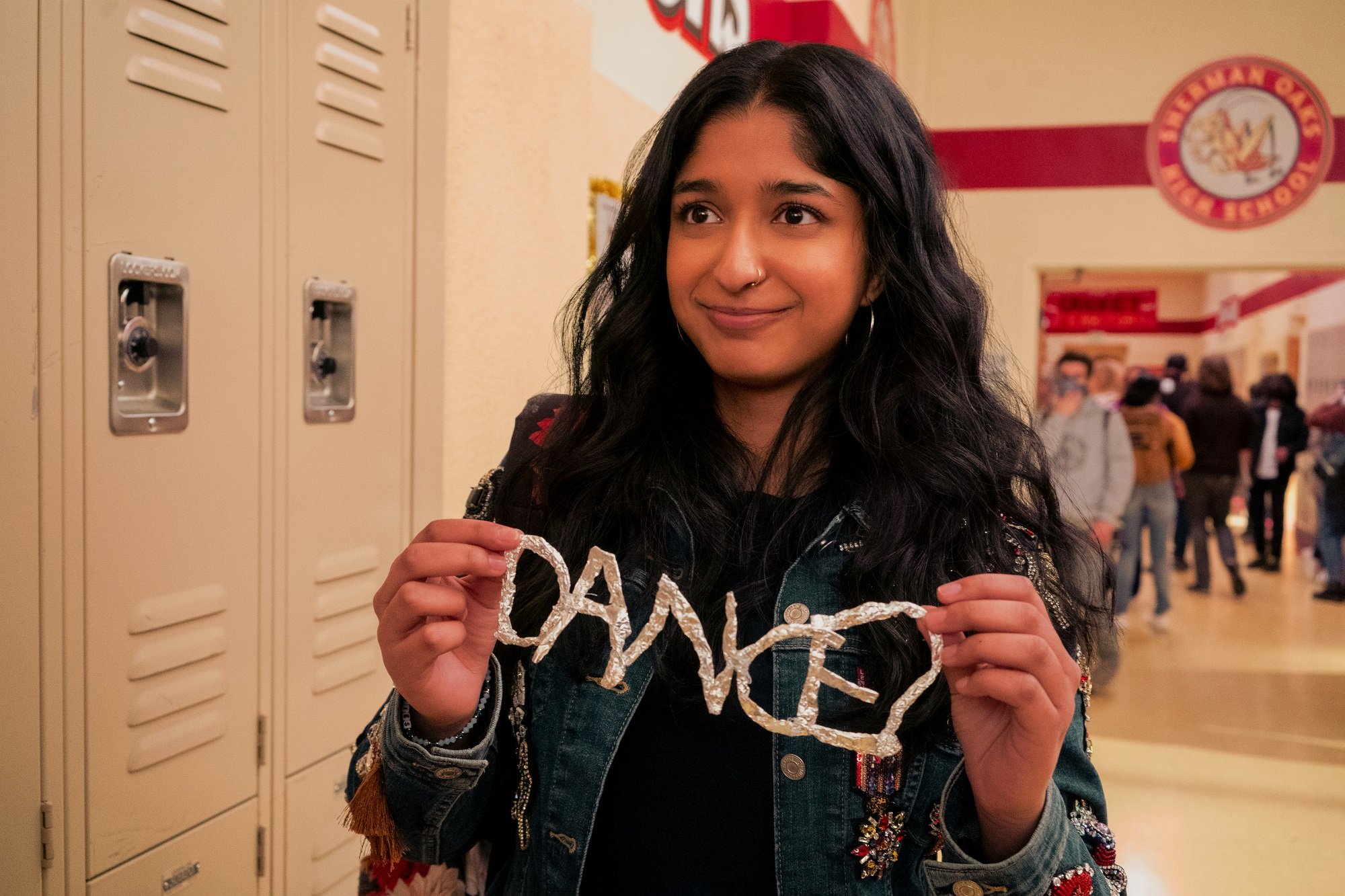 Paxton wants to date Devi in secret in 'Never Have I Ever'
After blowing Devi off at Eleanor's (Ramona Young) play, Paxton shows up at Devi's window. He tells Devi that he is not a fan of PDA and wants to keep their relationship private. Devi confides in Eleanor and Fabiola (Lee Rodriguez), and they tell her that if Paxton asks her to the dance that will solidify their relationship.
As the week goes on, Paxton continues sneaking into Devi's room every night, but he never asks her to the dance when they are at school. After seeing Aneesa (Megan Suri) ask her boyfriend Ben (Jaren Lewison) to the dance, Devi gets the idea to ask Paxton herself.
When she asks Paxton in the hallway, he rejects her. Devi goes to the bathroom to cry, and Ben follows her to check on her. Ben reassures Devi that Paxton does not "deserve" her.
RELATED: 'Never Have I Ever' Episode Recap: Devi Tries to Get Over Ben
Devi ends things with Paxton
Later that night, Paxton sneaks into Devi's room and explains that because Devi cheated on him earlier in the school year with Ben, he feels insecure about having a public relationship with her. To keep Paxton, Devi agrees their relationship can remain a secret.
That night, Devi has a dream about her late father, Mohan (Sendhil Ramamurthy). With the dream, Devi realizes that she deserves more than what Paxton can give her. She gives Paxton an ultimatum and tells him she needs to be in a public relationship or no relationship, but he refuses to commit to her in that way.
At the dance, Eve (Christina Kartchner) cannot find Fabiola and lets Eleanor and Devi know she is missing. Devi and Eleanor find Fabiola crying in the robotics classroom. She reveals that while trying to fit in with Eve's friends and campaigning for Cricket Queen, she lost sight of who she is.
RELATED: 'Never Have I Ever' Star Maitreyi Ramakrishnan Wants to See More of Devi's Interests In Season 3
Jonah (Dino Petrera) finds the group and he encourages Fabiola to live her "authentic life."
"The whole point of coming out is to get to be who you are," he tells her.
Eve and Fabiola are crowned as Cricket Queens, and Fabiola appears at the dance wearing her trademark polo and jeans. As Eve and Fabiola dance, they profess their love for one another.
Paxton shows up at the dance for Devi in 'Never Have I Ever'
While watching TV at his house, Ms. Warner (Alexandra Billings), the school's college counselor, calls Paxton and lets him know that he has raised his grades enough to get into college. The call makes Paxton think of Devi, and he shows up at the dance to find her.
At the Vishwakumar house, Kamala (Richa Moorjani) runs away from dinner with her boyfriend Prashant's (Rushi Kota) family because she is scared Prashant plans to propose. She also arrives at the dance to spend time with Devi's English teacher, Mr. Kulkarni (Utkarsh Ambudkar).
RELATED: Is Netflix's 'Never Have I Ever' Based on a True Story?
As Devi leaves the dance, Paxton nearly hits her with his car. He panics and wonders if she needs to go to the hospital, but Devi insists she is fine. Inside the dance, the two dance as boyfriend and girlfriend, and Ben gets upset when he sees them together. Eleanor tells Ben that Devi at one point had stronger feelings for him but he did not notice, meaning Ben missed his chance to be with Devi.
If Never Have I Ever is renewed for a third season, it seems the love triangle between Devi, Ben, and Paxton is far from over.