'Never Have I Ever': Will John McEnroe Narrate Season 2?
Never Have I Ever was released on Netflix on April 27. It quickly climbed the charts and became among the most popular series on the streaming platform. That's no small feat considering the fact that Tiger King dominated the collective conscience for several weeks. One of the most endearing parts of the series was the narration. John McEnroe, surprisingly, expertly narrated the series about a teenage girl and the trials and tribulations of her life. It seems all but assured that the series will be given the green light for a second season, but will McEnroe narrate season 2?
Why was John McEnroe chosen to narrate Never Have I Ever
As odd of a decision as it was to have McEnroe tell the story of a teenaged girl, it somehow made the series work even better. At 61, McEnroe's tennis career spanned a period of time before many of the actors in the series were even alive. Mindy Kaling, however, knew he was the perfect choice. Kaling told USA Today that McEnroe is one of her father's favorite sports stars. She noted that tennis is a common interest shared by a lot of Indian parents. She told the publication, "one thing that's common for a lot of Indian parents is a love of tennis. It's like an English Anglophile kind of thing."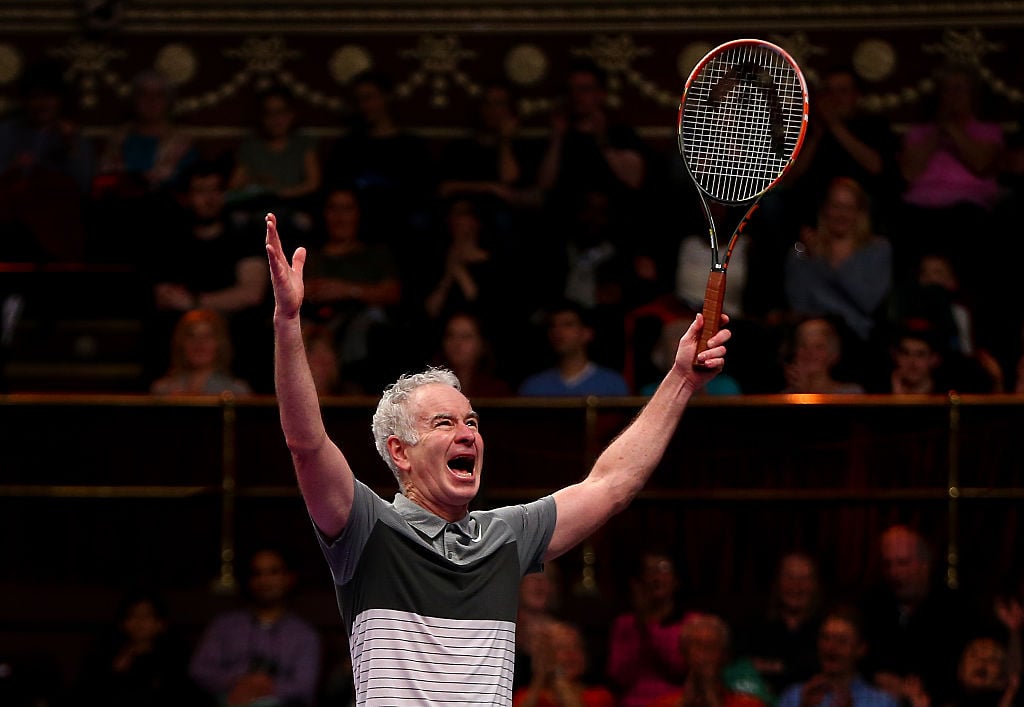 McEnroe wasn't only chosen because he is considered one of the greats of the tennis world, though. His penchant for on-the-court outbursts is what really sealed the deal. Devi is hot-headed and prone to outbursts. Sure, her outbursts are a bit different than what was often seen from McEnroe on the court, but it made sense to have a tennis star known for having a temper narrate the storyline, even if it happened to be the story of a teenaged girl.
Never Have I Ever actually explains McEnroe's involvement in the series
So, a 61-year-old tennis player might not have seemed like a likely choice to voice a teenager's inner thoughts, but it all worked out in the end. The series actually explains how McEnroe came to live inside Devi's brain.McEnroe, as it is explained in the series, was one of Devi's father's favorite tennis players. In the series, Devi recalls that her father once suggested that Devi and McEnroe shared similarly fiery personalities.
During the grieving process, it makes sense that Devi would cling to something that reminded her of her father. Sure, the showrunners could have gone in a different direction, but the connection between McEnroe and Devi's father, Mohan, perfectly personifies the grief she is feeling about the sudden loss. It also suggests that her grieve is what drives many of her actions during season 1.
Will John McEnroe narrate Season 2 of Never Have I Ever?
Netflix may not have officially announced a second season of the hit show, but its sudden popularity all but ensures fans will get to see Devi's story play out for at least another season, suggests Cosmopolitan. Fans of the series walked away from season 1 with plenty of questions. Like, Will Devi end up with Ben, or will she end up with the object of her obsession, Paxton? Will Devi move? How will things play out with Eleanor? One of the biggest questions, however, is who will narrate the second season.
McEnroe could return as Devi's inner voice. As odd of a choice as it was, it was somewhat comforting, and fans are concerned that switching up the narrator could change the entire feel of the streaming series. McEnroe's return would be somewhat expected, considering the success of the series.
Showrunners could go in a different direction, though. Devi's character development could lend itself to a different inner voice. Perhaps her newfound calm, and the end of her grieving process, could be further personified through a more relaxed inner voice. Either way, fans will need to wait to find out who will be voicing Devi's inner monologue. It will likely be another year before fans see a second season of the show, or longer if the coronavirus pandemic continues to halt production.