'Nevermind': Who Photographed the Infamous Nirvana Album Cover?
You might not recognize his name, but you've probably seen his work. If you're a Nirvana fan, you might even own a copy of his most famous image. Currently, that particular image has come under scrutiny in what many call a frivolous, money-grabbing lawsuit. Who photographed the now-infamous Nevermind album cover?
Nirvana's sophomore album cover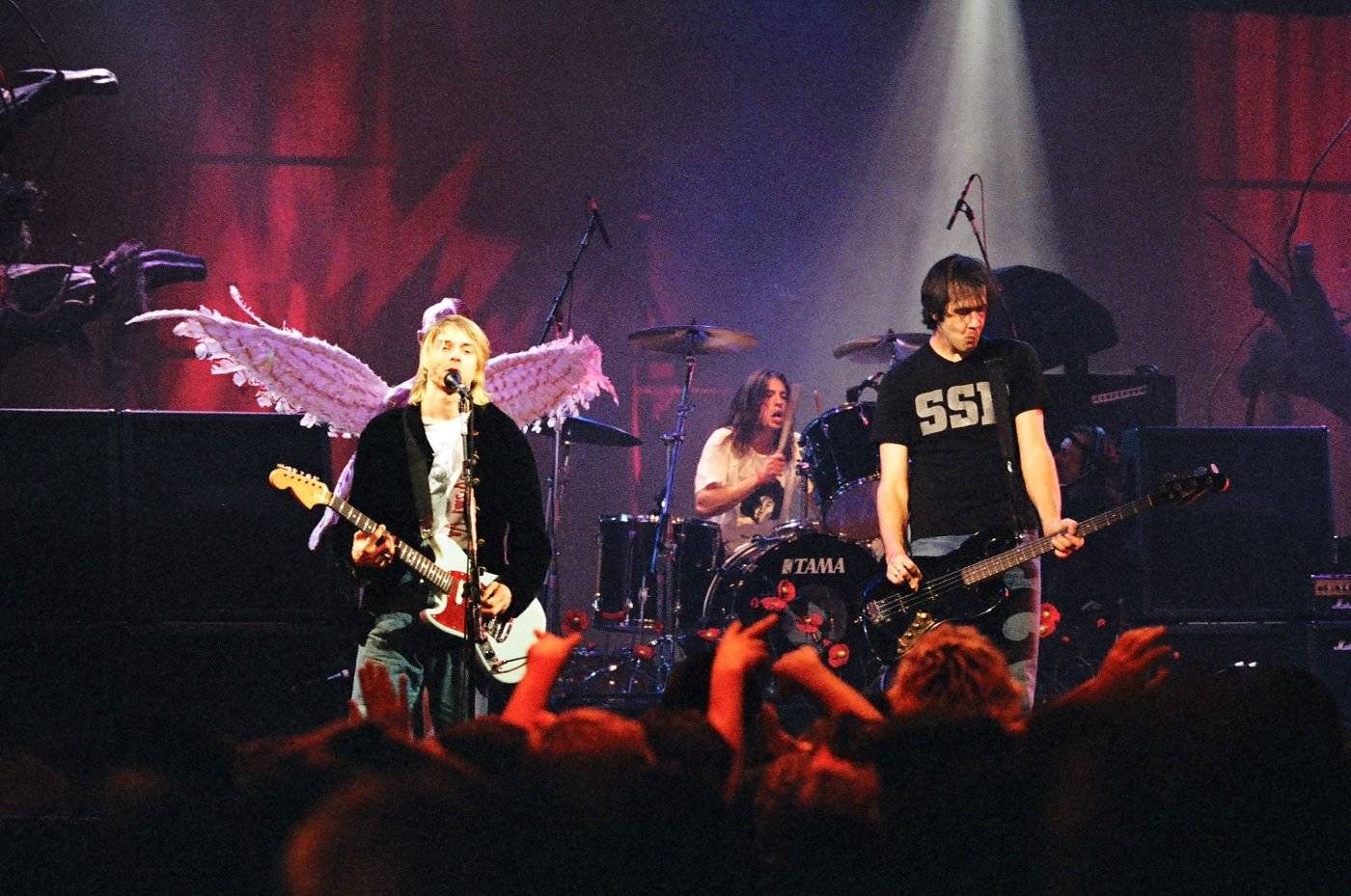 In 1991, Robert Fisher was the art director at Geffen Records. According to Austin Monthly, an up-and-coming grunge band called Nirvana was recording their second album, and lead singer Kurt Cobain came up with a cover idea involving submarine photography. Fisher was intrigued by the work of LA shutterbug Kirk Weddle, so he called him and asked, "Hey, do you have a shot of a naked baby underwater?"
Cobain's initial album cover notion came to him after watching a documentary about underwater births. Far Out magazine explains, aside from immediately rejecting stock footage of such submerged events, the record label didn't offer much in the way of guidance. When the band decided to put a naked swimming baby on the cover of Nevermind, Geffen Records wasn't willing to pay $7,500 for stock footage, and that's when Weddle got the call.
In 2019, Weddle told The Guardian that the record label paid him a total of $1000 and that the timing was perfect for a photoshoot with an infant. His friend, Rick Elden, had a four-month-old baby named Spencer, and he was OK with letting him be photographed in a swimming pool for a couple of hundred bucks.
The small-scale photoshoot happened in an Olympic-sized public swimming pool in Pasadena. As Weddle recalled, it took an hour to set up the shoot and around five minutes to complete the series of pics from which Nirvana would choose their album cover image.
Weddle was relieved that he wasn't required to take Spencer's underwater pictures with the fishhook and dollar bill that wound up as part of the Nevermind cover. Once he saw the prints, however, he thought the label might not go for the pics of the little solo swimmer, "His unit was so prominent in the picture. He's a well-hung kid for a four-month-old, you know? I didn't know if the label would go for it. So I went to a kids' swim school and got half a dozen other babies in the water."
As it turned out, Nirvana and their label totally approved the Spencer shots, and one of the most memorable rock 'n' roll albums covers history was a done deal.
The band got wet, too
A few months after the initial underwater photoshoot, Nirvana band members went underwater with their instruments for what Weddle called "a hairy job" on a rare cold California morning. The band thought their timing was unreasonably early, and they were surprised to find out exactly what Weddle had in mind. Ultimately, Cobain, Dave Grohl, and Chris Novoselic grudgingly agreed to go underwater with musical instruments for a series of now-popular images that the record company rejected.
When Spencer Elden was 10 years old, he voluntarily returned to the Rose Bowl Aquatics Center swimming pool. He jumped in with Weddle to recreate the cover of Nevermind for Rolling Stone magazine.
For the 15th anniversary of Nevermind, Elden recreated the cover image again, this time with photographer John Chapple and he even offered to swim naked, explains the New York Post. By the time he went underwater for a 25th-anniversary photoshoot, Elden was sporting an impressive "Nevermind" tattooed across his chest.
Just in time for the 30th anniversary of Nevermind, Elden filed a lawsuit against practically everyone involved in the original photo session, along with some who were not. Named in the lawsuit are Weddle, along with Courtney Love, Universal Music Group, David Geffen, the surviving members of Nirvana, the Kurt Cobain estate, and others. Accordin to Variety, he is seeking $150k in damages from each under Elden's lawyers claim that the decades-old image constitutes child pornography.
Hollywood Reporter says Elden can expect to have a difficult time proving his case because of "the numerous times that the plaintiff himself embraced the photo and sought publicity for himself."  According to Forbes, the fact that Elden enthusiastically offered to pose naked in a pool to commemorate the Nevermind 15th anniversary is evidence of implied consent and that the 2021 lawsuit is groundless, frivolous, and sure to be tossed out of court.
Commemorative coffee table book on the way
To coincide with the 30th anniversary of Nevermind, Weddle is releasing a deluxe coffee table book entitled Nirvana: Nevermind the Photos. Comprising 150 black & white and color photos, including underwater shots of Elden at various ages, the book also contains images of submerged Nirvana band members. Two 8 x 10 signed prints will also be included with a signed bookplate and certificate of authenticity.
Austin Modern Rocks Gallery explains that only 100 copies of the deluxe edition book will be made available and can be pre-ordered at the cost of $750. Signed copies without all the extras will be available for $40.